Harry Potter's magic turns dark
Inquisition, punishment, abuse of power and the lack of political will to recognize an enemy are all contemporary issues that find an echo in the latest Harry Potter film
The big question about the new Harry Potter movie, that gained only marginally less attention than the subject of Harry's first on-screen kiss, was: Who is David Yates? Apart from being the director of Harry Potter and the Order of the Phoenix, he had managed to remain so low profile as to be almost invisible. The choice of the English television director turns out to be inspired, retrieving the Harry Potter franchise from the abysmal depths, in quality, if not actually in box office takings, into which it seemed to have been heading.
Ever since Alfonso Cuaron took over from Chris Columbus in the third installment, Harry Potter and the Prisoner of Azkaban (2004), there has been a good deal of talk about the treatment of the Harry Potter novels becoming darker and deeper. This tended to manifest itself as increasing narrative incoherence, with the moral issues that are supposed to make this fantasy so compelling generally lost in a superabundance of dark CGI gimmickry. A low point was reached with the Tri-Wizard Tournament that ended Harry Potter and the Goblet of Fire (2005), directed by Mike Newell, who found himself swamped and thrashing amid the rich pickings of big-budget movie-making. And Newell had at least made movies that people had heard of and had experience of working with Hollywood stars: Four Weddings and a Funeral (1994), Donnie Brasco (1997) and Pushing Tin (1999) were all respectable works in their respective genres, but the Harry Potter industry had become a merchandizing juggernaut out of control, and Newell seemed unable or unwilling to steer his own course in its insistent demand for on-screen splendor.
The few people who took the trouble to watch Yates' 2004 mini-series Sex Traffic (2004) are unlikely to be big fans of the boy wizard, and Yates himself said in an interview with The Guardian newspaper (published in Taipei Times yesterday), that he had thought long and hard before giving in to the huge temptations that the project offered.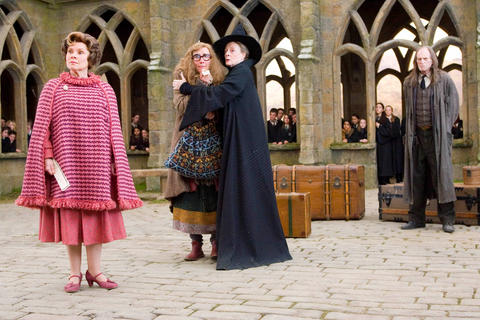 Harry Potter's growing pains begin to show in the latest installment of the hugely successful franchise.
PHOTO: WARNER BROS
Yates proved himself a masterful handler of his actors in Sex Traffic, eliciting a soul-shattering performance from novice actors Amamaria Marinca and Maria Popistasu. Marinca, for whom this was the first time in front of the camera, has since gone on to star in 4 Months, 3 Weeks and 2 Days (2007), a drama by Cristian Mungiu about getting an abortion in Communist Romania, which won the Golden Palm and FIPRESCI Prize this year at Cannes. But his resume is relentlessly independent and small time, with no suggestion of any ambition to tackle such a megabuck extravaganza.
Yates' focus on human drama is instantly recognizable from the first couple of scenes of the new Potter movie, the grittiness of his vision seen in the washed out colors and hard edges of his composition, as Harry faces off with his chavish cousin Dudley Dursley in a deserted playground. The cartoonish qualities of Little Whingeing, the home of Harry's uncle Vernon Dursley, have been bleached, leaving the grimy desolation of suburban England with its deserted, dilapidated playgrounds, its concrete underpasses with flickering lights and slimy walls, and the isolation created by thick drawing room windows and firmly closed front doors. There is an infinity of mundane horror behind this ordinary dilapidation against which the "big issue" of the return of Voldemort is thrown into high relief, a device which emphasizes the allegory of contemporary political and moral issues that Order of the Phoenix seeks to establish. The magic is in the feather-light touch.
Unfortunately, Harry Potter movies have a momentum of their own, and though Yates battles bravely, eventually he has no choice but to capitulate. Though he has been bold enough to forgo a quidditch match in the film, he has allowed for a scene of mayhem during the final examinations wrought by the two Weasley twins to run on too long, and the final battle sequence in the Ministry of Magic commits the ultimate sin of failing to shock or awe. More importantly, it was merely eye-candy demanded by the Harry Potter formula, and it wastes precious time in an already over-crowded 138 minutes.
What makes all this eye-candy so profoundly unsatisfactory - and make no mistake, it is very well executed as eye-candy goes - is that Yates' work with the actors, especially Daniel Radcliffe, is so exceptional. Here at last, there is real darkness and depth, rather than simply some tawdry gothic trappings. The scenes that seek to develop character and relationships are acutely aware of adolescent insecurities, and while sanitized, are never trite.
Something should be said of Katie Leung, who plays Harry's love interest Cho Chang; she serves as a highly serviceable prop but little more to Radcliffe's commanding presence. The much hyped kiss scene is well handled, though the appearance of animated mistletoe above the young lovers is truly hurl-inducing, and another sign that the Harry Potter juggernaut is taking no prisoners. But young love in Hogwarts is bitter-sweet, and Yates cleverly leaves the budding romance unresolved.
The cameos, of course, which draw on the cream of the UK acting establishment, have always given the Harry Potter series a significant lift in terms of quality. In the Order of the Phoenix, they are all there doing what they do so well, but special mention should be given to Imelda Staunton, most recently of Little Britain, whose characterization of Dolores Umbridge serves as the linchpin of Yates' allegorical efforts, suggesting that while dictators are often comic figures, their absurdity in no way lessens the destruction of which they are capable.
For fans of the series, Harry Potter movies are a good thing in and of themselves, whatever their failings. For the rest of us, who hope to get through a couple of hours without feeling aggrieved and insulted by the cretinizing instincts of Hollywood, Order of the Phoenix has kept the dramatic spark alive in a formulaic production that could otherwise have become no more than a template for another Harry Potter video game.
Publication Notes
HARRY POTTER AND THE ORDER OF THE PHOENIX
Directed By: David Yates Starring: Daniel Radcliffe (Harry Potter), Emma Watson (Hermione Granger), Rupert Grint (Ron Weasley), Ralph Fiennes (Lord Voldemort), Gary Oldman (Sirius Black), Maggie Smith (Minerva Mcgonagall), Jason Isaacs (Lucius Malfoy), Michael Gambon (Albus Dumbledore), Imelda Staunton (Dolores Umbridge), Katie Leung (Cho Chang) Running Time: 138 Minutes Taiwan Release: Wednesday
Comments will be moderated. Keep comments relevant to the article. Remarks containing abusive and obscene language, personal attacks of any kind or promotion will be removed and the user banned. Final decision will be at the discretion of the Taipei Times.