Reel News
The best-selling Thailand-based novels of British author John Burdett are poised for the big screen after being snapped up by a Hollywood production company, it was reported Wednesday.
Film rights for Burdett's Bangkok 8 - featuring incorruptible hero detective Sonchai Jitleecheep - have been purchased by Millennium Films, entertainment journal Daily Variety reported.
No further details were available but director James McTeigue, who directed cult film V for Vendetta has been lined up for the movie, which may be the first in a series, Variety reported.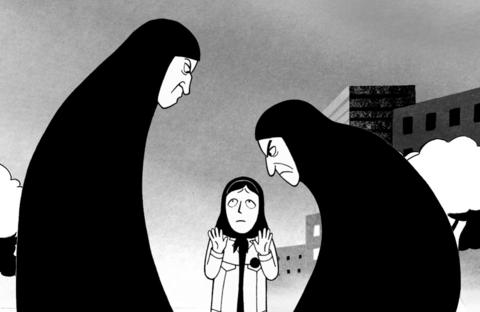 Persepolis by Iranian writer Marjane Satrapi and French director Vincent Paronnaud, tells the tale of Marjane, a precocious and outspoken young Iranian girl, who is harassed for dressing "punk" by two guardians of the Islamic revolution.
PHOTO: AP
Burdett is a former Hong Kong-based lawyer who has forged a successful writing career. Bangkok 8 was published to acclaim in 2003 and is the first of three detective novels set in the Thai capital.
Meanwhile, Thailand has caved in to pressure from Iran and withdrawn the animated movie Persepolis, about a girl growing up and feeling repressed under Islamic rule, from next month's Bangkok International Film Festival.
"I was invited by the Iranian embassy to discuss the matter and we both came to mutual agreement that it would be beneficial to both countries if the film was not shown," festival director Chattan Kunjara Na Ayudhya said.
"It's a good film, but there are other considerations."
The film, based on the popular French comic books of Iranian director and writer Marjane Satrapi, drew complaints from the government-affiliated Iran Farabi Foundation when it was screened at this year's Cannes Film Festival in France.
In a letter published by several news organizations, the foundation said the film "presented an unrealistic face of the achievements and results of the glorious Islamic Revolution in some of its parts."
The film follows Satrapi as a little girl watching the fall of the US-backed Shah. She and her family believe that with the Shah gone, state repression will end but the film shows that it only worsens.
Also subject to a ban this week is Tom Cruise. Germany has barred the makers of a movie about a plot to kill Adolf Hitler from filming at German military sites because its star Cruise is a Scientologist, the Defence Ministry said on Monday.
Cruise, also one of the film's producers, is a member of the Church of Scientology which the German government does not recognize as a church. Berlin says it masquerades as a religion to make money, a charge Scientology leaders reject.
The decision drew a sharp response from Cruise's film producing partner, Paula Wagner, chief executive of United Artists Entertainment, who said Cruise's "personal beliefs have absolutely no bearing on the movie's plot, themes or content."
The US actor will portray Colonel Claus von Stauffenberg, leader of the unsuccessful attempt to assassinate the Nazi dictator in July 1944 with a bomb hidden in a briefcase.
The film, slated for a 2008 release, will be directed by Bryan Singer and co-star Kenneth Branagh. It is called Valkyrie after Operation Valkyrie, the plot's codename.
Hollywood's shift away from celluloid continued on Tuesday as Warner Brothers Entertainment revealed its film editing and archives have gone digital.
Warner said it worked with US computer giant Hewlett-Packard to build a sophisticated digital editing "infrastructure" used to craft recently-released Oceans 13 and rejuvenate classics such as The Wizard of Oz.
"It is part of our studio mandate to create a digital end-to-end system," a Warner spokesman said. "Every studio will go there if they are not there already."
Warner says its editors use HP Media Storage to access digitized raw film via their computers to manipulate sound tracks, special effects or other aspects in a way that cuts costs while providing quality on par with celluloid.
Films are then ready for "digital cinemas," mobile devices, DVDs, or Internet television. Master copies of films as rich in data as celluloid are preserved on HP machines in Warner digital archives.
"The world is changing," HP director of broadband and media solutions Peggy Dau said. "This is becoming more and more widely used in a continuous transformation from the old celluloid world to the new digital world."
HP works closely with DreamWorks Studio to customize computer systems for increasingly vivid and realistic animated films such as Shrek 3.
Palo Alto, California-based HP said it is creating systems for filmmakers in India's flourishing Bollywood as well as in legendary Hollywood, and "opportunities are being pursued" in China.
Warner said it's using the new technology to "mine" pristine reels of classics such as Gone With the Wind and Robin Hood to make digital versions with more visible detail than the original celluloid movies.
"This goes way beyond basic dirt and scratch clean-up to enhancement of what is there," the Warner spokesman said. "As a movie buff, I'm very happy about that."
Comments will be moderated. Keep comments relevant to the article. Remarks containing abusive and obscene language, personal attacks of any kind or promotion will be removed and the user banned. Final decision will be at the discretion of the Taipei Times.