Restaurants: Bunny Listens to the Music (美食兔子聽音樂餐坊)
Address: 15, Ln 6, Qingtian St, Taipei (台北市青田路6巷15號)
Telephone: (02) 2395-9388
Open: Daily from 11:30am to 11:30pm; kitchen closes at 9pm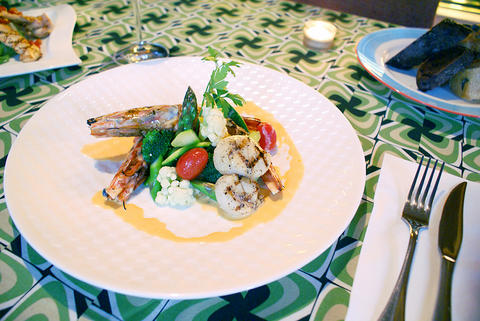 At Bunny Listens to the Music, creations are so aesthetically pleasing you might forget to eat them.
PHOTOS: NOAH BUCHAN, TAIEPI TIMES
Average meal: NT$600
Details: Chinese and English menu; all major credit cards accepted; 10 percent service charge
A few months back, the Taipei Times reviewed Patisserie Boite de bijou (珠寶盒法式點心坊), a recently opened French-style bakery located in an alley directly behind Taiwan National Normal University. The proprietress, Lin Shu-chen (林淑真), also owns the trendy restaurant called Bunny Listens to the Music, which is a stone's throw away from the bakery and moves further down the Continental map to the Mediterranean for its culinary inspiration.
Having a bakery and restaurant located close together is a boon for patrons because the bread baked at Patisserie Boite de bijou is served in the restaurant and one can occasionally see the bakery's formally dressed servers sashaying over to the restaurant, arms full of bread.
The recently renovated space has wood finishing, giving it the relaxing feel of a chateau in the Alps. Large picture windows line one side of the restaurant and create a bright atmosphere in the day and an intimate ambiance in the evening.
Chef Wu Wen-nan (吳文男) brings 20 years of culinary experience to the menu and infuses all his dishes with the same care Lin brings to the interior of the restaurant; one doesn't so much want to eat the dishes as to admire their well-crafted beauty.
The grilled spicy chicken breast with warm salad salsa dressing (NT$240) is a light way to begin the meal. The chicken is grilled to perfection with the inside moist and succulent and the warm salsa salad was an epiphany. Lin said the Burgundy-style snail pastry with sauteed wild mushrooms (NT$240) and smoked salmon Caesar salad (NT$300) are favorites with regulars.
The dinner menu is heavy on pasta (NT$360 to NT$400) and risotto (NT$400 to NT$500), both of which are notable for the fact that cheese is avoided as a substitute for flavor. The restaurant also contains many poultry and meat dishes served with sauces created by Wu.
In keeping with the area's gentrification, the menu boasts a long list of wines.
Comments will be moderated. Keep comments relevant to the article. Remarks containing abusive and obscene language, personal attacks of any kind or promotion will be removed and the user banned. Final decision will be at the discretion of the Taipei Times.