Restaurant: Barcode
Address: 5F, 22 Sungshou Rd, Taipei(台北市松壽路22號5樓)
Telephone: (02) 2725-3520
Open: Sunday to Thursday from 8pm to 2:30am; Friday and Saturday from 9pm to 3am
Average meal: NT$700 to NT$1,000
Details: Menu in Chinese and English; credit cards accepted
On the Net: www.room18.com.tw/barcode

Barcode's hipster vibe is enveloping. With a fabulous view of Xinyi District, sexy electronica and sophisticated drinks made by artful bar staff, the cocktail lounge, which is within walking distance of Room 18, Brown Sugar and Mint, is a convenient start for a night on the town.
The first Taiwanese bar to be featured in US GQ magazine, Barcode has all it takes to become one of the hottest nightspots in town. While most of the action takes place in the front area, a secluded chill-out saloon offers retro furnishings, a pool table and a side door leads to a rooftop terrace.
Cocktails are the stars of this trendy lounge bar, which takes its drink seriously. Not only did it invite head bartender Pete Kendall from London's Milk & Honey to train its five bartenders, members of Barcode's staff are sent to other cities to keep abreast of the latest trends.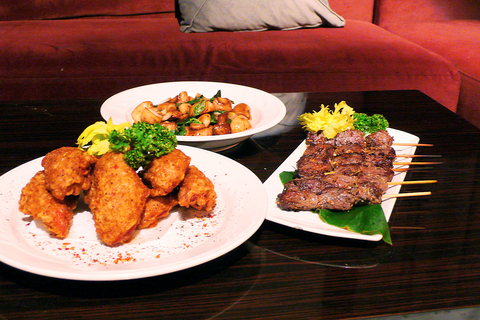 Pan-fried mushrooms, lamb brochette and spicy chicken wings are popular appetizers at Barcode
PHOTO: HO YI, TAIPEI TIMES
Manager Matt Chang (張均豪) visited London last month, and his weeklong pub crawl entailed drinking himself silly at 42 pubs, managing to observe bartenders and memorizing drink menus while he was still sober. Chang's reconnaissance mission yielded the addition of cocktails made from pu-erh, green and jasmine teas to the menu.
"Cocktails made of fresh fruits are no longer the hottest items. The latest trend in London is to experiment with new ingredients such as teas and spices," Chang said.
The joint's specialties also include champagne-based cocktails. "One-fourth of the drinks on our menu use champagne as it has an agreeable sparkling taste and blends easily with other ingredients. Other pubs try to steer clear of it simply because of the price," Chang explained.
Apart from the creative, quality drinks, the pub also serves above par appetizers. Lamb brochette (NT$420) comes highly recommended as the tender meat is flavored with rosemary and comes with a peppermint and red wine sauce. Pan-fried mushrooms (NT$300) with basil and garlic, spicy chicken wings (NT$350) and squid bacon rolls with green onions (NT$300) are the favorites among patrons. And for customers with big appetites, clam linguini, created by the chef who formerly manned the kitchen at Italian restaurant Hung Chu (紅廚), is an outstanding choice.
Comments will be moderated. Keep comments relevant to the article. Remarks containing abusive and obscene language, personal attacks of any kind or promotion will be removed and the user banned. Final decision will be at the discretion of the Taipei Times.