Urban Nomad comes home to roost
The fully independent festival has grown through the underground networks it has fostered
"We have grown a little each year, and this year the momentum has been strong: the festival is double the size of last year's," David Frazier, co-founder and organizer of the Urban Nomad Film Festival (城市游牧影展), said.
Entering its sixth year, Taiwan's only fully independent underground film festival has expanded from its humble origin to a 10-day showcase of 100 short films, experimental and animation works, features and documentaries from home and abroad.
Expats Frazier and Sean Scanlan have, for the last two years, been traveling to neighboring Asian countries such as China, Philippines, Thailand and Singapore reaching out to alternative venues, independent curators, filmmakers and distributors to share information, trade films and initiate a network for the indie spirit and philosophy.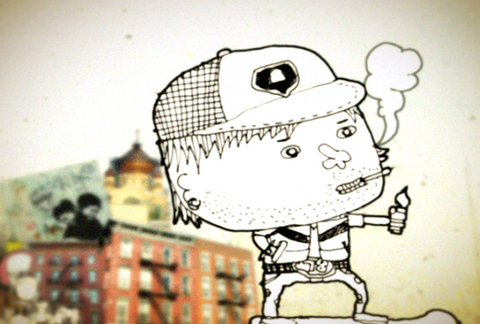 Travel Diary, by Liu Keng-ming.
PHOTOS: COURTESY OF URBAN NOMAD
"We want Urban Nomad to become both a platform for local underground filmmakers who usually play a subordinate role at big film festivals and part of the emerging underground network in Asian countries through which people in different regions can gain mutual understanding and converse with each other," Frazier said.
This year's Urban Nomad offers an inspiring mix of subversive spirit, raw creativity, alternative vision and works that address political and social issues and subcultures from different regions.
White Rock Island, by Philippine director Khavn de la Cruz, turns a sober gaze at slum life in Manila.
A Long Struggle charts the struggles of ethnic minorities in Myanmar.
Festival highlights include the first documentaries on North Korea to be made by a western team. The Game of Their Lives tells the story of the 1966 North Korean soccer team and their phenomenal World Cup victory over their Italian powerhouse opponents, while A State of Mind provides an insight into the life of everyday people inside the "hermit kingdom" by following the lives of two teenage gymnasts as they prepare for the annual mass gymnastics event dedicated to the "dear leader" Kim Jong-il.
Nick Bonner, who produced the two films, will attend tonight's screening to share his experience of filming inside the socialist regime.
The murky practices of multi-national corporations often come under the documentary spotlight. Mclibel tells the true story of two poor activists who took on McDonald's in the longest trial in English legal history. Singaporean director Martyn See (施忠明) of last year's Singapore Rebel returns with his new work, Speakers Cornered, which documents the only public demonstration held against the IMF-Word Bank meeting held in the city-state in 2006.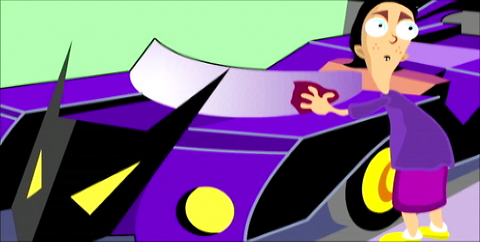 Maritess vs. Superfriends, by Philippine director Dino Ignacio.
Heavy social messages may be the festival's recurring theme, but the event has a weird and funky, punk and rock 'n' roll side too. Here audiences are encouraged to kick back with a drink and friends.
"We certainly try to bring out social consciousness in the festival but we also screen films that are fun to watch… . The venue provides a social environment where you can quaff beer, mingle with the crowd or shout at the screen," Frazier said.
Apart from its regular wacky line-up of skateboard and surf videos, animation, music videos and low-brow comedy, Urban Nomad will present two programs selected from the self-billed "collection of rare and unseen films" from Wholpin. The Movie Movie (Excerpt) invited Donald Trump, the real-life version of Citizen Kane, to offer his "insightful" views on Citizen Kane.
Artist Eko Nugroho, who was featured at last year's Taipei Biennial, will screen his animation works that deliver social messages through graffiti-like sketches and barrages of noisy rock. Taking a comic approach to the issue of immigrant labor, the animation short Maritess vs. Superfriends tells of a Filipino maid who work for Americans while Woodman 2: BBS Fighting by Taiwanese director Lin Shi-yong (林世勇) is a hilarious 3-D animation depicting an Internet-based bulletin board systems war fought among Web sites in the style of a Hollywood action film.
Half of the screened works were made by local underground talents, and the festival further emphasizes a local perspective through two programs curated by Tony Wu (吳俊輝), one of the leading figures in Taiwan's alternative cinema scene. While the Chasing, Running, Jumping, Colliding (追趕跑跳碰) section is a homage to the style of Hong Kong director Wang Kar-Wei (王家衛), the director in focus is Taiwan-born, New-York educated Wu Tung-wang (吳東旺). The independent filmmaker's outrageous works, such as Hot Throbbing Cock, address the issues of Taiwan's independence through transvestite hookers, lesbians and go-go boys.
Publication Notes
Festival notes
What: The Sixth Annual Urban Nomad Film Fest (城市游牧影展2007)
When and Where: Today to May 3 at Taipei Artist Village (台北國際藝術村), 7 Beiping E Rd, Taipei (台北市北平東路7號); May 4 to May 6 at NTUE Nanhai Gallery (南海藝廊), 3, Ln 19, Chungqing S Rd Sec 2, Taipei (台北市重慶南路二段19巷3號); May 19 to May 31 at Hsinchu Municipal Image Museum, 65 Chungcheng Rd, Hsinchu City (新竹市中正路65號)
Tickets: NT$250 for non-students and NT$150 for students for screenings today and tomorrow; NT$200 for non-students and NT$100 for students for screenings from Sunday to May 6
On the Net: urbannomadfilmfest.blogspot.com
Comments will be moderated. Keep comments relevant to the article. Remarks containing abusive and obscene language, personal attacks of any kind or promotion will be removed and the user banned. Final decision will be at the discretion of the Taipei Times.