By heck! The Toon's in town
For Yao Shu-fen (姚淑芬), inspiration comes from unusual places. The choreographer and director of Century Contemporary Dance Company (世紀當代舞團) found herself in Newcastle in 2004 on an exchange program funded by the British Council and the Taiwan Arts Council with the purpose of creating a dance performance piece. But after a few months, she had yet to come up with an idea.
That is until one Saturday afternoon she had an opportunity to witness Black and White Day, a ritual where men and women get dressed in these colors and march through Newcastle to St. James Stadium where they watch an afternoon of football.
"I was immediately inspired by the fans and the players and the coaches and the reason why everyone was dressed in these colors," said Yao, who has adapted the symbolism of the colors in a performance called I Get a Kick Out of You.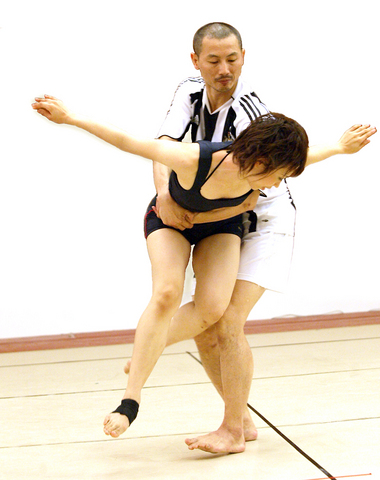 Photo: courtesy of Century Contemporary Dance Company
PHOTO: COURTESY OF CENTURY CONTEMPORARY DANCE COMPANY
Originally staged at the NewcastleGateshead International Dance Festival in 2006, the 30-minute experimental dance piece has been expanded to an hour for its Taipei debut.
A combination of dance, spoken word, singing and video projection, I Get a Kick Out of You is based on Yao's experiences living in the English city and a series of interviews given by the choreographer from which she distilled the plot of the performance.
Yao cites the story of an Englishman she met and the story he told her as representative of how football has a powerful effect on the people of Newcastle.
"When he was growing up he recalled his mother always asking his father, 'do you love me or do you love football?'" she said. This tension between the sport and family is one many expats from England can attest to.
"But they came up with an agreement that Saturday they go to football and Sunday is family day. And so in the end you have to ask yourself what is more important? Football or family."
It's not the kind of question people in Taipei would probably ask themselves but Yao hopes to move beyond that boundary by getting the audience involved in the piece.
"We will split the audience into two teams with Newcastle on one side and Taipei on the other," she said, adding: "We will also invite [some members of] audience to come on stage."
By breaking the audience down into two camps Yao hopes to recreate the excitement fans of football feel when cheering for their favorite team.
During the performance, the men are dressed in white — symbolizing their marriage to football — while the female actors are dressed in black.
Known as "football widows" the color of mourning symbolizes how these women have "lost" their husbands or boyfriends to the sport.
To give it a more international feel, Yao has invited choreographer Helen Williams — who hails from Newcastle — to work on the dance routines and expats Tricia and Dave Habberjam, who were serendipitously commandeered to waltz in the performance because of their elderly European appearance — a flourish that adds a touch of romance to the work.
The performance is in both Chinese and English.
Publication Notes
Performance notes
What: I get a kick out of you (一腳翻天)Where: National Experimental Theater, TaipeiWhen: Today and tomorrow at 7:30pm and tomorrow and Sunday at 2:30pmTickets: NT$500 and are availble through NTCH ticketing at www.artsticket.com.tw
Comments will be moderated. Keep comments relevant to the article. Remarks containing abusive and obscene language, personal attacks of any kind or promotion will be removed and the user banned. Final decision will be at the discretion of the Taipei Times.