Therapy to bowl you over
Have you heard of the bowl that sings and helps you keep in tune with your inner self? If not, on Sunday, sound therapist Hans de Back from the Netherlands is offering to take you on a deep trip into the supposed powers of singing bowls at his sound message workshop organized by Spiritlands (身體工房), a subsidiary company of Wind Music (風潮音樂), an organization that aims to explore the possibilities of music to enhance and sustain well-being.
Used as tableware in the Himalayas, the handmade bowls are composed of seven metals including gold, silver, copper, iron and tin, and are used by shamans and Buddhist monks in rituals and as an integral part of spiritual teachings.
De Backs' first encounter with the instruments-cum-tableware occurred during a psychotherapy session he attended in 1974. "One of our classmates who had stayed in India for nine years brought along a Himalayan bowl to share her experiences in the psychotherapy study … . When I first heard the sound of the instrument, it was like a blow struck directly into my heart," De Back said. "The sound goes beyond the intellect. It moves the senses, speaking to what has been inside you, the hidden and the repressed, through the ancient wisdom that is carried within."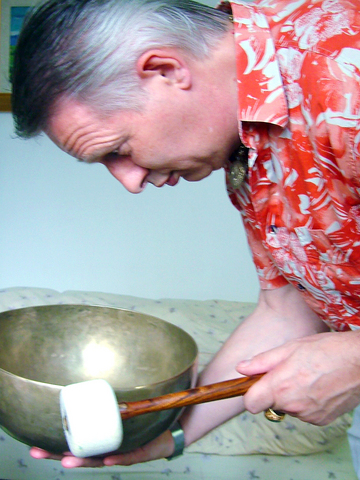 Himalayan bowls are composed of seven metals and their sounds are said to be therapeutic.
PHOTO: COURTESY OF SPIRITLANDS
The young man who, since his teens, has suffered from Ankylosing Spondylitis (a form of chronic inflammation of the spine and joints) felt the sound's cleansing power on his body and mind. From that point, De Back embarked on a study of the frequencies that the bowls create and incorporated their relaxing tones into his treatments.
De Back's sound therapy is an acoustic and vibratory experience as the body is touched by sound. To the sound guru, the strength of using the Himalayan bowls is that the therapy is flexible, and can be performed with other practices such as breathing exercises and aromatherapy.
"The singing bowl therapy is accommodating, rather than inflicting competitions among the professions," Hans said.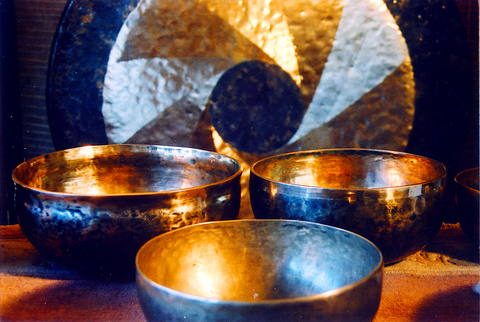 Hans de Back uses a Himalayan bowl as part of his therapy sessions.
PHOTO: COURTESY OF SPIRITLANDS
Kuo Huai-tzu (郭懷慈), CEO of Spiritlands and a experienced therapist who has traveled to India, Nepal, Germany and Italy to receive training in breathing therapy, family constellation, yoga, mediation, taichi and hypnotherapy, concurs with Hans. Using music therapy in meditation, breathing therapy and relaxation, Kuo believes music is a non-intrusive treatment that guides and soothes the senses to pave the way for inner exploration.
"One of our projects is to introduce the mystical music to various therapeutic practices. It's hard to define the music, but it is usually a creative and personal fusion of musical instruments the composer deems suitable for expressing his or her spiritual state of mind," Kuo said.
A leading figure in sound therapy, De Back has given demonstrations, master classes, workshops and concerts in Europe, Bali, Dubai and Taiwan. He has been invited to the island several times by Aveda to instruct its aromatherapists.
Yet, De Back comes nowhere near the stereotype of an authoritative guru who has built up a base of followers devoted to his practice and teaching.
"Say on the one hand you have the yoga people who like to spend time with themselves and feel good about themselves. On the other hand, you have the bar people who go out for drinks at night. They are both right, at the specific moment of their lives, since everybody has his or her own pace," said the genial and witty guru, stressing the importance of having respect for others who are different from yourself.
This Sunday from 2pm to 6pm, De Back will give his first public workshop in Taiwan at t.he Tien Cultural Foundation (耕莘文教基金會), 22 Hsinhai Rd Sec 1, Taipei (台北市辛亥路一段22號). Tuition costs NT$1,200 and you can register online at www.windmusic.com.tw or call (02) 2218-5881 X351. For more information, visit www.spiritlands.com.tw
Comments will be moderated. Keep comments relevant to the article. Remarks containing abusive and obscene language, personal attacks of any kind or promotion will be removed and the user banned. Final decision will be at the discretion of the Taipei Times.