Venus in spurs
Peter O'Toole and Leslie Phillips turn in endearing performances as pill popping, boozing old thespians whose lives are turned upside down by the appearance of a seductive young lass
Roger Michell and Hanif Kureishi, the director and screenwriter of Venus, are both in their early 50s and, as far as I know, young in mind, body and spirit. Nonetheless in this film and their last collaboration, The Mother, they unblinkingly examine the effects of old age. Not coincidentally they provide their leading actors — Anne Reid in The Mother, Peter O'Toole in Venus — with rare opportunities to show how complicated, how impetuous, how alive older people can be.
Reid, playing a widow with time on her hands and sex on her mind, memorably pursued a steamy affair with Daniel Craig before he was James Bond. In O'Toole's case matters are kept to a quiet simmer. He plays Maurice, an elderly actor — not much of a stretch for him, perhaps, but an unalloyed delight for the audience — who takes a partly avuncular, partly lecherous interest in the grandniece of one of his pals. Jesse, played by Jodie Whittaker, has come to London to care for her great-uncle Ian (Leslie Phillips) and also, she rather idly hopes, to break into modeling.
Her prospects do not look terribly promising in either field. Ian, who dreams of home-cooked meals and friendly companionship, is horrified by the rude, slovenly creature with whom he shares his dim, cozy apartment. Maurice, less timorous and more ironical than his friend, may feel the same way when he sees her lounging in her velour track suit, stuffing her face with junk food, but his approach is different. He sees her the way he sees everyone else: as a target for his charm, an audience to be seduced, a mirror for his egoism.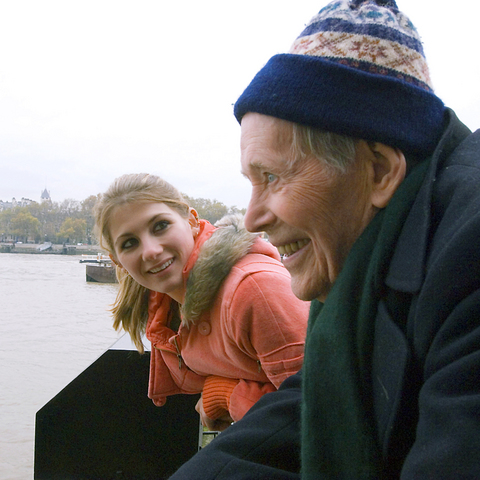 In Venus, Peter O'Toole's dreams of love are realized just before he shuffles off this mortal coil.
PHOTO: COURTESY OF HWA JAAN
Their unlikely, uneven friendship provides the movie with a thin, wobbly dramatic peg, but it turns out to be just enough for O'Toole to show the younger guys out there — the Leos and the Brads and, for that matter, the Daniel Craigs — how the thing is done properly. A lean, stiffening frame, a voice roughened by decades of cigarettes and decent whiskey (or whatever kind is available), a slackening face and bright, twinkling eyes: such is the instrument he has to work with, and he tosses off a perfect sonata.
O'Toole's effortless precision puts Whittaker, making her film debut, at a bit of a disadvantage, as does the script's somewhat blurry conception of her character. The point may be that Jessie is unformed, especially in comparison with Maurice, who has had a lifetime to rehearse and refine the great role of himself. But some of her caprices seem to be less the result of her own volatile, unpredictable temperament than of the narrative requirement that she serve as a foil. Her mood swings are sometimes too neatly arrayed in counterpoint to Maurice's emotions, as she answers his tenderness with cruelty and his vulnerability with warmth.
Since the movie is about desire — not so much for sex as for the vitality and surprise that sex can provide — it is also about power. Few writers can match Kureishi's knowing wit on this subject, or his skill at dissecting the shifting dynamics of longing and domination. Maurice's attention to Jessie, which he describes as "kindness," does not at first seem indecent or self-interested; he sees it not as an imposition but as a gift. He is, after all, a famous, distinguished fellow, and he brings an element of pedagogy — of Henry Higgins tutoring Eliza Doolittle — to his relations with this uncultured girl.
For her part Jessie, though she may be ignorant, is far from stupid, and she is quick to react to Maurice's condescension, and also to perceive her own advantages. At times the contrasts between them are too obvious and emphatic, but the story's schematic aspects are nicely undercut by the film's quiet, appreciative attention to its setting. Kureishi and Michell both love London and know it well, and one of the best qualities of Venus is its lived-in feeling.
The filmmakers also make canny use of O'Toole's celebrity, though Maurice is probably a few degrees less famous than the man who plays him. At St. Paul's in Covent Garden (aka the Actors' Church), Ian and Maurice pause to read the names of the real thespian dead, whose ranks they will soon join. Vanessa Redgrave appears in a few scenes (too few for my taste) as Maurice's fond, resigned ex-wife.
As Venus moves casually along, a deep sadness starts to gather around its edges, casting a shadow over the mischievous good humor that is Maurice's default mood. His mortality portends a larger loss, the eclipse of an approach to life and art that the great British actors of the mid-20th century, from Laurence Olivier to Michael Caine, embodied with such ease and charisma. It is not easy to define that special, paradoxical glamour O'Toole wears like a well-worn, perfectly tailored jacket — he is a self-made aristocrat, a genuine pretender, a selfless narcissist — but whatever it is, he still has it. Seeing a picture of the young Maurice — the young Peter O'Toole — in a newspaper, someone exclaims, "He were gorgeous." Indeed he were, and so he is.
Comments will be moderated. Keep comments relevant to the article. Remarks containing abusive and obscene language, personal attacks of any kind or promotion will be removed and the user banned. Final decision will be at the discretion of the Taipei Times.