Restaurants: Mini Oden (關東煮輕食堂)
ADDRESS: 11, Alley 27, Ln 216, Zhongxiao E Rd Sec 4, Taipei (台北市忠孝東路四段216巷27弄11號)

TELEPHONE: (02) 2778-8019

OPEN: Weekdays from 11:30am to 2pm; 6pm to 12am and weekends until 2am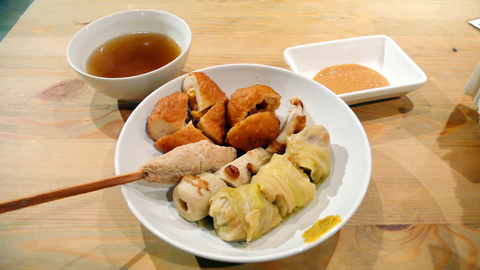 Mini Oden gives traditional Japanese street food a new, chic look.
PHOTO: HO YI, TAIPEI TIMES
AVERAGE MEAL: NT$300

DETAILS: Menu in Chinese; no credit card accepted
A casual meal with a bit of creativity and smart design thrown in seems to be a favorite among young hipsters and the Mini Oden situated in the heart of Taipei's East District (東區) is a good example of such a concept.
After building a customer base and gaining media attention on her Austin Mini-turned-food cart hawking oden, or Japanese stewed snack food, on the streets of the fashionable area, proprietor Sandy Sun (孫慧玲) decided to upgrade her venture to a more permanent place last year to avoid being chased from the streets by the police.
The atmosphere in the joint is cozy and relaxing as the interior design's palette of light brown and ivory-white is simple and warm. The tables are carefully arranged so that a group of friends can have ample room to have a good time over light meals and bottles of sake and Japanese plum wine (the liquor is slightly expensive compared to the stewed tidbits). The helpful wait staff is on hand to guide diners through the wide selection of over 30 stewed dishes including meat and fish balls, various vegetables, tempura and octopus. Most are priced between NT$30 to NT$60 each.
As for the food itself, the joint serves up authentic oden with a nod to the the Kanto region of Japan where Sun acquired many of the recipes she uses. The light-flavored broth made by boiling kelp and shavings of dried bonito is the key to a palatable oden meal and diners can drink the delectable soup in unlimited supply without worrying about MSG or other artificial seasonings.
The joint imports many ingredients from Japan and its signature dishes include surimi cake made of codfish puree and egg white, which has a surprisingly soft texture and agreeable taste. Roasted rice ball, another must-try, is crunchy and savory while the melt-in-the-mouth onion ball wrap is deliciously sweet.
First roasted, then stewed in broth, chikuwa, a tube-like fish puree product, goes well with the eaterie's popular white miso and mustard condiments that come as a much appreciated change from the sweet and spicy sauce served at many food stalls.
Though the traditional Japanese repast costs a bit more at the upgraded food stall, this reviewer considered the extra money well spent on fresh ingredients, satisfactory service and a relaxing atmosphere.
Comments will be moderated. Keep comments relevant to the article. Remarks containing abusive and obscene language, personal attacks of any kind or promotion will be removed and the user banned. Final decision will be at the discretion of the Taipei Times.