Cajun fever and all that jazz
Hurricane Katrina. Mardis Gras. A Streetcar Named Desirea. Is this all you know about the southern US state of Louisiana? Not to worry. The American Institute in Taiwan and US trade groups are organizing the New Orleans Jazz and Cajun Flavors Promotion, a Taiwan-wide event that's shaping up to be one of the larger food promotions the country has recently seen.
Starting next week there will be cooking classes in Taipei 101, a live video conference with jazz experts, and chances to sample Louisiana Cajun cooking at dozens of restaurants across Taiwan. The goal is to promote trade with a part of the US that is still reeling from the hurricane that barreled through New Orleans and devastated the surrounding area less than two years ago.
Most events that the public can access focus on Cajun cooking and are centered around the two-week visit of chef Roy Lyons, a Louisiana native and traveling culinary ambassador of sorts for southern US cuisine. Roy led Cajun cooking activities in China last year and first visited Taiwan in 2005.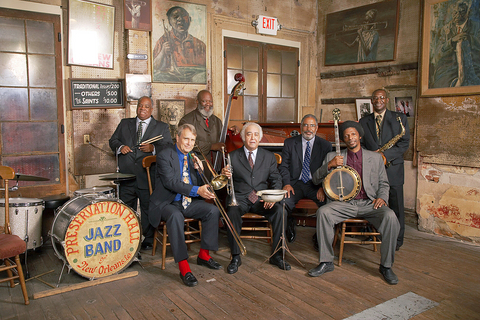 PHOTOS COURTESY OF AIT
Organizers hope people will come away from the festival knowing there's more to American food than hot dogs and hamburgers. "Ask any American what American food is, and you'll get a different answer," said Keith Schneller, director of the American Institute in Taiwan's Agricultural Trade Office. "Like Taiwan, it's a fusion" and "Cajun and Creole cuisine is a special and unique part of that fusion."
The word Cajun refers to the area around New Orleans settled by French-speaking Acadians. Cajuns, as they are now called, came to Louisiana after the British kicked them out of eastern Canada.
Cajun cooking lacks the African and Spanish influences of New Orleans Creole cuisine and is more rustic. It's flavored with the "Holy Trinity" of chopped onion, celery and bell pepper, and seasoned with parsley, bay leaf, scallions and cayenne.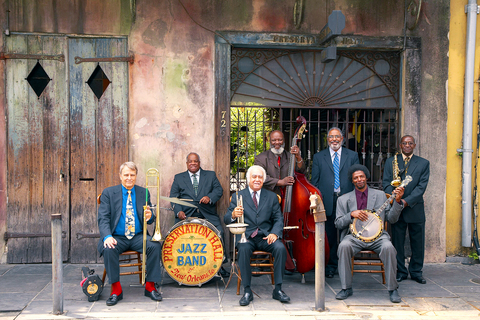 For one month, it's Cajun fever across Taiwan.
Typical dishes include andouille and boudin sausages, seafood such as crawfish, catfish and blue crab, and hearty rice concoctions like jambalaya and gumbo.
Chef Roy will be giving free public cooking classes at Jason's Supermarket in Taipei 101 and teaching his tricks to chefs at the Taipei Vocational Cooking School and Kaohsiung Hospitality College. Many of these chefs will then serve Roy's Cajun recipes at their restaurants through the end of May.
Unlike most food promotions, the restaurants participating in New Orleans Jazz and Cajun Flavors Promotion include mid-range places like G'Day Cafe as well as five-star hotels like La Brasserie at the Landis Hotel. One participant, the Cosmopolitan Bar and Grill, already serves Cajun food.
Since April is Jazz Appreciation Month in the US, AIT is also holding a live video conference Tuesday morning at the American Cultural Center with the creative director of a New Orleans jazz club and the program director for a New Orleans jazz radio station. Local jazz bands will also be performing live at Capone's restaurant in Taipei next Thursday, Friday and Saturday.
ICRT's Rick Monday, one of the festival's promoters, said Cajun food is appealing to Taiwanese because the ingredients are similar to those used in Chinese cuisine and because Taiwanese associate Cajun food with the New Orleans jazz scene.
"Cajun cuisine and jazz music go hand in hand, especially around Mardi Gras," said AIT's Schneller. "[We] hope to bring some of this cultural diversity to Taiwan."
Festival notes:
Chef Roy Lyons will be giving free Cajun cooking classes that are open to the public at Jason's Supermarket in Taipei 101 Mall on April 14 from noon to 2pm and on April 15 from 2pm to 4pm.
The American Cultural Center in Taipei is hosting All About New Orleans Jazz, a live digital video conference with Ben Jaffe, creative director of the Preservation Hall in New Orleans, and Dwayne Breashears, program director at New Orleans radio station WWOZ 90.7 FM. Other participants include Geddy Lin (林正如), owner of Riverside Cafe and band leader of the Taipei Jazz Quartet, and ICRT DJs Rick Monday and Bill Thissen. Advance registration recommended. Log on at www.ait.org.tw for more details.

* Tuesday from 8:45am to 10:30am

* International Trade Building, 21F, 333 Keelung Rd Sec 1, Taipei (台北市基隆路一段333號21F)

* For more information or to register in advance, call (02) 2723-3959 or e-mail info@mail.ait.org.tw
Capone's Restaurant in Taipei will have a Cajun buffet and live jazz each evening from April 12 through April 14.

* 312 Zhongxiao E Rd Sec 4, Taipei (台北市忠孝東路四段312號). Call (02) 2773-3782 for more information
The Brasserie at the Landis Hotel (巴賽麗廳) will offer a NT$580 Cajun set menu from April 13 through April 29

* 41 Minchuan E Rd Sec 2, Taipei (台北市民權東路二段41號). Call (02) 2597-1234 for more information
The following restaurants and hotels will be serving one or more Cajun dishes starting next week and running through the end of May. Call the venues for exact details:
Steak Inn (雅室牛排館), 10, Ln 49 Anhe Rd Sec 1, Taipei (台北市安和路一段49巷10號), tel: (02) 2775-3011
G'Day Cafe (晴西餐廳), 180 Xingan St, Taipei (台北市興安街180街), tel: (02) 2717-5927
Robin's Grill at the Grand Formosa Regent Hotel (晶華酒店), 41 Zhongshan N Rd Sec 2, Taipei (台北市中山北路二段41號), tel: (02) 2523-8000
Cosmopolitan Bar and Grill, 77 Wuchang St Sec 2, Taipei (台北市武昌街二段77號), tel: (02) 2381-2060
Malibu West (登得西餐廳), 9, Ln 25, Shuang-cheng St, Taipei (台北市雙城街 25巷9號), tel: (02) 2592-8228
Lawry's The Prime Rib (勞瑞斯) in Core Pacific Mall (京華城), 12F, 138 Bade Rd Sec 4, Taipei (台北市八德路四段138號12樓), tel: (02) 3762-1312
Diamond Tony's Panorama Restaurant in Taipei 101, 4F, 45 Shifu Rd, Taipei (北市市府路45號4樓), tel: (02) 8101-0016
Capone's Restaurant, 312 Zhongxiao E Rd Sec 4, Taipei (台北市忠孝東路四段312號), tel: (02) 2773-3782
Encore Kitchen (安可食家), 203-1 Gongyuan Rd, Linkou Township, Taipei County (台北縣林口鄉公園路203號之1), tel: (02) 2600-7768
Howard Prince Hotel (台中福華飯店), 129 Anhe Road, Taichung (台中市安和路129號), tel: (04) 2463-2323
The Splendor Hotel (高雄金典酒店) 1 Tzuchiang 3rd Rd, Kaohsiung (高雄市自強三路1號), tel: (07) 566-8000
Smoky Joe's Rib House and Tex-Mex Restaurant (冒煙的喬), 208 Chunghsiao 1st Rd, Kaohsiung (高雄市忠孝一路208號), tel: (07) 968-5989
Diners at participating restaurants will receive a coupon that, combined with an NT$499 purchase at Jason's Supermarket, will allow them to participate in a lucky draw. The grand prize is a round-trip air ticket to the US.
Comments will be moderated. Keep comments relevant to the article. Remarks containing abusive and obscene language, personal attacks of any kind or promotion will be removed and the user banned. Final decision will be at the discretion of the Taipei Times.