Restaurant: Maryjane Pizza
Address: 51 Yunhe St, Taipei (台北市雲和街51號)
Telephone: (02) 2368-5222
Open: 12pm to 2pm and 5:30pm to 9:30pm; closes at 10:30pm on Fridays and Saturdays; closed Mondays
Average meal: NT$160 to NT$300
Details: English and Chinese menu; credit cards not accepted
On the net: www.maryjanepizza.com
For the last three years, Maryjane Pizza off Shida Road (師大路) has been serving satisfying thin-crust pizzas at extremely reasonable prices. So it's somewhat surprising how little attention the place has received from English-language media, blogs and other Web sites included.
This hasn't stopped the cozy little restaurant four lanes north of Grandma Nitti's from building a sizeable reputation among expats and foreign students as a good place to go for a couple of reasons.
It's a great place for lunch, when a 10-inch pepperoni or veggie pizza, a glass of iced tea and a salad will set you back a mere NT$180. It's also a great place for an inexpensive date. The atmosphere is welcoming and casual with good lighting and tasteful artwork hanging from the walls. A carafe of house wine is only NT$230 and beers are buy-one-get-one free in summer. There's even a shady deck.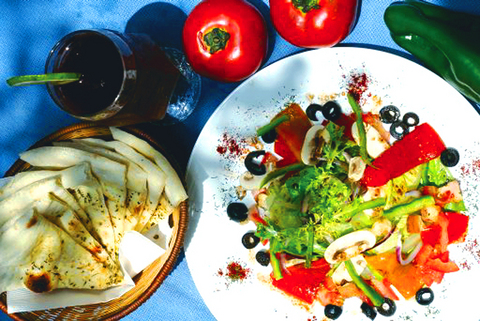 Maryjane is a great place for lunch or a date.
PHOTO: RON BROWNLOW, TAIPEI TIMES
So how was the pizza? I visited Maryjane's four times over the past two months, ordering the pepperoni (NT$160), the artichoke (NT$180) and the Greek (NT$200) pizzas. Of these, my favorite was the pepperoni. As with most Taipei restaurants that serve good pizzas, the crust is slightly dry. This is not necessarily a bad thing, and it balances well with a topping like pepperoni.
Likewise with Maryjane's pesto chicken pizza (NT$250), which I have not tried — yet — but which several of my friends recommend. It's topped with chicken breast, feta cheese, sliced tomatoes and a homemade pesto sauce.
Another example of a good balance was the Greek pizza, with feta cheese, onions, black olives, mushrooms, green peppers and cherry tomatoes over the standard tomato and mozzarella crust. I would have preferred more than one variety of mushroom and more feta cheese, but otherwise was pleased with the vegetables, which were fresh and came in just the right quantity.
If you like artichokes, I recommend ordering them with another topping, as for me, a mozzarella and tomato pizza with just artichokes tastes a bit dry. Maryjane lets customers build their own pizza for NT$140, plus NT$20 or NT$30 for each of two-dozen toppings.
Note: Maryjane is popular and its pizzas are hand-made and baked in a stone-base oven, so customers visiting during peak dinner hours sometimes have to wait for seats. Check the Web site for free soup and desert coupons.
Comments will be moderated. Keep comments relevant to the article. Remarks containing abusive and obscene language, personal attacks of any kind or promotion will be removed and the user banned. Final decision will be at the discretion of the Taipei Times.