Young, gifted and Taiwanese
Winning entries from the 2006 Taipei Arts Awards are on display at the Taipei Fine Arts Museum
The Taipei Fine Arts Museum is the only place in Taipei that consistently exhibits established contemporary art from around the world and introduces up-and-coming Taiwanese artists. By becoming a regular museum visitor, you have the opportunity to learn what is happening in the arts internationally and locally. The 2006 Taipei Arts Awards, on view until March 4, 2007, serves as a counterpoint to the concurrent Taipei Biennial and shows that Taiwanese artists (under 30 years old) often work in the same vein as international artists.
The awards are an annual contest, initiated 36 years ago, and are held by the Taipei City Department of Cultural Affairs in collaboration with the museum. In the competition's long history its goals have remained the same: to develop and promote contemporary Taiwanese art. Considering that the Taipei Fine Arts Museum is only 23 years old and that Taiwan's art scene is relatively new, it is a marvel to see how quickly the country's artists have progressed. The Taipei Arts Awards were established solely to foster Taiwanese contemporary art in a professional, institutional setting.
The jury had 331 entrants this year and chose a total of 22 artists with five grand prizewinners and five honorable mentions. The artwork from these 10 budding artists and several runners-up is now on view and includes drawing, painting, photography, video and installation. Unfortunately though, this year's selection is not as strong as previous years' as most of the work on view is technically proficient but lacks deeper meaning. What is lacking in multi-layered meaning, however, is made up for by visually impressive techniques.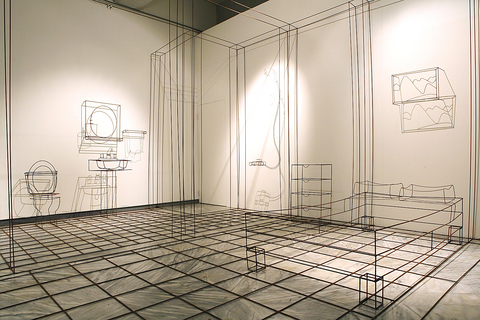 Jen Ta-hsien's The Disappearance of Surface Iron.
PHOTOS COURTESY OF TFAM
Lin Yi-shuan (林奕萱) shows Basquiat-like scribbled paintings that emit a raw energy. Wang Chung-kun's (王仲方方土) Skin is a video installation with a wire that pulls and distorts the skin of the projected screen. Lin Fang-yu's (林芳宇) dimly lit room with spotlights shining on small black and white framed photographs alludes to the famed Japanese photographer Araki's work as the images are erotic and hint at our mortality.
Chang Chia-ying's (張嘉穎) paintings of big-eyed creatures straddle the borders of kitschy greeting cards and outsider art. Chang is one of the few artists in this grouping whose art goads viewers into pondering how his work and career will progress in the future.
And the winner is …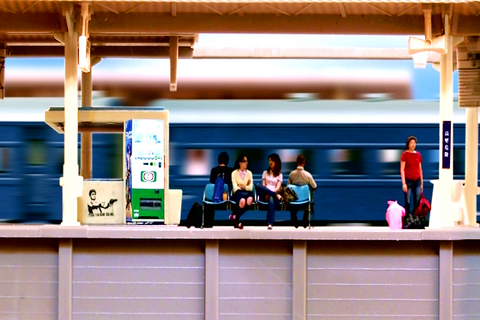 Chen Wan-jen's PLATFORM 2 video installation.
Five artists received a grand prize of NT$200,000 each for their award-winning works. Jen Ta-hsien's (任大賢) The Disappearance of Surface is a sculptural installation of an apartment with all its contents such as sofa, bed, and toilet delineated by iron bars. However, the work comes off more like an art school student's exercise rather than a piece of art.
Chen Chih-chien's (陳志建) Date Line is a digital time-elapsed projection of the Hsimen area of Taipei on a circular screen to show that time and space are both relative.
Chen Wan-jen's (陳萬仁) PLATFORM 2 is an example of how media can take precedence over metaphor. In the video installation, people stand at a subway platform waiting for a toy-like train. Hsieh Mu-chi's (謝牧岐) 2M is a blend of technology with performance as documentation.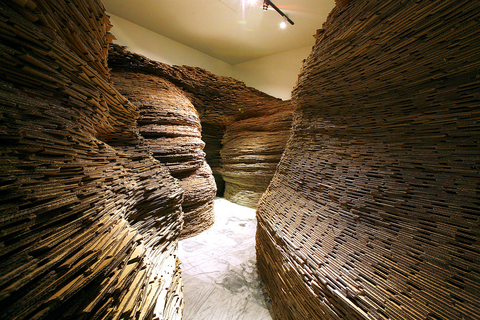 Huang Pei-ying's Flowing.
Huang Pei-ying (黃沛瀅) has been showing her installations for several years of glued pieces of corrugated cardboard that form organic shapes, often shaped like pretty decorations, but the cave-like piece shown here, titled Flowing, becomes a seamless merging of art, architecture and sound.
For your information:
Chen Chih-chien's Date Line video installation.
What: 2006 Taipei Arts Awards

Where: Taipei Fine Arts Museum, 181 Zhongshan N Road Sec 3, Taipei (台北市中山北路三段181號)

Telephone: (02) 2595-7656

When: Until Mar 4, 2007

On the Net: www.tfam.gov.tw
Comments will be moderated. Keep comments relevant to the article. Remarks containing abusive and obscene language, personal attacks of any kind or promotion will be removed and the user banned. Final decision will be at the discretion of the Taipei Times.