Hung Hung recaptures the world with words
The award-winning poet and filmmaker talks about his art and the current state of reading and poetry in Taiwan
Yen Hung-ya (閻鴻亞), who goes by the pen name Hung Hung (鴻鴻), sits over a bowl of soup and dumplings in a small eatery in Shida's night market. The wallpaper next to the table is fashioned with different stylizations of the Chinese character for book (書), a fitting tableau for a poet, editor, translator, publisher, filmmaker and theater director. As he thoughtfully picks through his meal he elaborates on the state of poetry in Taiwan and his own career as a wordsmith and image-maker. After the meal, Hung Hung will move next door to Ancient Fragrance House, a bookstore well-known for its rare volumes, to give a lecture about his 10 favorite poems written by Taiwanese poets to a group of students, professors and editors.
Hung Hung's willingness to get involved in the community of words wasn't always so apparent. Like many poets, he spent his youth absorbed in a reality of his own creation, far removed from the world around him.
"When I was younger, I wanted to find my real love. I wanted to read my books. I wanted to travel. So that's my life: nothing to do with anybody else. But now, I feel that everybody is connected to each other and every country," he said.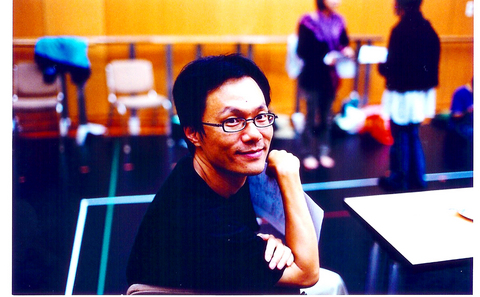 With his rising awareness of the interconnectedness of the world, so too has come a desire to impress this understanding on burgeoning poets and readers. He has spent the past year touring the island's universities lecturing about the importance of poetry as a tool of moving beyond other forms of language.
"I think poetry can recover and conquer the land that all [the] propaganda and official language occupy," he said.
"What the written word can do is make [language] clear, make it simple to understand — make very simple but powerful statements about life or about what is human. That is the power of words — it doesn't depend on images or details but it can catch something real inside truth to affect people," he added.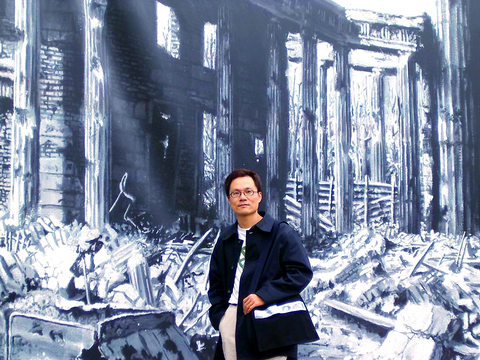 Accomplished poet Hung Hung laments the lack of critical appreciation of poetry in Taiwan, and is attempting to bring new forms of the literary genre to younger generations of readers.
PHOTO COURTESY OF HUNG HUNG
Hung Hung believes that for any artistic medium to be relevant, it is necessary to have a body of criticism to help interpret its meaning and promote various styles. And though Taiwan has many teachers and professors trained in literature departments both at home and abroad, there are few who are able to adequately write about the up-and-coming and current generation of poets.
"There are very few critics in Taiwan and they don't write regularly on poetry," he said.
Hung Hung uses Hsia Yu (夏宇) — an innovative poet and a member of the editorial team of Poetry Now (現在詩) — as an example. "She is very popular with the readers. But very few critics talk about her poetry because they don't know how to treat it. So I think, we don't have a very good tradition of critics in Taiwan," he said.
In addition to a lack of critics, few publishing houses in Taiwan are translating and printing works of poetry.
"In Taiwan there are many famous poets and famous novelists and writers so they are publishing — but poetry is always the least published, especially the translated poetry in Taiwan — maybe one or two books in one year," he said.
He adds that those translated works of poetry from abroad are typically from the 19th century or before. "So contemporary poetry, we know absolutely nothing about," he said.
For Hung Hung, translating and publishing works of poetry from other countries provides local readers with a better understanding of different poetic traditions, those that exist outside of Taiwan. It is for this reason that he agreed to curate the Taipei Poetry Festival.
"I want to introduce different kinds of contemporary poetry to Taiwan. From different areas, culture[s] and different styles because it's the only chance to introduce contemporary foreign poetry to Taiwan," he said.
The other function of bringing poets from outside Taiwan to these shores is to raise awareness of the existence of other countries.
Hung Hung has few good words to say about Taiwan's education system, claiming that it fails to teach students to appreciate the literature of other cultures and the arts in general.
"Our education for children and teenagers is terrible. It is a cruel life. They kill all the interest in literature and poetry," he said. He adds that the literature taught at the university level is also too conventional.
"It's not creative, so people [are] writing poetry only for the beauty of the words. Of course this is important, but I think it's not all of what poetry is about," he said, adding that a lot of the poetry currently being written in Taiwan is divorced from the real world, something that he feels needs to change.
"What I can do is write my own poetry to prove that poetry can be connected to society and politics and still be a good poem," he said. Through magazines that publish contemporary Taiwanese poetry like Poetry Now or events like the poetry festival, Hung Hung said he could provide different forums to discuss poetry.
In addition to his work as a poet, Hung Hung has also spent the last decade working in the realm of film and documentary cinema. His films have been critically well-received at festivals throughout Europe and Asia and can be described as fusing the streets of Taipei into the lives of its inhabitants, of which The Human Comedy (人間喜劇) is the most well-known.
Comparing poetry to film and documentary, Hung Hung sees the former as a highly personal statement of his own experiences written in a special code.
"But images are also codes. We can recognize ourselves in the images more readily [than text]. So when I have more and more to talk about the world, then I think [film is a] more powerful way to present what I want to say," he said.
Yet Hung Hung always fuses his poetic sensibility of place into the films he makes.
"When I write about Palestinians or ... Chechen people I am writing about Taiwan. That distance, to look back at one's self [helps me] to think much more clearly. For example, The Human Comedy is about life in Taipei and the locations are all very important in this film. But, actually, I wrote that screenplay in Paris when I stayed there for one year. [What I] realized [is] that I am a Taiwanese and that remains important [to] me and I write that story," he said.
Comments will be moderated. Keep comments relevant to the article. Remarks containing abusive and obscene language, personal attacks of any kind or promotion will be removed and the user banned. Final decision will be at the discretion of the Taipei Times.