He's hot. He can sing. But can he design?
Justin Timberlake wants to expand his claim on sexiness into the realm of fashion with a runway show he and collaborator Trace Ayala have named 'Street Sexy'
"What's sexy to you?" asked a disembodied voice playing over a speaker in a barrel-shaped theater in Hollywood, straining to be heard over the sound of a thousand camera shutters clicking at once.
"Mmm, sexy," the voice of Justin Timberlake answered, his words echoing. "It's not the clothes. It's the way you wear them. Sexy is a state of mind. It's about that attitude attitude attitude."
Timberlake, in the flesh, was sitting dead still on top of a speaker box while the previously recorded interview played on, his silver argyle Vans splayed apart and his head hung low under a slim black hoodie. He sat that way for several minutes, a pop Buddha preaching the dharma of bringing sexy back, motionless as people moved lights all around him and B-boy dancers polished the floor with their chests. Then in a blink, he was sitting next to a reporter on a bleacher with his arm on his shoulder.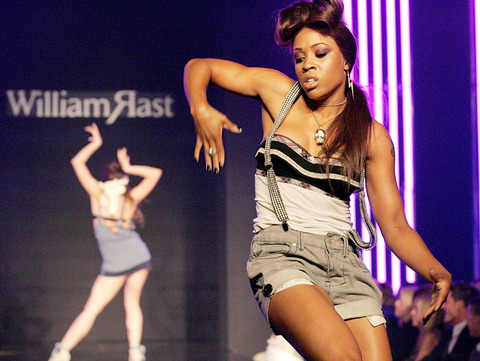 Dancers perform on the catwalk during the William Rast Fashion Show.
PHOTOS: AGENCIES
"I'm stressed as hell," Timberlake said. "How was your flight? When did you get in?"
Aw shucks, Mr. Timberlaaa ...
Oh. The performer had just as quickly gotten up and was standing by the runway.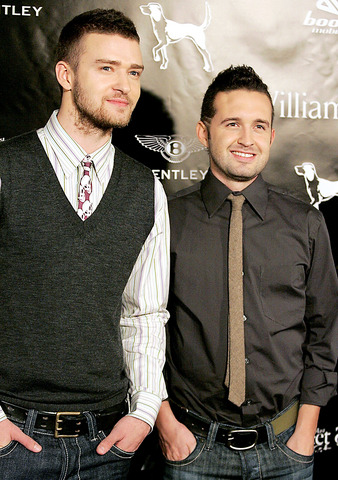 Justin Timberlake, left, and Trace Ayala present their William Rast clothing line at the Social Hollywood nightclub in Los Angeles, California on Oct. 17, 2006.
The singer-designer was stressed. He was watching models rehearse for the first fashion show of a collection called William Rast, a year-old collaboration between Timberlake and Trace Ayala, his best friend since childhood. He was aware of the critical trouncing delivered to other celebrities who have attempted to commercialize their personal style with a fashion line.
"I don't want to look like a celebrity who is cashing in on celebrity," Timberlake said. "That's my fear."
Although Ayala designed the clothes, it was Timberlake who was making the fashion show a production, selecting the music, conceiving the set, taping the fake red-carpet interview as a sly statement on the hyped nature of celebrity collections — it would play as other celebrity guests took their seats — and personally casting the dancers and models.
Monday afternoon last week, the day before the show, several of the models were moping or chomping on gum, unable to manage a fairly uncomplicated routine that required one turn and one half-turn. One stomped down the runway like a Clydesdale, comically attempting the signature march of Gisele Bundchen. Timberlake made a bug-eye face, then pretended to stumble across the room.
As most music-conscious people have heard, Timberlake is bringing sexy back; that is, his contagious single of that title has dominated global pop charts since September, and it has even been used as a punch line by US Vice President Al Gore, when he appeared on the Video Music Awards and said he had heeded Timberlake's call.
Critics have praised the album with the single, FutureSex/LoveSounds, the second solo album by Timberlake, formerly "the cute one" in the boy band 'N Sync. In another step toward his transformation into an adult act, Timberlake has taken on serious acting roles, including a part in Nick Cassavetes' crime drama Alpha Dog.
And now he wants to expand his claim on sexiness to fashion, with a runway show he and Ayala named "Street Sexy." Showing restraint, Timberlake did not plan to play his hit until the finale of an after-party concert following the fashion show. He seemed well aware that its popularity is in danger of becoming oppressive.
"At least I didn't bring Lycra back," he said.
What has been interesting about Timberlake's approach to fashion is that, unlike other celebrities turned designers like Sean Combs, Jennifer Lopez and Beyonce, he had not heavily promoted his involvement until last week. Ayala, 25, who worked with Timberlake as a personal assistant and designed clothes for 'N Sync, persuaded the singer to start the collection a year ago, after being approached by Danny Guez, the owner of the Los Angeles denim company People's Liberation.
Timberlake's name was kept off the label to avoid the overt appearance of cashing in on his celebrity, but he approves all of the designs and comes up with some of them. William Rast, named after two of Timberlake's and Ayala's grandfathers, began selling US$180 boot-cut jeans at Bloomingdale's and a handful of other stores. The idea was that the partners would perfect their basic designs before making a more ambitious fashion statement.
Ever since Combs, building on a career as a rap impresario, introduced his Sean John collection in 1998, the fashion industry has been overrun by music celebrities. But so far the success of Combs — he was named men's wear designer of the year in 2004 by the Council of American Fashion Designers — has been more the exception than the rule. There have been reports of production problems for Lopez's line, exaggerated sales figures from Russell Simmons, and a lawsuit against Jessica Simpson, claiming she did little to promote her own line.
"We have departments for clothes, not celebrities," said Frank Doroff, a senior executive vice president at Bloomingdale's, paraphrasing the store's late, legendary fashion director, Kal Ruttenstein. "Quite a few of the lines we feel are not appropriate for Bloomingdale's, or that they really don't sell."
The rollout of William Rast has been limited. In early interviews, Guez gave sales projections of about US$15 million for the first year, but he declined last week to say whether his company, which went public in December, had met that target. Still, Doroff said it is one of the two celebrity lines carried by Bloomingdale's that have connected with shoppers, along with LAMB by Gwen Stefani.
Timberlake has been savvy about his image since beginning his solo career in 2002. He has successfully erased the taint of his adolescent romance with Britney Spears, and he transferred the stigma of an infamous wardrobe malfunction at the Super Bowl almost entirely onto his duet partner, Janet Jackson. He has worked with the stylist Joe Zee, the editor of Vitals magazine (now defunct), to change his own look from leather eight-ball jackets, gold chains and faded jeans to a more adult one of rakish fedoras, skinny monochromatic Dior suits and three-piece tweed suits from Yves Saint Laurent. "My style changes like the seasons," he said. "I've grown up in the business, and I've had the double-edged sword of having everyone see my odd years. You can document them on the red carpet, and they are absolutely hysterical. I look back at some of the things I wore when I was 17, and I wonder, what was I thinking? Obviously, I was 17." He is now 25.
Before the September release of FutureSex/LoveSounds, Zee said he flew to Los Angeles to present the singer with photo-collages to inspire his look for the album's marketing, showing him pictures of classic Hollywood rogues like Frank Sinatra and Sammy Davis Jr.
"He got it right away," Zee said. "He's far more advanced than Madonna was at his age. You can only imagine where he'll be when he gets to 45."
Timberlake's music, his performances and his style could be described as deliberately unconstructed, as though he had practiced in front of a mirror a few times before trying it out in public.
His approach to creating a fashion brand comes across as intently studied, surreally so when Timberlake, with a glass of sauvignon blanc in his hand, speaks of his desire to build a total lifestyle collection, using fashion-industry jargon as if to demonstrate his seriousness.
"In my opinion, there are lot of denim brands out there that miss the point of jeans," he said. "Jeans are a canvas. I see a lot of jeans that if I was to wear them, I would have to work my outfit around them."
Tuesday night, an hour before the show, Cameron Diaz, Timberlake's girlfriend, was sitting on the runway, talking to friends in the front row, and tugging the back of her sparkly shirt down over her William Rast jeans, so as not to expose herself to guests on the other side of the runway like Patrick Dempsey, Dr. McDreamy of Grey's Anatomy. Also in the house were Eve, Wilmer Valderrama, Michelle Trachtenberg, Paris and Nicky Hilton and Timberlake's former boy-band colleagues Lance Bass and JC Chasez. They made their entrances on a carpet of black Astroturf.
What's sexy to you?
"Him," Bass said, pointing to his boyfriend, Reichen Lehmkuhl. "I think confidence is sexy."
Lehmkuhl added, "Sexy is when someone knows how to be confident and how to tell someone else they look good."
Mmm. The show included women in short denim skirts and men in ultraskinny jeans with cuffs that rolled back to midcalf, good for a celebrity runway show but not much different from what one would encounter at a Diesel fashion show or one of Dsquared. It was amazing, really, that they were having an elaborate event for a collection of just 20-some pairs of jeans and T-shirts, styled as the competing gangs from The Outsiders.
The greasers wore their hair styled into mullets, with western gingham shirts and rockabilly gold bow ties on white blouses; the preppy socs wore similar pieces, tidied up with a pale yellow cropped cardigan, for example, and Tretorn sneakers. A few short prairie dresses, and a retro plaid sports jacket over slim khaki pants for men, represented the expansion of William Rast; the fireworks were saved for the dancers.
The B-boys somersaulted over one another, their sneakers at moments within centimeters of celebrity airspace, and a group of lascivious-looking women bumped and ground their way along the stage, one reaching over into the lap of Bass, writhing to a Prince song with a name not suitable for publication (which doesn't really narrow it down).
"What really makes clothing sexy is what you do with it," the voice of Timberlake said as he took his bow with Ayala.
Comments will be moderated. Keep comments relevant to the article. Remarks containing abusive and obscene language, personal attacks of any kind or promotion will be removed and the user banned. Final decision will be at the discretion of the Taipei Times.