Banned, but not broken
Singapore filmmaker Martyn See did the unthinkable - he made a political documentary. He shows that film and premiere's his latest "subversive" documentary today at the Assignment Theatre
When Martyn See (施忠明) made his first film he thought it would be censored. He didn't realize he would be investigated, his tapes and video camera confiscated, and he would ultimately be warned never to do it again.
The offense: making Singapore Rebel,which chronicles the political journey of the island-state's most outspoken opposition politician, Chee Soon Juan (徐順全). See's 26-minute documentary was withdrawn from the Singapore International Film Festival last yearafter censors found it to be a political film, banned under the country's Films Act.
"If it was passed by the censor it would have been shown to a room of no more than 100 people," said See, a 37-year-old video editor who is in Taipei this week for screenings of Rebel at the Assignment Theatre (差事劇團). His new film, Speaker's Cornered, premieres at the Assignment Theatre tonight. "Now 10 times, maybe 100 times that many people have seen it."Singapore's Films Act bans the making, showing or distribution of "party political films," or films "directed towards any political end in Singapore." Those prosecuted under the act face two years in prison or fines of up to S$100,000, or roughly US$59,000.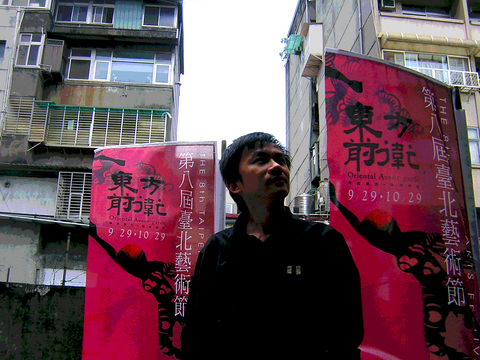 Director Martyn See is all about questioning the political process.
PHOTO: RON BROWNLOW, TAIPEI TIMES
The idea is that film manipulates audiences and leads them to make poor voting choices. Singapore's government argues tight media controls and restrictions on public assembly are needed to preserve public order.
Critics point out that political content favorable to the ruling People's Action Party, which has ruled Singapore since independence from Malaysia, has been allowed to air on national television. This includes a recent Hong Kong-produced program on former head of state Lee Kuan Yew (李光耀), the father of Singapore's current prime minister.
In its annual report on press freedom last year, Reporters Without Borders ranked Singapore 144th out of 166 countries. A Singaporean student in the US was recently threatened with a defamation lawsuit for criticizing the government on his blog.
See said he made Singapore Rebel to examine why the political opposition is marginalized by the country's media, which is state-owned, and society. He also wanted to "politicize younger Singaporeans" who are "totally apathetic towards political issues."
He used roughly 70 percent of his footage, which he shot with a Samsung mini DV camera and edited on a Macintosh laptop computer. The entire project cost about US$400 to make. The film is essentially an interview with Chee, the secretary-general of the Singapore Democratic Party, mixed with footage showing Chee's home life and a protest near the prime minister's house. References to Chee's party were deliberately omitted.
"I had a very vague idea about the films act," See said. "However, I took my chances because the new prime minister had just been inaugurated and he promised an open and inclusive society."
Indeed, the film opens with a quote attributed to current Prime Minister Lee Hsien Loong (李顯龍) in 2004: "We are an open, multiracial and cosmopolitan society. We enjoy a good reputation in the world… . Our people should feel free to express diverse views, pursue unconventional ideas, or simply to be different."
Two months after Singapore Rebel was withdrawn from the Singapore International Film Festival, police called See in for what he describes as a "friendly question and answer session."
There was a second interview several months later was "amicable" until the end, when the and a third time this May, just before the general elections. Acquaintances, including a filmmaker and a political blogger, Jacob George, also received calls from police.
Ultimately See's video camera, but not his tapes, were returned and he was let off with a warning.
Chee, who has been bankrupted by defamation lawsuits brought by ruling party leaders and jailed three times for speaking without a permit, saw the news as a victory.
"My first thought was that they didn't want to make Martyn a cause celebre," he said in a phone interview Tuesday. "I think it was a sign that this government knew where its boundaries are, that if it pushed beyond those boundaries their actions would backfire and be counterproductive."
But See, who maintains he was never told exactly how Singapore Rebel violated the Films Act, is not so sure. "The roadblocks can be put in place at the whim and fancy of the government," he said. "If you think that you're making some headway they always close it down."
George agreed. "I don't see (Singapore Rebel) having a major impact," he said in a phone interview Wednesday. Filmmakers "know they had better not make this kind of movie."
Still, he thinks people in Taiwan should watch See's film. "It gives another side of Singapore politically which is rarely ever seen," he said.
See hopes Singapore Rebel will remind viewers that they should not take Taiwan's democracy for granted. "Just watching programs on television (here) openly criticizing the president … for me it's like a breath of fresh air," he said. "I'm actually envious of Taiwan," he added. "Taiwanese are interested in their political system."
Film notes:
Singapore Rebel plays today at 12:30pm at the Assignment Theatre (差事劇團), one of three films from that country at this weekend's Left Side Film Festival. At 8pm, director Martyn See (施忠明) will discuss Singapore Rebel in a forum, also at the Assignment Theatre. Following the discussion, there will be the world premier of his new film Speaker's Cornered, a 27-minute documentary on Chee Soon Juan's attempt to protest in front of the World Bank and International Monetary Fund's recent annual meeting in Singapore. For more information, call (02) 2364-5124. Assignment Theatre is located at 9-10, Ln 18, Heping E Rd, Sec 2, Taipei (台北市和平東路二段18巷9-10號B1).
Comments will be moderated. Keep comments relevant to the article. Remarks containing abusive and obscene language, personal attacks of any kind or promotion will be removed and the user banned. Final decision will be at the discretion of the Taipei Times.