Restaurant: Yabu Soba
Looking to explore Japanese food but don't think you can settle on just one dish? Plan on eating with friends who have a hard time agreeing on what to order? Want to drink lots of alcohol and enjoy a good meal at the same time? This restaurant solves these dilemmas in one fell swoop.
Yabu Soba serves izakaya ryori (居酒屋料理), or pub-style food. Think of the rathskeller you visit for dinner, except this one serves Japanese dishes and you order a bunch of small but substantial courses to share with a group. There are tables in the back, with bamboo blinds and pictures of sumo wrestlers for decoration. In the evening things get lively and you can still eat at the bar, although this one offers a view of sake bottles and sushi preparation instead of whiskey and beer taps.
On a recent visit a party of seven shared seven delicious dishes and consumed several one-liter bottles of Kirin beer. The result was a satisfying meal and the tab came out at NT$450 per person. Impressively, staff offered to alter the portions of each dish to suit the size of our group.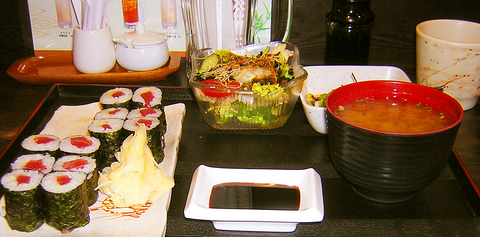 Set meals like this one are only the tip of the iceberg at Yabu Soba.
PHOTO: RON BROWNLOW, TAIPEI TIMES
Memorable courses included the roast potato slices topped with mentaiko, or marinated roe, (NT$160, 烤馬鈴薯明太子), California rolls (NT$160, 加州酪梨捲) and beef tataki (NT$360, 日式生煎牛排), slices of raw steak that have been lightly seared on the outside and are to be dipped in a ponzu sauce. The sauce is what makes this dish. Stir in sliced ginger and scallions thoroughly before dipping the thinly sliced beef.
Staff also recommended the kimchee beef (NT$190, 韓國泡菜牛肉), chicken wings with mentaiko inside (NT$190, 烤雞翅包明太子), and the restaurant's trademark soba noodles (NT$150, 日式蕎麥冷麵). There's also a decent selection of vegetable and tofu dishes, such as fried tofu (NT$70, 炸豆腐) and spinach with egg (NT$130, 菠菜蛋); tell staff if you're a vegetarian before ordering. This being an izakaya, there's a drinks menu that features around a dozen brightly colored cocktails.
Yabu Soba moved from its old location on Linshen North Road four years ago. It's now on Nanjing East Road next to the Emperor Hotel and three blocks east of the Zhongshan MRT station.
During lunchtime things are much more subdued and Yabu Soba looks more like a run-of-the-mill Taipei Japanese eatery, albeit one with an extensive and eclectic menu. Lunch prices run from NT$110 for soup noodles to NT$250 or more for a set meal with soup, salad and entree.
Publication Notes
Yabu Soba
Address: 106 Nanjing E Rd Sec 1, TaipeiTelephone: (02) 2511-8017Open: Daily from 11am to 2:30pmAverage meal: NT$150 to NT$450Details: Chinese and Japanese menu; credit cards accepted
Comments will be moderated. Keep comments relevant to the article. Remarks containing abusive and obscene language, personal attacks of any kind or promotion will be removed and the user banned. Final decision will be at the discretion of the Taipei Times.