Eyes aren't the only windows to the soul
Don't neglect your handwriting - it might just get you written off the shortlist
Remember when neat, legible writing was a prized skill? In a time before the digital age, when employees were valued for flowing script? Now employees can go weeks without scribbling anything more than a telephone number on a Post-it note. But that doesn't mean your scrawl doesn't matter anymore — writing analysis is an increasingly popular way to screen job applicants.
A swell in the popularity of handwriting analysis, or graphology, in overseas European recruitment could see the trend catch on. French employers in particular favor the method, with some 75 percent using graphology as part of their recruitment process.
"When used correctly, graphology can give a good indication of a person's personality structure, their abilities, ability to grow and develop, and perhaps most importantly, their integrity," says graphologist Margaret White, who uses her skills to assess job applicants for recruiters.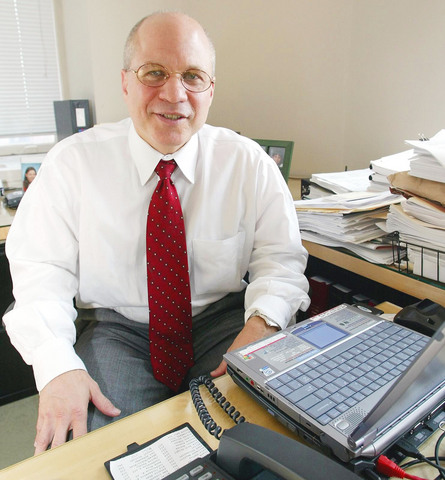 Millions of Americans have found that the ease, speed and accuracy of writing with a computer keyboard have vastly reduced the occasions on which they might turn to a pen or pencil. New York lawyer Steven Storch, 52, says his handwriting, now rarely used, is virtually illegible.
PHOTO: NY TIMES NEWS SERVICE
But while recruitment-graphology is growing, employers are reluctant to admit they use the technique. Why? Handwriting analysis is often viewed with skepticism and companies appear to be afraid that this sentiment will discredit the professionalism of their company.
But not all employers are so coy: London banking group Butterfields publicly states that it uses graphology for recruitment.
As managing director Paul Turtle explains: "It is not used as the defining factor in the decision-making process. However, it has been shown to add an extra dimension to the jigsaw, which has frequently been validated once an employee is in situ."
The British Graphology Institute would certainly agree that the optimum use of graphology in recruitment is in conjunction with other methods. "Psychometric tests are fine, but they can be manipulated, as people can change their answers depending on what they think the company wants to hear," says a spokesperson. "But used in conjunction with graphology you can double check that one validates the other."
Cynics may suggest that the reason companies are reticent about revealing their use of graphology is because they use it without an applicant's knowledge — although this would be strictly against the ethics of any professional graphologist. "Graphology is always undertaken with the permission of the candidate," says the Graphology Institute. "So job applicants need never fear that a sample of their handwriting has been requested for analysis without their knowledge."
Where problems may arise, of course, is in employers conducting their own impromptu analysis of an applicant's handwriting, based on little besides their own prejudices. For those of us with less than perfect script, this may certainly raise concerns when applying for jobs that call for a letter "in own handwriting." In fact, professional graphologists agree that bad handwriting is by no means a sign of sloppy work or a lazy attitude to employment — it can frequently mean a high degree of intelligence and enthusiasm.
In any case, it seems that writing is getting better rather than worse. "There was a significant drop in standards around 20 years ago," says Margaret White, "but then schools reintroduced copy books into schools, so in my opinion … people who are aged 20 or 30 have better handwriting than previous generations."
From a graphologist's point of view, the legibility isn't necessarily an issue — but handwriting is impossible to fake, as opposed to resumes, which tend to be increasingly 'embroidered,' shall we say. A person might be able to fool me for a few lines, but their true style will show pretty quickly — particularly if they're writing about something they're interested in."
All this probably sounds quite tempting to time-pressed recruiters, particularly if they've been burned in the past with an exaggerated resume, or simply a candidate who doesn't fit in with the team. "Graphology works very well as an assessment of whether a person will fit in with a company, or stick out like a sore thumb," says Margaret. "For small companies in particular, this is cutting out a lot of risk."
But there is also a financial reason why graphology may be used. Compared with psychometric tests, and interviews, handwriting analysis is a great deal cheaper, and can be a cost-effective screening process to these more expensive methods. As companies become ever more aware of the costs of recruiting, it looks likely they will be open to a number of new screening processes. And graphology certainly looks set to remain one of the ways in which job applicants are taken on, or written off.
Comments will be moderated. Keep comments relevant to the article. Remarks containing abusive and obscene language, personal attacks of any kind or promotion will be removed and the user banned. Final decision will be at the discretion of the Taipei Times.