Restaurant: Tanukikoji 狸小路
Address: 93 Anhe Rd Sec 2, Taipei (臺北市安和路二段93號)
Telephone: (02) 8732-8555
Open: Sunday and Thursday from 6pm to 1am; Friday and Saturday from 6pm to 2am
Average meal: NT$900 to NT$1,500
Details: Menu in Japanese and Chinese; credit cards accepted
If you seek culinary refinement in a relaxing, homely dining environment, look no further. The sake bar Tanukikoji on Anhe Road has garnered a crowd of frequent customers with its top-rated delicacies and a wide range of sake sourced from across Japan.
A small joint seating around 20 people with a function room on the side, Tanukikoji presents an open dining space accommodating an elegant long wooden bench inlaid with glass. The menu is best described as Japanese fusion and features sets of sushi, sashimi, grilled meats and seafood with a creative twist.
The most popular on the sushi list is the sea urchin. According to one of the proprietors, Andy Luo (羅安得), the chef uses top-quality sea urchins imported from Hokkaido — they are small but sweet, which means they need little seasoning.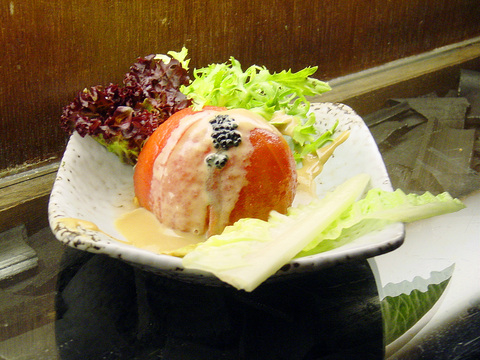 The A-grade food at Tanukikoji doesn't come cheap, but it is money well spent.
PHOTO: HO YI, TAIPEI TIMES
Another highlight on the menu is raw beef slices. The secret to the dish's divine taste is the sesame sauce, sweet onion and, of course, the fresh, tender beef.
"We are a bunch of gourmets who only go for the best ingredients and foods. Once you have the A-grade ingredients at hand, all you need to do is to bring out the original taste," Luo said.
The strategy seems to work well. The must-tries such as grilled shrimps and silvery codfish jaw are simply flavored with lemon juice and salt to bring out the sweet freshness of the seafood.
The baked potato with cod roe and cheese dish is a creative fusion of East and West. To this reporter's surprise, the fish eggs go exceptionally well with creamy potato chunks.
Savory foods are not the restaurant's only specialty. The cheerful young wait staff is on hand to guide patrons through the world of sake. It can be served cold, hot or warm.
"Similar to red wine, there are numerous grades and tastes of sakes that can go with different meats and foods. We have about 20 kinds of sakes and the wait staff can tell the customers which kind of sake best matches the dishes they order," Luo said.
Comments will be moderated. Keep comments relevant to the article. Remarks containing abusive and obscene language, personal attacks of any kind or promotion will be removed and the user banned. Final decision will be at the discretion of the Taipei Times.