Cars out for the ladies
For years women in motor racing were just 'brolly dollies' or mascots. Now, though, a major event puts them in the driving seat
Bantering with a journalist from the lads' mag FHM last year, Jenson Button was asked his opinion of women racing drivers. "You wouldn't want to be on the circuit with them, would you?" he said. "A girl with big boobs would never be comfortable in the car. And the mechanics wouldn't concentrate. Can you imagine strapping her in?"
Unsurprisingly, his comments caused quite a storm. Until recently, though, they seem to have been pretty representative of attitudes towards women in motor sports, especially in formula one.
After all, for years now, the closest most women have got to a racetrack is either in the trackside audience, or by being a "brolly dolly": wearing a short skirt and marking the place on the starting grid for drivers, while shielding them from the sun with an umbrella.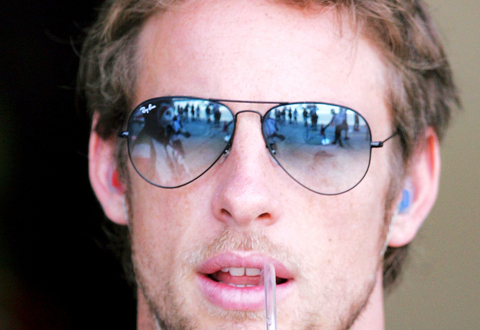 Women such as Britain's Katherine Legge are beginning to make a mark in car racing and challenge "brolly-dolly" stereotypes as epitomized by Katie Price despite what F1 boss Bernie Ecclestone and Jenson Button say.
PHOTOS: AGENCIES
(Glamor model Katie Price epitomized this image when she was the F1 mascot for Eddie Jordan's team, bagging the name "Jordan" on the way.)
Recently though, the grid-girl concept has begun teetering on its high-heels, thanks to a major British racing championship called Formula Woman. Although the highly respected British Women's Racing Drivers Club (BWRDC) promotes women already making their way in motor sport, it doesn't generate events. But Formula Woman is a championship specifically designed to teach novice female drivers how to become fully fledged racing drivers in a supportive, but competitive, environment.
And at least one major F1 player is enthusiastic about women becoming drivers and training to a standard where they can compete with men. Just last month), David Coulthard spoke up strongly for women in motor sport. "I'm a great believer that (women should) have an equal opportunity to race," he said, "There's no reason at all why they shouldn't race with men. There's no physical or reaction reason. More men get into it, because more boys get into it. My sister was naturally a better driver than I was, though."
And, it seems, women are just as keen to get into the sport. Launched in 2003, the Formula Woman competition has grown massively since its inception, with an eye-popping 10,000 women registering to take part after the television airing of the first FW Championship, and there's a three-day elimination camp to find the final 16 to compete in the championship. They are tested for everything they will need to become a first-class racing driver in the real world; points are won with track times, fitness levels and finance generated (particularly important given the sheer expense of motor sports).
The cost of a young driver going into Formula Ford is about £100,000 (US$184,000) per season. Formula three is £500,000 per season, and it costs multi-millions just to break into formula one — some F1 teams take paying drivers just to subsidise the entire team's financial survival. Compared to this, taking part in the Formula Woman championship — in which all the cars are provided — is much more accessible for women trying to break into the industry, costing about £10,000 for the season.
Like F1, the championship unravels over three months at prime track locations such as Brands Hatch, UK — the first race of the season is at Pembrey in South Wales on Saturday. Winning in 2004 launched the career of Natasha Firman, who has since become a paid driver (for Mazda), racing in a mixed team, a rare achievement in the UK. Other championship finalists are active in motor sport.
One of this year's FW Championship finalists, Vicky Lloyd, 22, is a nurse who is serious about trying to make it to the top. Racing is in her blood. Her father raced until he was paralysed by a crash at Mallory Park, racetrack in the UK before his daughter's birth. This has not dissuaded her from aiming to make a career out of racing. She is about to race at Mallory Park herself for the first time. When I asked her what racing felt like, her answer matched emotion for emotion the answer of every female racing driver I interviewed.
"It's probably the most exciting thing you could ever do," she says. "The adrenaline is phenomenal because you're nervous someone might crash into you but still you want to overtake, get ahead and win. When I get out of the car I want to jump around because I'm so excited. The thing is, I've got the bug. It's highly addictive.
"That's why people continue to throw so much money at the sport and why my father has never tried to stop me."
Although there have been, and still are, very successful female racing drivers such as Janet Guthrie, Desiree Wilson, Sarah Kavanagh and Susie Stoddart, they usually don't make it to the top because they can't get the financial backing and support that a male driver will. There's no fighting it. No matter how good a driver you are, male or female — if you haven't got one of the best cars and teams on the track, you won't win the race.
And sexism is widely acknowledged as having proved a major obstacle in procuring financial backing for women in motor sports. In Beverley Turner's recent book about formula one, The Pits, she writes, "(F1 chief) Bernie Ecclestone has admitted that women will probably never drive in the sport. He says: 'In all likelihood they will never get the opportunity, because no one will take them seriously or sponsor them financially. Therefore they're never ever going to get into a competitive car.'"
And unless you, or your parents, are mega-wealthy, financial backing comes from sponsorship. This is a vicious circle because unless you attract big trackside audiences and widespread media exposure, sponsors are elusive. And yet, as former FW competitor Amanda Johnson explains, "Right now racing teams are screaming out for really good female drivers (partly) because of the media benefits they bring."
"You have to start somewhere," says Lloyd. "If you don't give the opportunity to women who haven't had it before, you'll never change the statistics. Luckily the FW Championship brings a TV deal which is rare in club racing and has widened the appeal and audience of women in motor sports."
The person responsible for Formula Woman is former racing driver and instructor Graeme Glew, who counts grand prix driver Mark Blundell and the rally driver and TV motoring presenter Vicki Butler-Henderson among his past students. With 20 years of experience, Glew recognised that women were just as hungry for high speeds and capable of the necessary reactions, courage and fitness as men. "Women racing cars is just as exciting, if not more so, than men racing, because I think they show their personalities and emotions more," he says.
What's more, to add to the excitement, "There are new records to be broken by women against women."
Georgie Shaw, spokesperson for the BWRDC, agrees with Coulthard that the time has come to develop women drivers. "We don't want any special concessions simply because we're women. We just want to be another driver on the track. Susie Stoddart is the only female finalist in the prestigious BRDC McLaren Autosport Young Driver Award ever. I firmly believe that she will be the first British female in F1. And soon."
But it is Glew's vision of the future that revs my engine. "Imagine a Formula Woman race alongside an F1 grand prix. Just imagine how much excitement and interest that would generate."
Monaco, here we come.
Comments will be moderated. Keep comments relevant to the article. Remarks containing abusive and obscene language, personal attacks of any kind or promotion will be removed and the user banned. Final decision will be at the discretion of the Taipei Times.