A new generation of slavery
A crackdown on undocumented workers has led to illegal detentions and stretched the resources of the police and welfare groups
Victoria Andres was in for a nasty surprise when she came to Taiwan. She had signed a contract in the Philippines to work as a caregiver for an elderly man in Ilan. But after arriving at Chiang Kai-shek International Airport she was driven to Banciao and put to work as a domestic helper, or maid, for a family of five. She never saw the old man.
There, according to Andres' boyfriend, the wife verbally abused her and the family's eight and nine year old children beat her. Not surprisingly, she ran away and found work cleaning houses part time. Her life on the run ended in April, when she was arrested near Fujen Catholic University (輔仁大學) in Taipei County.
"I ran away because my job was very hard," Andres, 39, said in an interview last month at a police station in Sinjuang (新莊), Taipei County, where she was awaiting deportation. Sitting on a couch inside the precinct's foreign affairs office, Andres measured her responses and spoke in hushed tones, nervously twisting a reporter's name card in her hands. Her boyfriend later explained she did not want to reveal much, because she had been jailed for more than a month and was scared of being kept longer.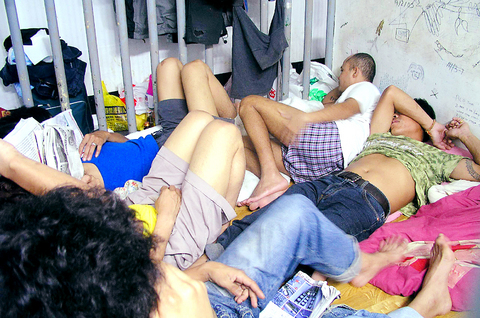 Andres' predicament repeats itself in Taiwan thousands of times each year. The government has shown little inclination to address the root of the problem, which is that foreign workers are easily exploited and cannot change employers if their current one abuses them. Worse still is the broker system, where employers pay middlemen to sort through the complicated process of importing laborers.
Foreign workers sign contacts in their home countries that require them to pay their broker a finder's fee and a service charge of NT$1,500 or more a month. When they arrive in Taiwan nearly all are forced to sign side agreements, which are recognized by the legal system and authorize brokers and employers to deduct even more from their monthly salaries, usually in the form of what are euphemistically called "loans."
As of press time, the Executive Yuan's Council of Labor Affairs had not responded to e-mail and telephone requests for interviews.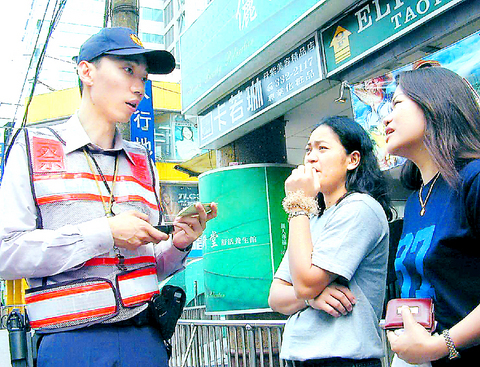 "It's not like slavery, it is slavery," said Lennon Wong (汪英達), deputy director of international relations at the Chinese Federation of Labor (中華民國全國總工會), noting that many broker companies are owned by politicians, their relatives or people who boast openly of their ties to lawmakers. "The government has set the system up like this on purpose to drive business to the brokers."
But undocumented migrants create something of an image problem the government cannot ignore. Nearly 10,000 absconded in the first three months of this year, and polls suggest the public thinks politicians are not doing enough to protect jobs from cheap foreign labor. "Illegal foreign workers" (非法外勞), as officials call them, are also seen by the public as a sign of social decay, and on March 15 Premier Su Tseng-chang (蘇貞昌) vowed to resign if social order does not improve within six months.
As part of a crackdown announced this April, the government raised the penalty for employers who hire undocumented migrants to NT$750,000, from NT$150,000. Last month, it more than doubled the reward for turning them in, to NT$5,000. Undocumented migrants say the increased fines have made it harder to find work, and officials say more have been caught recently or are turning themselves in to police. "We usually see two cases a month of undocumented workers who want to go home," said Carlo Aquino, head of the Assistance to Nationals section of the Manila Economic and Cultural Office. "This month we've seen 33. That does not include those who don't have the money to go back yet."
The office instructs those most down on their luck to continue working until they can afford the NT$10,000 fine for running away and the plane ticket home. But Aquino says the crackdown and fines are resented by local officials tasked with enforcing them and will not be pursued with enthusiasm for long. "It's not so easy for them because they have to send back a lot of foreign workers," he said, noting that one precinct station had 50 migrants crammed in its cells. "Where will the precinct get that money?"
Migrants and their advocates say that despite the crackdown, life as an "illegal foreign laborer" is still much better than life as a "legal" one. At a stroke, you eliminate the broker's onerous fees, can compete for work on the open market, rent your own apartment, eat what you want and generally be your own master. "It's better to be undocumented because you're free and you can do whatever you want," said "Gloria," 41, a Filipina who has been undocumented for a year and a half and asked that the Taipei Times not print her real name. "Of course, there's always the fear that one day you might be caught," she said. "But it can be a little bit exciting."
No word better describes the escape her friend made three years ago. "Alexandra," 27, hails from an indigenous region in the northern Philippines and taught herself to speak Mandarin and Taiwanese. She has lived here for more than seven years and is a repeat fugitive. The first time she was ratted out by a neighbor and sent back. She obtained a passport under a different name and returned two months later. "It's very easy," she said.
Back home, she would be earning roughly NT$100 per day toiling in a rice mill or vegetable garden, if she found work at all. Her first legal job here paid her NT$20,000 a month, with little time off. Undocumented, she works about nine hours a day and earns more than NT$25,000 a month. "If you're documented you cannot refuse to do illegal work," she said.
For her second stint, she signed a contract to work outside Taipei. Shortly after her arrival an earthquake struck and knocked tiles off the wall in the house where she was working. The wife asked her to stick the tiles back on, but refused to buy glue. Alexandra used tape to fix the tiles. "The next day the tiles fell down again," she said.
The boss scolded her, then went into her room and made a phone call. When she returned she told Alexandra to pack her all belongings. She was to go to Taipei for a month to work for her brother.
Alexandra sensed something was wrong. Why would her boss ask her to pack everything if she was only to be gone for a month? When they arrived at the station her fears were confirmed. The broker, not the boss' brother, was waiting at the other end of the parking lot.
Alexandra, who stands less than 150cm tall and was dragging a suitcase nearly as big as she was, let her boss walk in front. Her heart was pounding. They passed a corridor to her left. She saw a train at the other end.
This was her chance. "There's a wall there so my employer ... cannot see me, and then I escape," she said. Summoning all her strength to drag her oversized suitcase, she made for the train. "Then it so happened that the train will leave the station," she continued. "I immediately get on. The conductor asked, `where's you ticket?' I said `Lai bu ji. (I didn't have time)' She let me get on."
Victoria Andres wasn't so lucky. On the afternoon of April 9 she was in a karaoke bar with friends. She had the microphone and was singing Take Me to Your Heart by pop act Michael Learns to Rock when plain-clothes police officers busted in and started checking IDs. "I was shaking and got nervous and was crying," she said. "If felt sad and lonely at that time and I didn't have any money."
She spent the next 38 days at the Shinjhuang police precinct in Taipei County. The length of her stay was technically illegal because police are only authorized to detain a suspect for 30 days.
"We kept calling her employer (in Banciao) and asking her to give us Victoria's passport so she could go home," said Alan Chang (鄭嘉裕), the officer in charge of the case. "The employer kept saying she was looking for it." Chang could not put Victoria on a flight to the Philippines without a passport and he could not help her apply for a new passport until her old employer declared the old one lost.
Everyone with knowledge of the case believes the woman in Banciao was stalling to punish Andres for running away. "Some employers, because of this resentment, they're angry. So some of them delay the return of the passport," said MECO's Carlo Aquino. He added that it was unusual for a migrant to be detained for so long, because his staff routinely visit precinct houses to check on detainees. But the government's crackdown has given them too much work and they rarely have time to leave the office.
A Catholic pastoral worker at Fujen Catholic University finally discovered Andres on a routine visit to the police station in late April. He was her first and only contact with the outside world for several weeks. Officers had previously refused to allow visits or even gifts of food from Victoria's friends, although this changed after his visit.
The pastoral worker called Aquino, who called the precinct. The next day, the police notified MECO that the employer had decided that Andres' passport was lost. Officer Chang booked a seat for Andres on the earliest possible flight out, on May 17.
The CFA's Wong said the length of Andres' detention was "illegal" and "ridiculous," but it's hard to see what options the police had. More detainees mean more work for Chang and his fellow officers, who often buy their charges food and medicine, and the precinct looked particularly busy last month.
Wong and other advocates said the crackdown might flush out a few illegals, but in the end it amounts to mere window-dressing. The real problem is that there are more than 300,000 maids, construction workers, caregivers and other foreign workers from five Southeast Asian nations and Mongolia in Taiwan, and being undocumented, despite the risks, is often their best option.
"There are so many problems the government does not want to face," Wong said. "It just want to use migrants as cheap workers and send them home."
Comments will be moderated. Keep comments relevant to the article. Remarks containing abusive and obscene language, personal attacks of any kind or promotion will be removed and the user banned. Final decision will be at the discretion of the Taipei Times.