Long live the underground
Urban Nomad is back with more diverse alternative visions
If a weekend of imbibing alternative films and having a relaxed time quaffing beer with friends sounds intriguing, you need look no further than the Urban Nomad Film Fest (城市游牧影展), which started yesterday and runs through Sunday at the Huashan Cultural Center (華山文化園區).
Coming into its fifth year, the independent showcase presents a content-rich lineup of 40 works featuring surf and skateboard videos, short films, animations and documentaries made by underground talents from home and abroad.
Organized by the expat duo David Frazier and Sean Scanlan, Urban Nomad was set up with the aim of preserving underground creativity and demonstrating that the media is a democratic tool accessible to anyone who has something to say.
Surviving Beijing, Harvest, Punk Priss Sebastian and Hey Jimmy, below, provide alternative perspectives on a variety of current issues.
PHOTOS COURTESY OF URBAN NOMAD
"When people make films, they want the works to be seen. So we try to be more flexible about the deadline ... and screen as many of the submitted works as possible," co-founder Scanlan said.
As this year's focus is on alternative visions and documentaries, the festival offers an exciting mixture of works addressing political and social issues and subcultures from different regions, especially from the southeastern Asian countries including Singapore, Thailand, the Philippines and Malaysia.
One such film is Singapore Rebel. Banned in Singapore, the documentary is an emotionally-charged account of the political dissenter and opposition leader Chee Soon Juan, who, since 1992, has taken up the valiant mission to challenge the authoritarianism of the People's Action Party (PAP). He subsequently lost his job as a university professor, and was eventually forced into bankrupcy.
Her Jimmy
The film offers a rare chance for outsiders to see how the PAP uses oppressive methods to silence political opponents like Chee in the name of building a modern Asian society.
As co-founder and organizer Frazier said alternative film scenes in southeastern Asian countries have enjoyed strong growth in recent years. And as a young and growing alternative venue, Urban Nomad has reached out this year to fringe film festivals and curators in Thailand and the Philippines to bring out new underground voices.
"Ideally, we want Urban Nomad to become part of the underground network in Southeast Asia. Kids and young people in different places should understand each other through alternative media as opposed to big film festivals or dominant TV channels," Frazier said.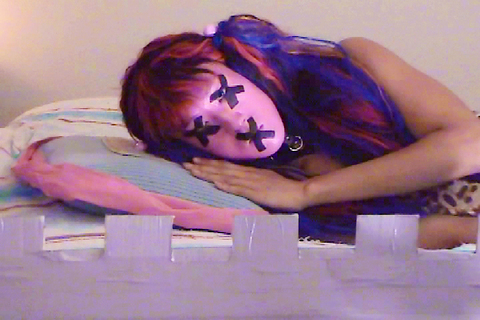 Punk Priss Sebastian
Representing the promising future of the local film community is Respire (呼吸) by Taipei-based director Ho Wi-ding (何蔚庭). Winner of the Kodak Discovery Award for best short film at the Cannes Film Festival Critics' Week last year, the black-and-white short offers a doomsday version of the SARS epidemic when a young girl defies the law to brave the airborne virus for a deadly passion.
Highly stylish and poetically shot, the low-budget film is an inspiring example of how a work of art can be produced despite certain limitations. It was shot with old, sometimes even moldy, film rolls collected from commercial production houses in Taipei.
If you missed the opening film Surviving Beijing (樂會北京) yesterday, Sunday night is your last chance to see the highlight of the festival. The documentary is a first-person account of a rock troupe consisting of two Malaysian bands and an underground magazine who, in 2000, go to Beijing to live with their Chinese comrades.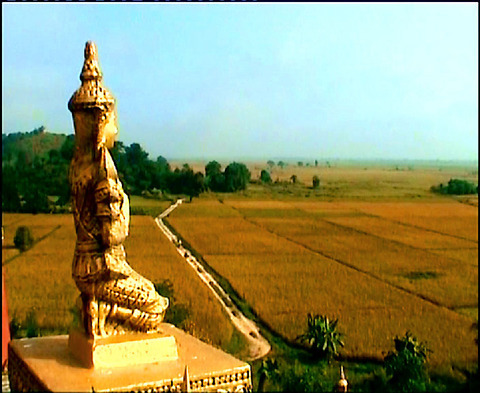 Harvest
Idealistic and optimistic at first, the group settles down in the now bulldozed "Tree Village" in the suburb of Beijing, a legendary settlement of rock musicians and social drop-outs.
The film follows the failing attempts of the Malaysian rockers to get gigs and mingle with the tough crowds, and gives audiences an insight into the urban tribe of rockers who don't fit in to the fast-changing society and choose to live in poverty and make music as a social protest against China's rapid development toward capitalism.
For those who feel the three-hour-long programs of experimental film is just too much, there is a chill-out space for visitors to walk around, sip beer and enjoy a good chat with friends or strangers. At Urban Nomad, visitors will not find dark, confining theaters, but a film party where people are free to share their thoughts and feelings with other individuals.
Festival notes

What: Urban Nomad Film Fest (城市游牧影展)

Where: Huashan Cultural Center (華山文化園區), 1, Bade Rd Sec 1, Taipei (臺北市八德路一段1號)

When: Tonight beginning at 7:30pm; tomorrow and Sunday at 7pm.

Tickets: NT$200 for one day; NT$500 for a four-day festival pass.

For more information on films to be screened, visit www.urbannomadfilmfest.blogspot.com
Comments will be moderated. Keep comments relevant to the article. Remarks containing abusive and obscene language, personal attacks of any kind or promotion will be removed and the user banned. Final decision will be at the discretion of the Taipei Times.