The Galapagos unbound
Charles Darwin wrote about the Galapagos islands during his voyage on the `Beagle' in 1835 that sparked his theory on evolution. You can visit yourself by kayak now
We nudge the kayaks through the waves off a remote cove in the Galapagos when a pair of mating sea turtles bob to the surface, drifting close enough to reveal gray tongues hanging languidly from green knuckle-like heads. Just a few hours ago, a 2m-long shark ducked beneath the bow in a fizz of purple bubbles. And a few hours before that, curious sea lions popped up next to my paddle strokes to flash such sweet faces that I almost jumped in to play. Almost.
It can be tough deciding which wildlife encounters are worthy of pause after only a few days in the Galapagos -- those South American islands of evolution cauterized by sun and magma. Nearly any tour that cruises this isolated yet popular chain, 965km west of Ecuador, comes packaged with extreme closeups of washer-size tortoises, swimming lizards and crabs the color of rainbows.
But this is not one of those tours.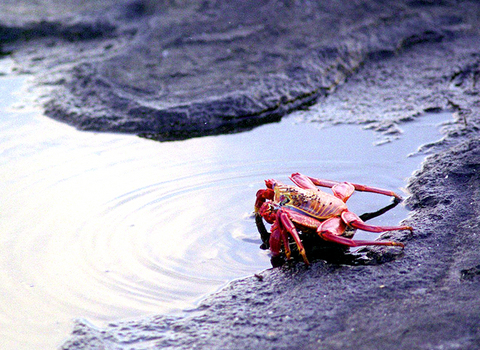 It's late November, and Peter Grubb, a sunburned rafting guide from Idaho, is leading a small group of guides, naturalists and reporters on a weeklong "exploratory" sea kayaking trip -- a test run that commercial outfitters often organize to fine-tune a new itinerary. It's a new adventure for all: No one, including Grubb, has done what we're doing.
When Grubb's Galapagos sea kayaking trips open to the public for the first time in February, a dozen adventurous clients at a time will experience these islands and wildlife in an enticing new way: by paddling to deserted beaches and camping overnight in sand that bears few five-toe footprints.
Trips to the Galapagos archipelago -- nearly all of which is a national park -- typically unfold aboard one of about 80 commercial yachts that ply the waters here. From four to 100 passengers at a time are whisked around on tightly choreo-graphed schedules between islands. While convenient and comfortable, wildlife encounters are often limited, since passengers must sleep on the boats and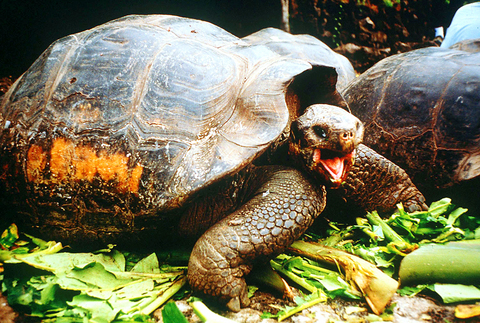 disembark only at strictly controlled wildlife viewing sites for short periods.
Unlike yacht-based trips that may offer some kayaking, Grubb's excursion is all about melding into the sea and letting the landscape slide by under blue-footed-booby skies. Come evening, paddlers run the kayaks into the sand, pitch tents on the beach and wait for birds to scream in the dawn. The combination is spectacular. Not only do paddlers have the thrill of being among the first tourists to camp in these locations, but along the way, they also nuzzle bow to beak with so much kooky wildlife that stumbling upon sea turtles in the act becomes, well, normal.
"It's such a different experience from being on a yacht," said Julian Smith, author of the Moon Handbooks guide to Ecuador, who has made three trips to the islands since 1997. He said kayaking at your own pace and camping on the scene was like visiting Versailles and being able to "play on the beds or put on the armor."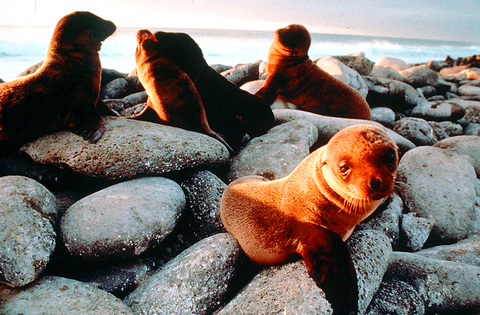 Wildlife on the Galapagos islands is often unique and includes, top, cannibalistic red lava crabs, iguanas, tortoises and sea lions.
PHOTOS: NY TIMES NEWS SERVICE
Not everyone thinks that's best for an island chain already showing warts from relatively recent human interaction.
Tourism is big business in the Galapagos, pouring at least US$100 million into the Ecuadorean economy each year, and drawing increasing numbers of workers from the mainland, according to Micki Stewart, an economist at the University of California, Davis, who is studying the islands.
By some estimates, the tourist town of Puerto Ayora on Santa Cruz Island has nearly doubled in population to 15,000 people in about five years. In 1973, 14 years after the creation of the Galapagos National Park, officials estimated that 12,000 people a year could tour the Galapagos with little impact. About 109,000 visited in 2004, but authorities had already increased the allowed capa-city to 150,000 tourists a year, said Ramiro Tomala, a naturalist with the park.
It might not be long before they reach that number. In April, Discovery World Cruises plans to dock a ship with 500 passengers off San Cristobal Island. That's five times the capacity of the largest ship currently allowed to operate in the archipelago. About 97 percent of the land is protected by the park, but less than 1 percent of that land is open to tourists. (Most of the land not in the park is urban. About 28,000 people live on the islands.)
Grubb, who also runs white-water rafting trips in Ecuador with his Quito-based partner, Juan Rodriguez, insists his kayaking and camping trips have little to no impact. For this test trip, he brought along a small portable toilet with storage bags for waste. He set no fires, placed tents away from wildlife nesting sites and packed out all trash, often more than we produced.
As the demand for tourism increases, Grubb said that his kayaking trips would provide an environmentally friendly way to visit a place that could use some cleaning up. Some beaches "are getting trashed from fishermen who camp on them already," he said.
After a two-hour flight from Quito to Baltra Island, the trip started with two days of kayaking off Baltra's west coast and camping outside the park at Salinas Beach, a strip of fine sand churned by sea turtle tracks. Nearby, the tour's clients can expect to snorkel with sea lions off
Mosquera Islet and hike among nesting frigate birds on Seymour Island, both an hour's paddle north.
On Day 3, the group took a small twin-engine plane west to Isabela, a seahorse-shaped island of lava, guava trees and a village with sandy streets and 2,000 people. Nearby, visitors can snorkel with sharks, sea turtles and even penguins, or journey inland to hike 9km along the steaming rim of Sierra Negra, a 1,487m volcano that last erupted in October.
After two nights at Casa Marita, a funky Mediterranean-style inn, the trip concluded on San Cristobal Island, a 30-minute flight east. There, guests hopped back into kayaks for a 15km paddle along dozens of beaches to camp for two nights at Puerto Grande, a cove behind the looming mass of Cerro Brujo. Kicker Rock, a monolith west of the campsite, is one of the archipelago's more impressive snorkeling areas. Scores of Galapagos sharks, spotted eagle rays and yellowtail surgeonfish filter through a deep channel cut into the rock's volcanic tuff.
Though the campsites are spectacular, as a whole the Galapagos are not particularly beautiful, at least not in the way tropical islands often are.
"We fancied even that the bushes smelt unpleasantly," Charles Darwin wrote during the voyage of the Beagle, the trip in 1835 that sparked his theory on evolution.
It is the diversity of animals -- penguins and flamingos, for example -- and their bizarre mutations that bring people here today. After countless generations of not needing to fly, some cormorants can't; the four-eyed blenny fish can crawl on land; iguanas sneeze salt. Most creatures are freakishly unafraid of people because humans haven't been around to hurt them until relatively recently, said Tomala, the naturalist.
For Budget Travelers
COMPANY: Adventure Life Journeys (www.adventure-life.com)
WHY: The Sulidae, a sailboat built in 1901, accommodates up to 12 passengers in six cabins with private bathrooms. For those who want the thrill of sailing and the comfort of a hot shower, there is the Angelique.
HOW MUCH: Sulidae, US$1,550; Angelique, US$1,660 in low season and US$1,820 high season; Darwin, US$1,430 low season and US$1,525 high season; Seaman, US$1,600 low season and US$1,725 high season; Fragata, US$1,865.
For off-the-beaten-trackers
COMPANY: International Expeditions (www.ietravel.com)
WHY: The remote Isabela is the largest island yet one of the least visited. One vessel that makes the pilgrimage is the Evolution, a 1920s vessel that takes 28 guests. Two-person kayaks are available on board.
HOW MUCH: From US$4,198 for the Evolution and US$2,130 for the Samba.
For the pampered set
COMPANY: Celebrity Cruises,(www.celebrity.com)
WHY: Mimosas, daily massages and evening cocktails al fresco are special touches offered on the Celebrity Xpedition. The "sunrise deck" has a hot tub and sauna. The Polaris (Lindblad Expeditions) offers massages atop a glass-
bottomed pontoon boat in a secluded cove.
HOW MUCH: Celebrity prices start at US$4,400; Polaris starts at US$3,650.
For landlubbers and day trippers
COMPANY: Finch Bay Eco-Hotel
(www.finchbayhotel.com) or
(www.royalpalmgalapagos.com)
WHY: If your idea of heaven does not include sleeping on a rocking boat, then a hotel-based day-tour package might be a better option.
HOW MUCH: Eight-day packages at Finch Bay start at US$1,787; there is a 25 percent discount for children under 12 sharing a room with parents (one child limit). Royal Palm prices: US$310 a night for studios, US$550 for villas, and US$800 for the two-bedroom room Imperial Suite.
HOW MUCH: Rates for a seven-night cruise start at US$2,295. No charge for ages six and younger. Age seven for around 30 percent off cruise rate; ages 12 to 14 receive 20 percent off. National park fee is not included.
Comments will be moderated. Keep comments relevant to the article. Remarks containing abusive and obscene language, personal attacks of any kind or promotion will be removed and the user banned. Final decision will be at the discretion of the Taipei Times.