A question of character
At Taiwan Storyland (台灣故事館) it's still 1965. Located in the basement of the Mitsukoshi department store near Taipei Train Station, it is a repository for all the things Franky Wu (吳傳治) has picked up in 20 years of collecting memorabilia.
But Wu is more than a simple collector and Storyland is much more than a simple repository. The 1,500-ping space has been transformed into the center of an imaginary Taiwanese township with buildings and streets, business signs and billboards.
"I thought of Main Street USA when putting all this together," Wu said of Disneyland's famous entranceway. "I would like to see our employees playing the roles of the business we have here; have a barber in the barber shop and a school teacher in the classroom."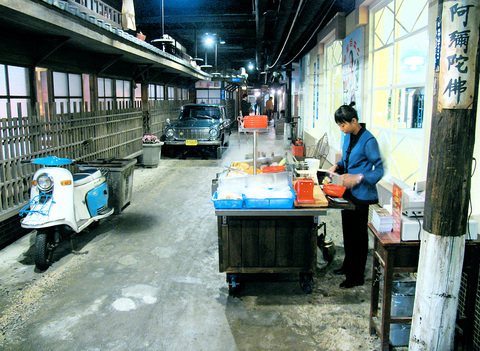 A street vendor awaits customers on one of the several lanes of Taiwan Storyland in the basement of the Taipei Train Station Mitsukoshi Department Store.
PHOTOS: DAVID MOMPHARD, TAIPEI TIMES
Storyland also has a photographer's studio, a police station, a puppet theater, the Baoshengtang medicine shop, an ice cream parlor, a grocer, a dentist's office, the Black Cat bar, a bookstore, a movie theater, some six restaurants, street vendors and more.
"We tried to think of everything," Wu said during a recent stroll in Storyland. He pointed to a line marking the pebble street which ran parallel to the curb. "Here. This is the mark that's left on the road from the rainwater dripping off the rooftop."
Stretched above that roof -- but below the ceiling of the basement that Storyland occupies -- are telephone and power cables held to wooden poles with antique glass insulators. On one wire sits a quartet of birds, one serenading the others. Atop an adjacent roof is a cat napping.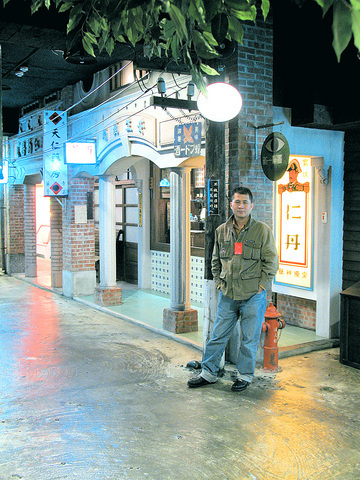 Franky Wu is Taiwan's foremost collector of memorabilia and his Taiwan Storyland is a trip to 1965 Taiwan.
Wu's trove of treasures started with old newspapers and advertisements collected when he finished army conscription. A native of Taichung, he watched as whole villages near his home were relocated to make room for Taiwan's 10 major construction projects. He'd travel to the abandoned towns before they were razed and take all the things former residents considered trash.
"I'd sit and talk with old people in villages and tell them about some of the things I have that I considered treasures," Wu said.
Wu's first idea was to open a theme restaurant in his native Taichung. In 2001, the Vernal Dew Shop opened it's antique doors to the public. It was followed in 2004 by the opening of Shanghai Xinle Yuan, also in Taichung, reflecting the opulence of old Shanghai. Still the combined spaces house only a part of what Wu has in storage. Where could he park his late 1950s Mazda three-wheeler, for instance? Finally, the right space was found in the basement of Taipei's Mitsukoshi and, after lining up a reported US$3 million to create Storyland, it opened in November last year.
Still, despite all its treasures, many locals have yet to discover the value of Storyland.
"The people who tell me they love this place ... most of them are Westerners and Japanese," Wu said. "Locals will say its cute, but foreigners tell me this place is special.' My hope is to instill in Taiwanese a love for their own past." Taiwan Storyland is located in the basement of the Shinkong Mitsukoshi building at B2, 50 Zhongxiao W Rd, Sec 1 in Taipei (北市忠孝西路一段50號B2). Admission is NT$120 for adults and redeemable for NT$80 worth of goods anywhere in Storyland.
Comments will be moderated. Keep comments relevant to the article. Remarks containing abusive and obscene language, personal attacks of any kind or promotion will be removed and the user banned. Final decision will be at the discretion of the Taipei Times.