Taipei's answer to The Clash
If you want to treat yourself to the hardest rockin' band in Taipei, don't miss Sky Burial on Sunday from 9pm to 10pm at the Riverside Cafe.
Named after Tibetan funeral rites, the band is made up of seasoned musicians that hail from Chicago, New York, Maine and the UK.
They describe their music as Goth punk, Western, country, gospel, "Bright, happy stuff, SUV-driving [stuff] Americans listen to.''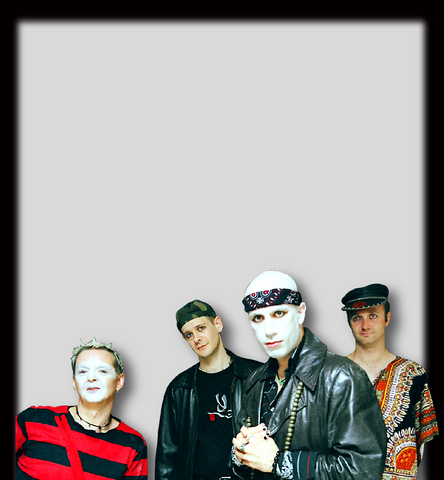 Now they plan on "attacking the college crowd in Gongguan,'' according to lead singer Jimmy Vulture (aka Lance Gura).
Sky Burial started out in 2000 with what guitarist Brian Kleinsmith described as a "Hootenanny,'' a rural American jam session of U2, Beatles, old blues tunes.
The band of English teachers soon began writing their own songs, often recording in Kleinsmith's bathroom and laying down tracks with Kleinsmith's Bostex.
Gura and Kleinsmith found a formula: Gura writes lyrics, Kleinsmith works out the melody, and then Paul "Alfie'' Routledge and John Ring lay down drum and bass lines.
"We play roles and it works quite well,'' Routledge said.
Gura added, "It only takes Brian a few minutes to work it all out and to be on the same page. It makes me lick my lips to think of writing 10 more songs. In New York, it could be tedious.''
For the past year, Sky Burial has been perfecting its darkly satirical, hard-hitting punk style at the Living Room. With the help of hairdresser/Web master/drummer Routledge, they've incorporated a "bird of prey'' theme into their act and Web site (www.sky-burial.com), as well as projecting multimedia "eye candy'' behind them as they perform. Their upcoming album, The Freak at the End of the Rainbow, is due early next year.
With classic punk- and rock-inspired, tight riffs by guitarist Kleinsmith and searing lyrics by charismatic lead singer Gura, songs like Ivy and Punishment Fuck will send chills down the spines of even the quietest audience, or at least make them want to get on their feet. As a finale, they do an obscure and loveable Rolling Stones tune, Cocksucker Blues.
As Gura said in an interview. "It's fun to freak out the audience. They strangely don't leave. People are rubberneckers. They see the trainwreck coming and definitely want to check it out.''
Riverside Cafe (河岸留言), B1, 2, Ln 244, Roosevelt Rd, Sec. 3 (台北市羅斯福路三段244巷2號B1).
Comments will be moderated. Keep comments relevant to the article. Remarks containing abusive and obscene language, personal attacks of any kind or promotion will be removed and the user banned. Final decision will be at the discretion of the Taipei Times.