Bloc Party tests its mettle
A successful second album proves a band is not a one-hit wonder and this year's star group is embarking on its make-or-break mission
Hit rock group Bloc Party, one of Britain's biggest breakthrough acts this year, are gearing up to tackle their second album after a frenzied international tour, singer Kele Okereke said in an interview.
Work on the follow-up to the acclaimed Silent Alarm record, which has sold nearly a million copies since its release at the start of the year, will begin in the new year.
"Hopefully, the album will be out by the start of the summer, or start of the autumn," he said before a performance in Paris.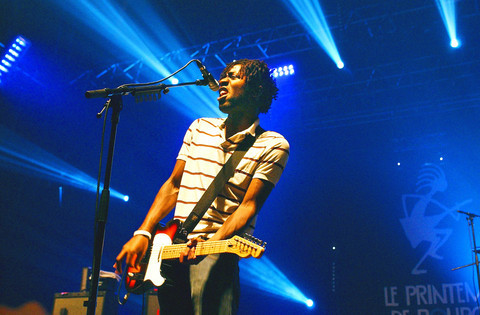 Kele Okereke, singer and guitarist of rock group Bloc Party, blasts it out at the Bourges music festival in France.
PHOTO: AFP
"We're going into rehearsals at the beginning of the year to try to work on some of the songs we've been writing, then we'll start recording."
Kele, 24, and the band could be excused for taking some time off to reflect on their meteoric rise during 12 whirlwind months in the limelight.
From their modest beginnings in London, they have taken their punk-influenced, angular pop music across the world and celebrated top music-prize nominations. They have also endured some heavy-handed treatment in the British music press.
From left to right: Russel Lissack, Kele Okereke and Matt Tong of Bloc Party found success with their acclaimed first album Silent Alarm.
PHOTO: AFP
Despite the strain of producing the band's feisty, propulsive music during live shows, Kele maintains that he has lost none of his creative inspiration or song-writing zeal.
Bad press
"Everyone assumes that when you're in a successful band that all the frustrations that you had in life will cease. That isn't the case at all," he says.
"I'm still in a relationship, I still have to interact with people on a daily basis, I still turn on the television and I'm still appalled by what's happening in the world."
After being feted by the music press and hailed as one of the most exciting acts among a host of new guitar-driven bands emerging from Britain, Kele shrugs off recent criticism of the group.
Fuelled by comments from Oasis singer Liam Gallagher, who contemptuously compared Bloc Party to a group of student contestants on British quiz show "University Challenge," some in the British music press have turned against the band.
"It doesn't really affect me because these articles about us don't stop people coming to see us or stop them buying our records," says Kele.
"I didn't really read many reviews of our album or our singles. When you start reading that type of thing that's when bands come a cropper."
On Liam Gallagher, Kele would say only this: "No one in the band is an Oasis fan at all."
The rise of Bloc Party to the top of the "New Britpop" scene -- after the Britpop guitar bands of the early 1990s -- began two years ago with the help of Franz Ferdinand singer Alex Kapranos.
Kapranos invited Kele and his fledgling bandmates to support the Scottish art rockers at a show in North London, and a new group was launched.
Their performances in Paris are a measure of their success: the band played 12 months ago in small-capacity venue bordering on the city's main red light district.
On top form
This week they returned to play in front of 5,000 enthusiastic fans at the Zenith stadium.
Anyone who has seen Bloc Party in concert in the last year can testify to the energy of Kele on stage.
The band's jerky, percussive rhythms and his piercing, faintly menacing voice are set to a barrage of strobe lights and feverish guitar playing.
The band will visit Italy, Germany, Spain and the Netherlands before the end of the year.
But along with fame and success have come frustrations with the band's record label, and Kele can sound disillusioned with the music business even after so little time in its clutches.
Staying power
"You realize when you start having a career in the music industry that you have to answer to a lot of people, a lot of people who aren't creative people but whose palms you have to stroke to get anywhere," he says.
A second album is always a crucial test for a band. And with record labels scouring the British music scene and launching new skinny-boys-with-guitar groups each week, there is a danger that the rock revival will blow itself out.
Kele is aware of how the winds of change threaten the music scene, but thinks the band has enough interesting new material to stay relevant.
"We have at least 25 ideas that we're thinking about. I'm not going to say yet whether I think we have the album."
"But I think we've got some really good songs," he says.
Comments will be moderated. Keep comments relevant to the article. Remarks containing abusive and obscene language, personal attacks of any kind or promotion will be removed and the user banned. Final decision will be at the discretion of the Taipei Times.