A diplomatic success for Taiwan's rising artists
A 'Peep into Taiwanese Contemporary Photography' got its first airing at the UK's cultural office while Main Trend and TIVAC have worthwhile exhibitions
If you didn't make the gala party last week at the British Trade and Cultural Office Residence in Yangmingshan, the first time an exhibition of local art has been shown at a diplomatic residence, you can still see the avant-garde art that was exhibited and which is now being shown at the Taipei MOMA Gallery.
Entitled A Peep into Taiwanese Contemporary Photography the exhibition brings together several of the hottest Taiwanese artists working today.
The party was an important event as it merged two audiences that normally do not cross paths: those working in the foreign services and those in the art world. The exhibition helped to broaden the audience for the local art while also highlighting the importance of cultural exchanges.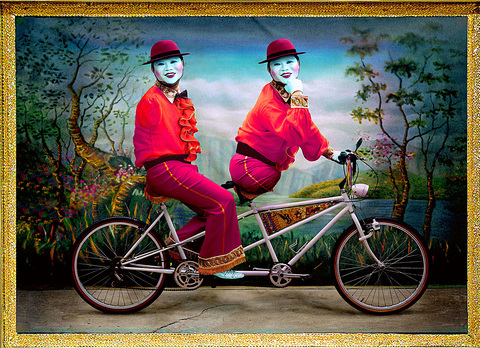 Companion for Life by Wu Tien-Chang.
PHOTOS COURTESY OF TAIPEI MOMA
The concise exhibition at the gallery contains digital imagery, video and photographs by some of the top Taiwanese artists and provides a general overview of what is happening currently in art. This is a great opportunity to see the work of some of the best artists in Taiwan.
For some flashy images, Hung Tung-lu's (洪東祿) lenticular boxes which combine manga-style nubile queens with a Western art-historical image; while Peng Hung-chih's (彭弘智) costumed-clad mutts doing it doggy-style provide quite a chuckle.
Wu Tien-chang's (吳天章) disturbing burlesque and grotesque tandem cyclists broadly provide synchronous smiles in a large digital work that is partly cynical while being aesthetically pleasing; while Chang Chien-chi's (張乾琦) The Chain gives us a glimpse of unbearable reality.
Huang Tung-lu's Chun-li.
On view are two video works that range from deeply somber to sidesplitting slapstick. Chen Chieh-ren's (陳界仁) has a DVD shot of the Majestic Tower, a utopic site, but in reality a disused factory that symbolizes the faded hopes and dreams of the local populace.
In contrast, the lighthearted and humorous videos of Tsui Kuang-yu (崔廣宇) are on view, in which he knocks over a flock of pigeons with a bowling bowl.
Taipei MOMA Gallery is at 3F, 19, Ln 252, Dunhua S Rd, Sec 1, Taipei (台北市大安區敦化南路一段252巷19號3樓). Call (02) 8771 3372.
Besides this, there are several exhibitions about town. If you're still in a photographic mood, then go to TIVAC to see its current show of Taiwanese and German photographers. Taiwan International Visual Arts Center, 1 F, 29, Ln 45, Liaoning Street (台北市遼寧街45巷29號1樓). Call (02) 2773 3347.
Song of the Wanderer -- Taiwan German Photography Exhibition includes work by Ulrike Myrzik and Manfred Jarisch, with the theme "Architecture of the Homeless." Ho Ching-tai (何經泰) and Jiang Shih-Shien (江思賢) show their documentary-style photos of homeless people.
At the Main Trend Gallery there is a solo show by Chang Chen-jen (張正仁) titled Parallelism that features collages and small sculptural installations. For all you art history buffs, Main Trend is known for its well-researched publications (now defunct, but still collectible) about the local art scene. Main Trend Gallery (大趨勢畫廊) is at 209-1, Chengde Rd, Sec 3, Taipei (台北市大同區承德路三段209-1號).
Taking place simultaneously, in Kaohsiung at the Sin Pin Pier and at the Birmingham Institute of Art and Design in Birmingham, England, Seesaw is a conceptual art exhibition that tries to merge two time-zones via digital art. The exhibition includes the work of UK artists and of Taiwanese artists. Since the works are electronic, they disappear when switched off; therefore the art seesaws between the two cities separated by an eight-hour time difference.
Hsu Su-chen (許淑真) is one of the artists who recently finished an art residency in the UK and works prolifically as an artist and curator. If you are unable to travel to either place, the work can be seen in cyberspace at www.seesawsite.net.
Comments will be moderated. Keep comments relevant to the article. Remarks containing abusive and obscene language, personal attacks of any kind or promotion will be removed and the user banned. Final decision will be at the discretion of the Taipei Times.