Wrap up warm and chill out
With Y-3 you can look sporty and cool, even if you're not
Ever since Run DMC broke into mainstream US popular culture and immor-talized shell toe sneakers with the lyrics, "me and my Adidas do the illest things, we like to stomp out pimps with diamond rings," sportswear manufacturers have been striking lucrative deals with creative icons to keep up their street cred.
Yohji Yamamoto's sixth season of its Y-3 colla-boration with Adidas came to town last Saturday.
The clamor of starlets, TV show hosts, models, actors and wannabes at the Y-3 Autumn/Winter fashion show, held on the sidewalk outside the W Bar on Renai Road, ensured widespread media attention.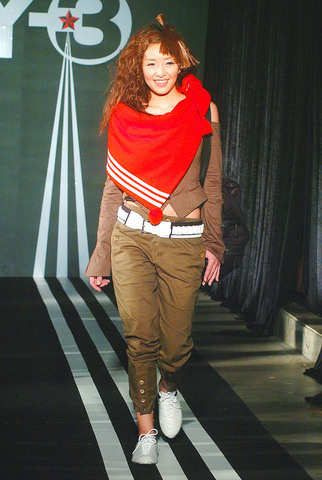 PHOTOS: CHEN TSE-MING, TAIPEI TIMES
This mainly focused on Ho Lun-dong (何潤東), who arrived in a new NT$6 million Porsche; and Hong Hsiao-lei (洪曉蕾) -- one of Catwalk modeling agency's more famous models -- who was reportedly so taken with a pair of Y-3 polo-inspired pants she intends to take up the sport.
As everyone settled down to the show, the glitz, glamour and Y-3 fashion proceeded with a tinge of irony. Yamamoto's inspiration for this season's garb was the Russian revolution.
The 10 days that shook the world and paved the way for Stalinism reverberated through the collection with "cyrillic" writing on sports jackets, "Matrjoschka" doll motifs, revolutionary icons and a passing nod to constructivism.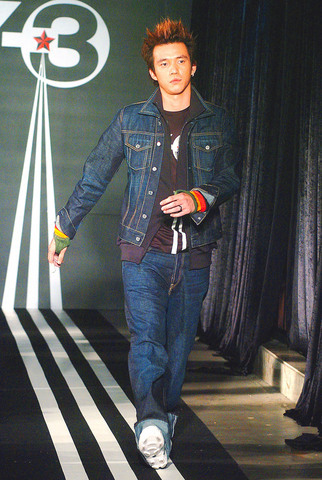 The palette for this fall and winter is chocolate brown, gray and olive green, brightened up with fuschia pink, orange and burgundy.
Yamamoto's signature black and navy, which he favors for the majority of his apparel, also appeared throughout the collection.
As the top-end jeans market continues to grow with brands like True-Religion, DSquared, Evisu and Junya Watanabe's collaboration with Levis, Y-3 is getting in on the act.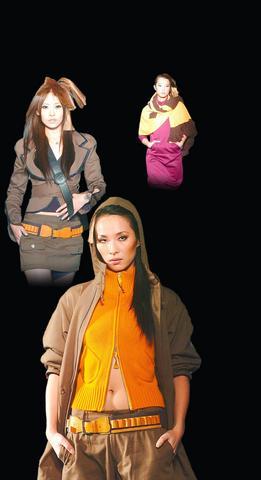 Revolutionary fervor in placid times.
Yamamoto set the standard for gilt-edged denim last year with a pair priced at around NT$19,000. But at the Y-3 show a slightly more modest range of jeans was on display.
Fitted low pants for guys were teamed up with sleeveless T-shirts and hooded tops. Less fitted ensembles included baggy black dungarees put together with a winter jacket.
Long trench coats, work-wear overalls, heavy jackets and sweaters that wouldn't look out of place on a US university campus made up the insulation against winter weather.
And for the ladies, a super mini and a denim corsage that sets off feminine curves, all made with top-draw material from Japan, looked young, hip and chic, if not a little minimalist for a Russian winter.
Pants, an exaggerated jodhpur shape, hiked up to the mid-calf, and slightly flared at the thigh, worn with a silver bomber jacket or padded coat created a classic sports silhouette.
But for members of the fairer sex who possess a full derriere, this style could present problems by widening the appearance of the hips and shortening the look of the legs.
Accessory highlights included a doll shaped bag, leather luggage and courier bags that could have come straight out of Dr. Zhivago.
Updated styling for previous editions of Y-3 footwear, Sprint, Field and New Court was accompanied by new editions to the range, including the Bracket, the Phys-Ed, and the Equestrian boot.
Despite the surrounding razzle-dazzle, fashion shows live or die by the quality of the clothing designs on display -- in theory at least. Yamamoto delivered the goods with a combination wrap-shawl-scarf in the form of a cape with the ubiquitous Adidas triple stripes up one side.
At the show, Melody Chang, a 20-something fashion student admitted she spent too much of her meager income on Y-3 clothes because they "are cool in a way that other designer labels aren't. It's more street-style than cocktail party."
But is it really sportswear?
Galy Cheng, marketing and PR manager for D-mop likes the Y-3 range for its versatility, "Mix and match is the concept. High fashion and sportswear can match to create a unique style."
D-mop, a rapidly expanding chain of stores opened by a group of fashion stylists who wanted to bring London street fashion to Taiwan, has been retailing Y-3 apparel across the island for almost three years.
Taiwan does not experience the bitter cold of the Russian Winter, and if you're kitted out in Y-3 gear that's probably a good thing. Y-3's ubercool sportswear this fall/winter looks the business even if you don't do any exercise or the weather doesn't dip below zero.
Comments will be moderated. Keep comments relevant to the article. Remarks containing abusive and obscene language, personal attacks of any kind or promotion will be removed and the user banned. Final decision will be at the discretion of the Taipei Times.