'Hawaii without the tourists'
Even the brave might think twice about a holiday to a West-African nation that is trying to recover from civil war. But there are compensations...
On the beach in Sierra Leone, the bonfire was growing. Aside from our group, made up mostly of UN and relief workers, there was no sign of human activity for kilometers. The perfect white sand, the pounding of the waves, the burnt sky that felt close enough to touch -- it was ours alone. When the sun was gone and the moon was bright, we swam, and each stroke was illuminated by brilliant phosphorescence. It was like Hawaii without the tourists.
Sierra Leone is a stunningly beautiful place. But it is also a heartbreaking one. In Freetown, the capital, the signs of the 11-year civil war that ravaged this West African nation are everywhere. Children who had their limbs lopped off by rebel soldiers loiter on dusty trails. Garbage is piled high on the streets during the day, only to be set ablaze at night,
providing the only light, as electricity is still rare. Former soldiers sit around drinking the local beer, eerily silhouetted by the midnight pyres. There is a reason this country has not yet found itself on the itinerary of even the most intrepid backpackers. Despite its beauty, it is very much on the edge of civilization.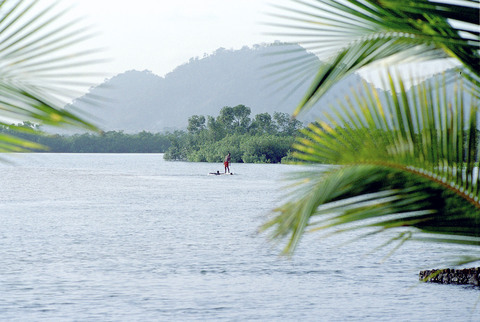 Once the jewel of the British colonies in West Africa, Sierra Leone has more recently been associated with the most outrageous atrocities. The civil war, which started in 1991, left at least 50,000 civilians dead. Over half of the country was displaced. Children as young as 10 were forced into military conscription forming platoons called Small Boy Units, learning how to use an AK-47 before learning how to read. And most notoriously, during the later stages of the conflict, men, women and even children had their hands and legs amputated in a campaign of terror and violence.
Chinese investment
But it has been four years since the fighting ended and there is new hope within Sierra Leone. Chinese investment is flooding into the region following a widening strategy of going to politically unstable countries where Western investment has been slow. Still, the chaos that greets travelers on arrival offers a glimpse of the difficulties inherent in travel to Sierra Leone.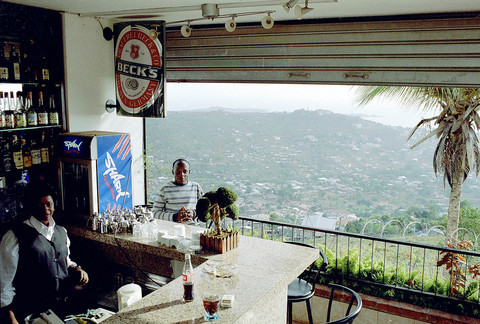 A view from Florence's also known as Franco's, a small hotel outside of Freetown with a restaurant serving fresh fish. Sierra Leone is a stunningly beautiful place but it is also a heartbreaking one.
PHOTO: NY TIMES
Because Freetown is on a mountainous peninsula, the airport is actually outside the city, in the town of Lungi. As the crow flies, Lungi is only a few kilometers from the capital, but it is separated by the Sierra Leone River. The roads to the ferry across the river are battered on both sides and not safe at night so the easiest way to get to Freetown is by helicopter. A metal shack serves as a terminal for the Paramount helicopter company; although a ticket costs only US$37, extra cash slipped into the right hand can get you on a shuttle faster.
By night, at the Copa in Freetown, wealthy locals, Lebanese diamond merchants, soldiers, aid workers and prostitutes all party with a strangely apocalyptic euphoria. The electric slide was the dance craze of the moment when I was there this spring. On a veranda, stifling hot even with a breeze, a group of about 20 local women shuffled along on the dance floor before the hip-hop music kicked in and the rest of the crowd got its groove on.
A local gin is brewed nearby, something foreigners are warned to steer clear of because it has been known to double as paint thinner.
Freetown is relatively safe to explore by day. However, the roads are narrow, often running along steep embankments and most taxis are driven by former soldiers, who, not surprisingly, can be a bit on the reckless side. Locals will pile 10 into a small sedan, paying a nickel for a ride, but a taxi can be rented for around US$5 an hour to go anywhere a visitor wants. Drivers more experienced in dealing with Westerners can be hired through the hotels, a safer alternative. A day should not cost more than US$50.
Much of the city is still in ruins, and there is not much in the way of colonial-era architecture that survives, mainly the stilt houses built above the abandoned Hill Station. Tin shacks -- some serving as shops, others as beer stands -- line the narrow roads, and they are invariably jam-packed, with people spilling into the street and making traffic unbearable at certain points.
The eastern part of the city is where the slums are, so most visitors tend to stay in the western section, where the best crafts are sold. The largest arts depot is known as the covered market, where people hawk everything from paintings to jewelry to tapestries, with most items costing no more than a few dollars. However, as some of the goods are imported from nearby countries, finding authentic crafts can be difficult.
The most interesting carvings are found in small shacks scattered around the city, where the artisans also take requests.
When I was there, I saw one local craftsman, Mohamed, put the finishing touches on life-size head carvings. In a week's time, he turned two large pieces of wood into detailed, lifelike recreations based on a photo. Some features were exaggerated, but for the most part, they were quite fine. Working out of the same small hut where he lives, he took obvious pride in his work, even as he and his wife struggled to raise four children.
But what will most draw people to Sierra Leone lies outside the city limits.
A weekend refuge for expats is owned by Franco, whose small hotel on the beach (officially called Florence's but known popularly as Franco's) has six rooms, costing about US$50 a night each. Franco, who looks like a cross between Gerard Depardieu and Nick Nolte on a bad day, speaks a language that no one else understands.
His English is virtually nonexistent, and his Krio, the local language, is inflected with his native Italian. Someone who speaks Italian can communicate a bit, but even that is a struggle.
Cousteau's friend
Franco came to Sierra Leone in the 1960s for the scuba diving, he said. An acquaintance of Jacques Cousteau, he found his bit of paradise and never left. During the war, he was beaten up by soldiers and decided to wait out the fighting by spending most of his time offshore on his boat. The rebels, he said, don't swim.
Luckily, it is not necessary to communicate with Franco to have a fabulous dinner. He keeps a refrigerator stocked with a wide variety of French and Italian wines and makes a savory fish carpaccio with fish caught that day (US$10 to US$15 for a meal with a bottle of wine).
Villagers who live in the nearby jungle will take care of you at either site for a few dollars, setting up bonfires and even cooking a dinner of freshly caught fish and rice. We brought wine and candles, and they laid out a table on a wood plank salvaged from the remnants of what was once a luxury French resort nearby, making a meal in the middle of nowhere feel surprisingly civilized.
Sierra Leone travel facts:
● Sierra Leone requires an entry visa; it can be obtained for around US$100, see the Web site www.sierra-leone.org, or its Mission to the UN in New York, (212) 688 1656. Travelers should check travel.state.gov, for announcements and updated warnings about Sierra Leone. Taiwanese nationals are advised to get in touch with the Web site www.boca.gov.tw for updated travel warnings. ● They should also check www.cdc.gov/travel, about vaccinations needed for travel to West Africa, such as a vaccination against yellow fever. It is also highly recommended that people take prophylactics against malaria. Mosquito nets are essential. ● US dollars can be exchanged at most hotels that cater to Westerners. ● Fare: Over US$1,000 round trip, depending on the season. From the airport, the best way to get to Freetown is by helicopter. ● Contact local travel agent Lahoo Ticketing and Tour (02) 2531 2578 for a full quote. ● The rainy season runs from April to September.
Comments will be moderated. Keep comments relevant to the article. Remarks containing abusive and obscene language, personal attacks of any kind or promotion will be removed and the user banned. Final decision will be at the discretion of the Taipei Times.