Design expo attracts curious
For readers in the Kaohsiung area looking to fill their apartments with stuff they really don't need but feel they should have anyway, a visit to 2005 Taiwan Design Expo (台灣設計傳覽會) is in order.
The expo runs until Oct. 30 at the city's Wei Wu Military Camp (衛武營區) and is organized by the Taiwan Design Center (台灣創意設計中心). It showcases a selection of cutting edge and innovative products designed by both commercial manufactures and individuals from around the world.
Co-sponsored by the Kaohsiung County Government this year's event focuses on everyday household products under the theme "Discover the New Home in Asia." Divided into five categories, the expo introduces a smorgasbord of new designs ranging from furniture to kitchen utensils and children's playthings.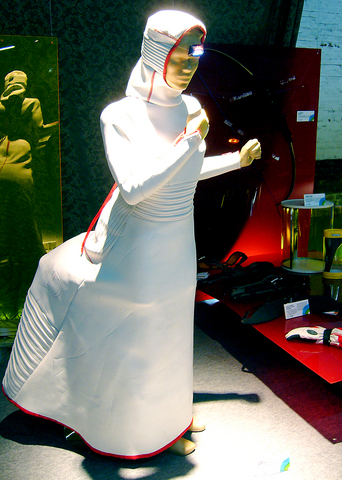 PHOTO: GAVIN PHIPPS, TAIPEI TIMES
Those looking to spend their hard-earned cash on stuff that looks nice but that one can live without or, as the official English language guide puts it: "[to] learn creative esthetics of living up your life and building a [perfect] home."
From innovative and, admittedly, quite comfortable bamboo and wickerwork furniture, to two-person bathtubs, the expo features just about every conceivable form of product design. Some of the objects are already on the market, some of them are manufactured to order and others are, well, simply so batty that it makes you wonder why anybody would get paid to design them let alone why anybody would possibly want to buy them.
Visitors can wonder through the long disused military base's barracks and take in the contents of over a dozen specially designed pavilions.
"The Future Pavilion" predictably enough features futuristic designs for furniture and household objects, many of which look like they've come straight off the 1960s sci-fi TV series Space 1999.
The most interesting of the pavilions is the one dedicated to international design. The wide array of oddball household objects on display here includes ergonomic oven gloves that resemble flippers, a tubular cognac bottle that looks like it belongs on the International Space Station, gaudy 1970s-styled plastic tea pots and tea sets that wouldn't look out of place on an episode of the Brady Bunch.
The most inane of the lot, however, is the French-designed wedding dress that doubles as all-purpose sportswear and allows any modern bride the freedom to go for a quick jog before saying "I do."
The wildest pavilions are the "The Green" and "Home Forest" pavilions, which are filled with over-the-top bamboo structures designed to transform living spaces into urban
jungle-like environments.
Along with showcasing the oddball human aspects of modern design the expo also features a special area dedicated to pets. Here visitors can see outrageous designs for "pet houses" for dogs, cats and even hamsters. It's pretty inane, but it does make for an interesting and certainly mind opening visit.
Performance notes:

What: Taiwan Design Expo 2005 (台灣設計傳覽會)

Where: Wei Wu Military Camp, Nanking Rd, Fangshan City, Kaohsiung County (高雄縣鳳山市南京路衛武營區)

When: Until Oct. 30.
Comments will be moderated. Keep comments relevant to the article. Remarks containing abusive and obscene language, personal attacks of any kind or promotion will be removed and the user banned. Final decision will be at the discretion of the Taipei Times.