Avoiding the crowds at TFAM could lead to some exciting discoveries on 3rd floor
Exhibitions on architecture and Lii Jiin-shiow have been overshadowed by the Vivienne Westwood retrospective but are still worth a visit
The Taipei Fine Arts Museum is the hot cultural spot to visit these days as the place is overflowing with exciting chatty crowds. However, if you get too impatient waiting in the long queue to view the Vivienne Westwood fashion retrospective, then sneak right past to the third floor to see two provocative, yet disparate exhibitions.
The Art of Architecture: Works by Laureates of the Pritzker Architecture Prize was jointly organized by the museum and the Taipei Architects Association. Rather than being visually imaginative, the straightforward display is didactic and orderly in presenting chronological information on the winners from 1979 to today.
The Pritzker Architecture Prize is often referred to as the Nobel prize of architecture as it is the highest award given in its field with laureates receiving a US$100,000 grant, a formal certificate and a bronze medallion. The list of Laureates is impressive and reads like a Who's Who of the world's leading architects: Luis Barragon, Norman Foster, Frank Gehry, Oscar Niemeyer who built Brasilia, Richard Meier, I.M. Pei, Robert Venturi, Tadao Ando. Surprisingly, in its 26-year history, the prize has only been awarded to one woman -- Zaha Hadid, the architect who was slated to design the Taichung branch of the Guggenheim.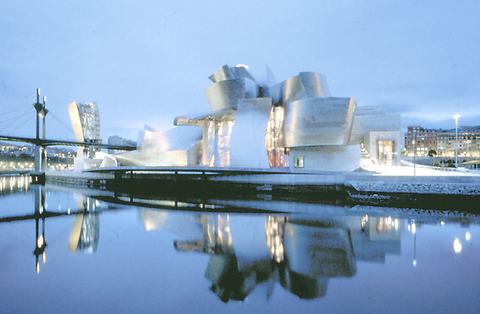 Frank Gehry's Guggenheim Museum, Bilbao, Spain.
PHOTOS COURTESY OF TFAM
The first Pritzker recipient in 1979 was Philip Johnson and images of his famed glass house are on view. Equal weight is given to all the laureates' work at the exhibition. Large folding partitions contain photo blowups of world-renowned buil-dings, while small models are interspersed throughout the exhibition space. In addition, there is a highly informative reading area that contains architecture books installed on waist-level platforms. Unfortunately, there is no place to sit as this is part of the passageway, making it uncomfortable to linger and leisurely browse through the chained-up coffee table books. To the exhibition's detriment, the presentation is hard edged and not very comfy or user-friendly, which has become a recent trend in museum-based art shows.
The other exhibition is entitled The Movement of the Bamboo Stool -- A Memorial Exhibition of Lii Jiin-shiow (李錦繡) (1953 to 2003), and runs until Nov 27. Lii is not as prominent or as high-profile in Taiwan's art scene as her husband Huang Buh-ching (黃步青) who exhibited his work at the 1999 Taiwan Pavilion at the Venice Biennale, but TFAM's exhibition is a loving memorial to the artist who died from cancer in 2002.
The bamboo stool symbolizes the humbleness and traditional character of her life. She wasn't a diva trying to loom large on the art stage; she chose to live a modest ordinary life, raising a child, while continuing to paint and draw. Her sketches were personal reflections of an unassuming life.
Tadao Ando, Rokko Housing, Hyogo, Japan.
Lii constantly painted and sketched her environment and was an adept draftsperson displaying great sensitivity to line and form. The exhibition is in six sections that chronologically mark her artistic journey. Before she moved to Paris she embraced Impressionist and Cubist styles.
While in Paris (1983 to 1986), Lii explored painting on transparent surfaces. Upon returning to Chiayi and Tainan she painted and drew trees as a metaphor for the vast universe.
Her later works were influenced by her Taiwanese calli-graphy teachers and her traditional French art education; yet, she painted what was ultimately the most important subject to her -- her family.
Exhibition details:

What: The Art of Architecture (to Dec. 4); and The Movement of the Bamboo Stool

Where: Taipei Fine Arts Museum,181, Zhongshan North Road, Sec 3, Taipei
(台北市中山北路3段181號).

Telephone: (02) 2595 7656

When: Until Dec. 4 and Nov. 27 respectively
Comments will be moderated. Keep comments relevant to the article. Remarks containing abusive and obscene language, personal attacks of any kind or promotion will be removed and the user banned. Final decision will be at the discretion of the Taipei Times.