Planet Pop
A subdued Courtney Love, clutching a copy of Bob Dylan's autobiography, has been sentenced to 180 days in jail for violating her probation, but will serve her time in a live-in drug treatment center. The troubled rocker has been living at a lock-down substance abuse facility since admitting in August she had used drugs, a violation of her probation. A Los Angeles judge said she would be spared jail time because of the headway she made in rehabilitation.
Drug abuse troubles are also dogging actor Tom Sizemore who has been ordered to spend another 30 days in a drug treatment center, where he was sent by a judge after violating his probation for possessing methamphetamine. Superior Court Judge Paula Mabrey said she would allow the Saving Private Ryan actor to leave for occasional work assignments.
Running foul of the of the law is not just an activity confined to the stars themselves. A Los Angeles photographer who was convicted of trying to sell topless pictures of actress Cameron Diaz after forging her signature on a contract was sentenced to nearly four years in prison. John Rutter, who prosecutors accused of trying to blackmail Diaz for US$3 million over the steamy, bondage-themed photos taken before she was famous, was found guilty in July of attempted grand theft, forgery and perjury.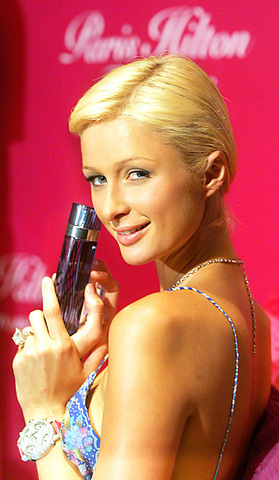 Paris Hilton's phone hacker has got prison time. Hilton is still free.
PHOTO: AFP
And a former painter on David Letterman's Montana ranch who faced charges of scheming to kidnap the talk-show host's son and nanny has been sentenced to 10 years behind bars on lesser charges, the prosecutor said. After learning of Kelly Frank's alleged kidnapping plot, local authorities took the painter, who had worked on Letterman's ranch near Choteau, Montana, into custody in March.
Meanwhile, a teenager who famously hacked into the cell phone of socialite Paris Hilton and exposed her celebrity address book has been sentenced to 11 months in jail, according to press reports.
The juvenile's identity was not released. He had been charged with a variety of crimes allegedly committed in a 15 month hacking spree that began in March last year.
Besides hacking Hilton's phone, the youth also hacked into unnamed Internet and telephone service providers and made bomb threats to schools in Massachusetts and Florida. Damages from these crimes amounted to about US$1 million.
The clearing up of crimes has also led to the recovery of two art masterpieces -- a self-portrait of 17th-century Dutch artist Rembrandt and a painting by French impressionist Pierre-August Renoir -- stolen from Sweden's National Museum five years ago, Danish and US officials said. The recovery of the multimillion-dollar artworks in an international undercover operation means all three paintings stolen in the daring December 2000 heist have now been found.
A work from a dead master of a somewhat lesser pedigree has hit bookshelves this week with the release of Fan-Tan, authored by actor Marlon Brando who has been immortalized in film for playing a Mafia boss, a luckless boxer and a rebellious biker. Fourteen months after his death he is now also to be known as the writer of the swashbuckling pirate novel. The unfinished manuscript was polished by film historian David Thomson and published by Random House imprint Alfred Knopf.
Immortalizing himself in a different style Johnny Depp last week put his hand and footprint onto the sidewalk on Hollywood Boulevard, joining the Who's Who of movie legends who are commemorated outside Grauman's Chinese Theater.
Depp, wearing a goatee beard, dark glasses and black hat, was accompanied by his wife Vanessa Paradis and their two children for the ceremony.
The Pirates of the Caribbean star has been promoting his recent release Charlie and the Chocolate Factory. His voice was used for the animated film Corpse Bride, by Tim Burton, which was released in North America last Friday.
And after just five months of her debut as a bride Oscar-winning actress Renee Zellweger and country singer Kenny Chesney are see-king an annulment of their marriage, a spokeswoman said. Publicist Nanci Ryder confirmed that Zellweger and Chesney, who stunned the entertainment world in May with a marriage on a beach in the Caribbean, had split.
Continuing on the theme of family, pop singer Britney Spears has given birth to a baby boy at a Los Angeles hospital, a US magazine reported on its Web site. Representatives for Spears were not immediately available for comment on the report, which said the 23-year-old entertainer gave birth by Caesarean section at Santa Monica UCLA Medical Center. Hospital.
Also unveiling a member of the next generation, Nintendo surprised the game industry with an unconventional one-handed controller for its next-generation Revolution console that aims to draw in new
players. Motion detector sensors in the controller, which resembles a TV remote, allows players to control the game by wielding it like a sword, waving it like a conductor's baton, or swinging it like a baseball bat depending on the game, Nintendo President Satoru Iwata said in a keynote session in Tokyo.
Comments will be moderated. Keep comments relevant to the article. Remarks containing abusive and obscene language, personal attacks of any kind or promotion will be removed and the user banned. Final decision will be at the discretion of the Taipei Times.