Midlife crisis no longer vexes baby boomers
Exploration and career changes are part of the process of `creative aging'
In the past year, three events have converged in the life of Gary Hofstetter. He turned 50. He spent an enthralling week in Los Angeles at the Rock 'n' Roll Fantasy Camp, where he jammed with Roger Daltrey of The Who and Jon Anderson of Yes and hung out with Dickey Betts and Nils Lofgren. And he launched his pursuit of a PhD at Boston College as the first step toward his goal of eventually teaching or working as an administrator in special-needs programs at a university.
Of course, it is the rock 'n' roll adventure that Hofstetter, president of the real-estate management firm New Boston Management Services, talks about with giddy excitement. "I was off the ground," he recalled as he gazed at a picture of his sunglassed self playing guitar next to Daltrey. "There I am, living my fantasy." But it is the more mundane reality of his return to school that places Hofstetter among a growing number of people who have begun charting a new course as they reach or near the half-century mark.
Their initial responses to midlife may be innovative, exotic, or downright desperate, but those short-term reactions often lay the groundwork for substantive, long-term changes. As the very idea of the midlife crisis turns 40 this year -- it was coined in 1965 by Canadian psychologist Elliot Jacques -- it is undergoing something of a midlife crisis of its own.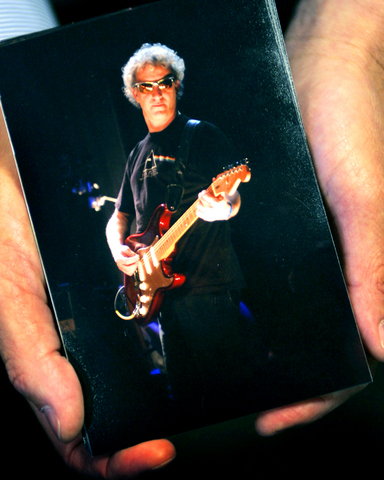 New research is challenging the notion that midlife often triggers a dramatic "crisis" at all. Instead, the idea of "creative aging" is gaining altitude among experts and middle-age folks alike. Call it the midlife non-crisis. "There is no `midlife,' as far as I'm concerned," said Robin Shean, a 45-year-old personal trainer and fitness instructor from Millis. "It's all a journey. If I say I'm half done, how stagnant! If you take yourself out of that whole, quote,`crisis,' it's all a journey, with no beginning and no end." Leaving aside the question of beginnings and endings, the issue of the middle is definitely up for grabs nowadays.
At a time when 42-year-old David Wells has emerged as the de facto ace of the Red Sox pitching staff, and with 62-year-old Mick Jagger and the rest of the Rolling Stones electrifying fans in a tour that began at Fenway Park, there is increasing agreement that it no longer makes much sense to rigidly define the starting point of midlife as age 40.
"Today the concept of midlife or middle age is much broader because of what's happened with life expectancy and increasing health," said Dr Gene Cohen, director of the Center on Aging, Health and Humanities at George Washington University. "Today most people are going to see middle age as between 40 and 65."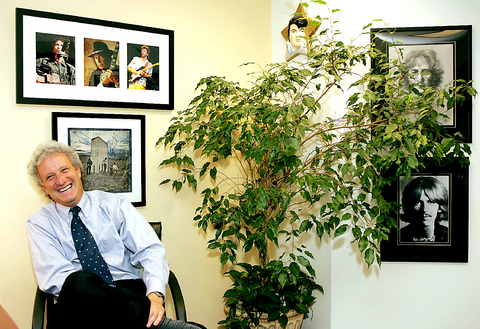 Gary Hofstetter, 50, has fulfilled a dream by going to a rock fantasy camp, but he also recently began pursuing a PhD.
PHOTO: NY TIMES
Wishful thinking on their part, perhaps. Who lives to 130? Still, at whatever stage of middle age they occur, life changes increasingly are not prompted by any of the stereotypical factors -- the sudden realization of one's mortality, an unhappy marriage, a stagnant career -- but rather by a quiet determination to craft a second chapter that is deeper and truer to one's self. "People are aware that they have more years in front of them, and they feel really creative about it, and so for them it's more what the Chinese call a `crisis of opportunity,'" says Judith Sherven, a clinical psychologist based in Windham, New York, "They want to do something different." That can mean everything from adopting a healthier lifestyle to adopting a child while in your 50s, from exploring spirituality and philosophy in depth to finally buckling down to write that novel you've been thinking about for years. But such steps are more likely to be seen today as an enhancement of your old life rather than a rejection of it, a movement toward rather than from something.
"The caricature of the middle-age man dumping his wife, getting a red Ferrari, and driving to Alaska with a 19-year-old -- that's from another period," said Cohen. "What you typically find, more than a midlife crisis, is a midlife quest. Midlife crisis is the exception rather than the rule." Even Gary Hofstetter's sojourn at the rock-fantasy camp, though it fulfilled a dream for him, did not constitute a radical overhaul of his day-to-day personality. "Everyone wanted to label this my midlife crisis," he said. "But I never stopped connecting to music."
Thrills and spills
The idea of the midlife crisis was popularized by such books as Passages (1976), by Gail Sheehy, and The Seasons of a Man's Life (1978), by Daniel Levinson. Hollywood has repeatedly mined midlife for laughs, most recently with The 40-Year-Old Virgin. Perhaps the quintessential midlife-crisis movie is 1991's City Slickers, in which Mitch, the character played by Billy Crystal, mopes his way toward his 40th birthday, saying things like, "Have you ever had that feeling that this is the best I'm ever gonna do, this is the best I'm ever gonna feel ... and it ain't that great?" Mitch eventually conquers that malaise and rediscovers meaning in his life by joining his friends on a long cattle drive through the West.
There are still plenty who respond to midlife with a similar burst of adventure or hedonism. Julie Rutkowski, a nurse from Canton, spent her 49th birthday in April hiking in the Himalayas. Pete Lewis, of Hollis, New Hampshire, who will turn 50 in December, plans to take classes at a race-car school in Las Vegas where he will drive at speeds up to 320 kph. Nancy Greenfield, manager of leisure product development at Garber Travel world headquarters in Chestnut Hill, says that many middle-age travelers are taking "heli-hiking" or "heli-skiing" excursions, where they are transported by helicopter to a remote mountain or even a glacier and then hike or ski back to civilization. Others go snorkeling in the Galapagos or ice-climbing in the Andes, ride on the trans-Siberian railway, or strap on a parachute and leap out of an airplane. But even the most adventurous activities tend to be temporary exclamation points on a significant birthday rather than a radical shift from one's old life. Lewis, for instance, says the term "midlife crisis" does not apply in his case as he moves inexorably toward 50. "I'm not thinking this is all that dramatic," he said. "It's a point on the calendar." Nor is Lewis, a regional sales manager at publishing systems company Atex, bedeviled by thoughts of professional or personal roads not taken, in the classic midlife-crisis way. "I really haven't had any major second thoughts," he said contentedly.
When Robin Shean turned 40, she did two things: She got a tattoo on her stomach in the shape of the sun, moon, and stars as a way to honor her three children (then in, or on, the verge of college), and she launched her own business as a personal trainer. Five years later, she has more than 100 clients in Medfield, Walpole, and Millis. She questions the premise that there is something unique about midlife that brings on a crisis. Among her clients, she says, "I've got kids who are 25 years old, coming out of college and trying to get a job. That's a crisis. I've got 30-year-old women dealing with young kids and bus routes. Life is a series of up-and-down crises. We have to learn to enjoy the journey and take half a minute for yourself."
For Julie Rutkowski, the 12-day trek in Nepal lives on as a kind of metaphor for her life. Her goal was to make it to Mount Everest base camp, and although she fell short of that goal, she made it to 5km before, struggling for breath, she was forced to stop. Yet she savors the triumph of making it that far and now applies its lessons to her personal and professional life. "Some people reach the top of Mount Everest; some people will only get to 3km," she says, speaking literally and figuratively. "It wasn't as far as I wanted to go, but it was the top of Mount Everest for me."
Models of aging
If baby boomers are philosophical rather than hysterical at midlife, and generally behaving more rationally, they may have their parents to thank. In 1900, Cohen said, there were only 4 million people over age 65 in the US; by 2000 there were 35 million. Many of them were more highly educated and more active than previous generations, and there was a spillover effect on their offspring as the boomers hit midlife.
"One of the biggest things about the boomers is that they're the first group in history that has grown up with many positive models for aging in their own family," said Cohen. "They're the first group that could really see the full potential of aging." Often, boomers see it on vacation. Greenfield, of Garber Travel, says that intergene-rational cruises and safaris are increasingly popular, wherein baby boomers in their 40s and 50s travel with their parents who are in their 70s and 80s. As midlife is redefined, more attention is being paid to the physiological changes that transpire in middle age.
In January, Cohen will publish a book titled The Mature Mind, based on research that includes 3,000 interviews he has conducted over the years, that examines the impact of brain changes on what he calls "the capacity for positive change in the second half of life." Sherven knows several people who have explored that capacity, big-time. One friend, at age 50, abandoned his legal career to be an automobile reviewer for a newspaper. "He now goes to all of the auto shows, test-drives all the new cars, and is in heaven," she said.
Gary Hofstetter isn't planning anything that dramatic. He loves his current job. Yet his long-term plans for his second career are ambitious in scope. The businessman in him would like to run management seminars for the heads of nonprofit organizations, so they would better understand how to apply business principles to what they do. But he also has 25 years of experience as a volunteer with people with developmental disabilities, and he hopes to draw on that part of his background to work as an educator or administrator. After all, says Hofstetter, "You can't just live one of these lives."
Comments will be moderated. Keep comments relevant to the article. Remarks containing abusive and obscene language, personal attacks of any kind or promotion will be removed and the user banned. Final decision will be at the discretion of the Taipei Times.