A chorus of approval for international festival
Though Haitang Typhoon did its best to dampen the festive spirit during the first half of the Taipei International Choral Festival, there are still several good reasons to make it to the National Concert Hall for the festival's last three days, rain or shine.
Those reasons are Denmark's Vocal Line, Canada's Winnipeg Singers and several local choral groups including the Semiscon Vocal Band, Formosa Singers, the Taipei Philharmonic Choir, and various school choirs.
Tonight's concert pairs Vocal Line with Taiwan's own Semiscon Vocal Band. The 30-member Vocal Line is dedicated to contemporary acapella ? jazz, pop and rock ? as well as some classical avant garde. If you were one of those kids in college that never missed a midnight acapella concert, you won't want to miss tonight's show, with arrangements from Joni Mitchell, Alicia Keys and more of your favorite singers. Acapella has a tendency to come out poorly in recordings, but Vocal Line's sound is stellar, which says something about how the group must sound live.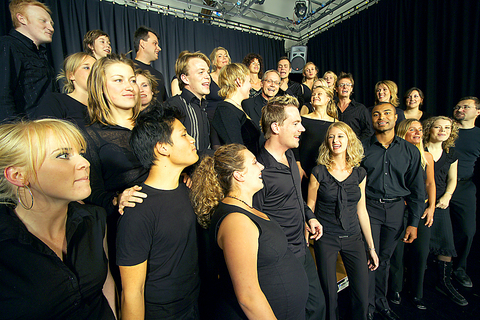 The Winnipeg Singers of Canada are said to be one of Canada's finest choral ensembles with a repertoire spanning from the Renaissance to the present.
PHOTO COURTESY OF TAIPEI ARTS INTERNATIONAL ASSOCIATION
The three-year-old Taiwanese acapella sensation Semiscon Vocal Band is set to give their Danish counterparts a run for their money. With their creative use of voices, texture, rhythm and harmony, Semiscon takes the concept of imitating musical instruments to a new level. One of their hits is Soul Bossa Nova in which different members imitate trumpets, saxophones and a drum set. Semiscon is a group of performers as much as it is a group of singers and they get full marks for personality.
For a change of pace,
tomorrow's concert features more traditional choral music from around the world, provided by the Winnipeg Singers and the Formosa Singers. Founded in the 1930s, the Winnipeg Singers are regarded as one of Canada's finest choral ensembles with a repertoire spanning from the Renaissance to the present.
The choir's formative gigs were regular broadcasts on CBC radio in the 1970s, where they explored both sacred and secular music. Each year the Winnipeg Singers commissions new works by Canadian composers, and tomorrow night's lineup also includes Russian composer Sergei Rachmaninov and US composer Samuel Barber.
The Formosa Singers, who are dedicated to "expressing the essence of Taiwan in song," will treat audiences to new arrangements of old folk songs -- Hakka, Hokkien, Aboriginal and Japanese -- and they'll throw in a few contemporary world masterpieces for good measure.
For the most acts stuffed into one night, buy your tickets for the Festival's final concert on Sunday, which brings back acts from earlier in the week such as the Parahyangan Catholic University Choir from Indonesia and the Orfeon Chamber Choir from Turkey. The Vocal Line will also be performing, as will the Taipei Philharmonic Chorus and Orchestra. Solo acts include a soprano, a tenor and a rapper.
Tickets, priced from NT$300 to NT$1,500 are available through Artsticket: (02) 3393 9888, or www.artsticket.com.tw. The National Concert Hall is at 21-1 Zhongshan S Rd, Taipei
(國家音樂廳,台北市中山南路21-1號).
Comments will be moderated. Keep comments relevant to the article. Remarks containing abusive and obscene language, personal attacks of any kind or promotion will be removed and the user banned. Final decision will be at the discretion of the Taipei Times.