Going with the flow
Thanks to more flexible regulations it's now possible to go stream-tracing in the magnificent Taroko Gorge
You may have seen or walked through Taroko Gorge in Hualien and been enthralled by its beauty. On a clear day, you may have even heard loud laughter as three or four Taroko Aboriginal tribal youths swam in a stream winding along the trail you were hiking.
This is a common experience for those who have visited this magnificent natural wonder of the world. However, stream-tracing -- hiking up a riverbed to its origin -- at Taroko Gorge is something only a lucky few have been able to do up to this point.
It's now summer, however, and the Taroko National Park Administration Center (太魯閣國家公園管理處) is taking a more lenient attitude toward allowing the general public to try this new water sport in Taiwan.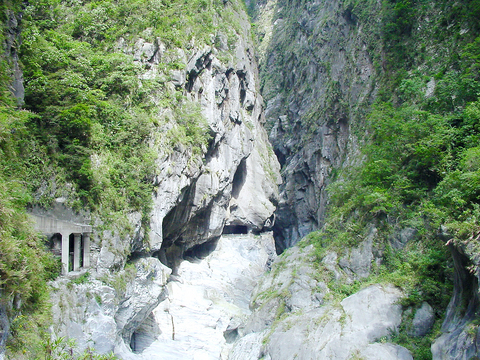 A mountain view in Taroko Gorge.
PHOTOS COURTESY OF THE GRAND FORMOSA TAROKO
"Adventure-seeking tourists may register with the Grand Formosa Taroko Resort Hotel one day ahead of time, and they will be led by qualified coaches and local guides with the proper gear to enjoy the daring experience," said Grand Formosa Taroko's supervisor Sandy Wang (汪仁珊).
Different river-tracing packages are available, with a price of about NT$800 per person for a half-day tour covering around 2km of the waterway.
Indisputably, the Shakadang (or Skadang) Stream (砂卡礑溪), with its breathtaking scenery, has won over local Taroko tribal residents' and tourists' approval as a river-tracing stream. This stream runs along a narrow river valley with turquoise water flowing through it all year long.
Stream-tracing and hiking are cool activities to sign up for when you stay at The Grand Formosa Taroko.
As Lee Yen-jung (李晏蓉), a guide from the Grand Formosa, explains, "The turquoise water actually comes from the marble stones where the Shakadang Stream originates high in the mountains. The marble releases calcium carbonate into the stream, where it is constantly washed by the water passing by and sometimes even gives an unusually bluish-green color to the stream."
Shakadang Stream is a branch of the Liwu River (立霧溪), which cuts through rock layers 9 million years old to carve the Taroko Gorge. The Liwu River was first given the name of Turuboan (gold river) by the Dutch and Spanish in the 18th century. Panning operations to collect gold went on for about 20 years until they lost their commercial value.
The Japanese in the old days chiseled a 1m-wide walkway on one side of the Shakadang river valley in order to build a dam upstream of the river. The track, now popularly known as the Shakadang Walkway (砂卡礑步道), is only a five-minute drive from the Taroko National Park Tourist Center and has been a great tourist attraction for hikers.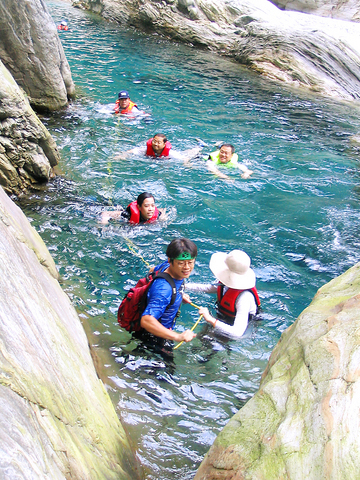 The entrances to the walkway and the river bed are located at opposite ends of a bridge decorated with 100 small marble lions. The Shakadang Bridge, or Hundred-Lions Bridge, links up two curving tunnels on Provincial Route 8. From one of the bridge ends, you have to take a steep stairway down about six stories to reach the river and walkway.
If you are not a fan of water sports, you may simply hike along the walkway to observe your family members or friends struggling up the stream about 20m to 30m below the trail. A pair of binoculars would come in handy if you'd like to witness their facial expressions and to share the moments of excitement once a difficult barrier is overcome by the stream-tracers.
The most fascinating section of Shakadang Stream is about 1km away from the entrance. This beautiful section is banked by lofty marble walls on both sides, and the atmosphere has a dream-like feeling.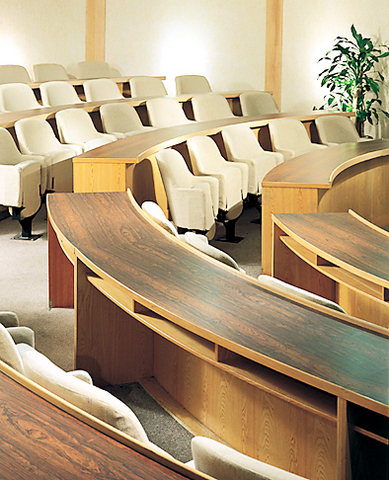 Meanwhile, huge marble boul-ders fill the riverbed to create rapids, and there are little water falls and various ponds. One wonders how so many giant rocks found their way there, and one cannot but feel humbled by the immeasurable power of Mother Nature.
The word "shakadang" is an Aboriginal term meaning "molar tooth." It is believed that the stream's name was derived from the fact that many molars -- which local Aborigines believed were part of their ancestors' remains -- were found on the trail at the time when the footpath was constructed by the Japanese.
This cool and refreshing scenic trail is well-canopied with trees and ferns, and birds and butterflies are abundant along the roadside. Sometimes you may even see Formosan macaques playing in a small group high up in the trees.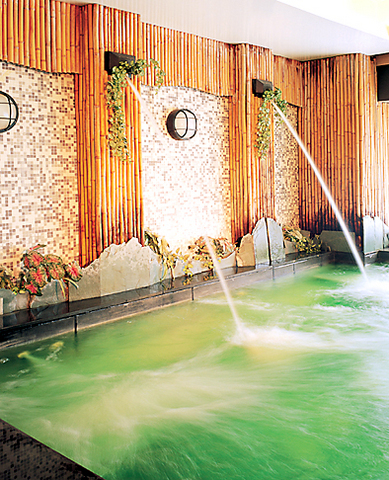 The track is never desolate, even in midwinter. It is 4.4km in length and takes approximately four hours to make a round trip.
More information:
Where to stay:

The Grand Formosa Taroko in Hualien
Special rates:

NT$2,450 a night per person for each couple until the end of August.

Tour package includes one-night stay, breakfast, dinner, transportation to and from Hualien train station or airport, free use of hotel facilities, etc.
Web site:

www.grandformosa-taroko.com.tw
Contact:

Taipei: (02) 2560 3266

Hualien: (03) 869 1155

Kaohsiung: (07) 215 2733
Restaurant
Chefs at the Grand Formosa put a lot of effort into preparing a great variety of food for their hotel guests and change their menus in keeping with the seasons.
As Simmone Kao (高曉慧), a senior staff member of the Grand Formosa points out, Chinese herbs, Western herbs, seasonal fruits and other health-conscious ingredients are always emphasized in the hotel's dishes.
Fruits available daily during Taiwan's summer season include oranges, kiwis, durians, bananas, pineapples, mangos, pumpkins, apples, cherries, strawberries and passion fruits. And these are often combined by the chefs for their signature dishes.
Among the dishes most frequently recommended by the hotel's old-timers are deep-fried trout and pineapple roll, sliced beef with mango sauce, steamed rice with pumpkin mash and baked crab with cream apple mash. The secret to the fantastic taste of each course lies, perhaps, in the exclusive home-made sauces or gravies.
Also, many menu items are intended to improve your health in a particular way and you may inquire about the particular health benefits of a meal with your waiter.
Comments will be moderated. Keep comments relevant to the article. Remarks containing abusive and obscene language, personal attacks of any kind or promotion will be removed and the user banned. Final decision will be at the discretion of the Taipei Times.