Planet Pop
Wands, potions and more than a little magic are at the ready to celebrate the midnight launch this weekend of the latest Harry Potter book, which looks set to become the boy wizard's best-selling adventure. 
Coming just over a week after Britain's worst terrorist attacks, industry experts say the sixth and penultimate instalment of the spell-binding series -- in which good invariably conquers bad -- is just what the world needs.
Multi-millionaire author JK (Joanne Katherine) Rowling is due to unveil Harry Potter and the Half-Blood Prince at an exclusive party in Edinburgh Castle, Scotland, at a minute past midnight on Saturday morning.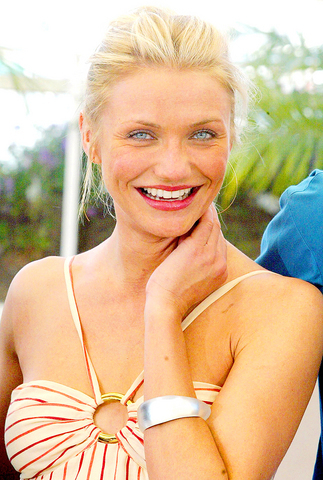 Cameron Diaz defends her right to not see bare-breasted pictures of herself everywhere.
PHOTO: AP
At the same time, thousands of other "Potter parties" will erupt in book shops in Britain and across the planet as fans -- many in fancy dress -- scramble to get their hands on the first copies of the long-awaited novel.
"I am very excited. This is our biggest marketing campaign ever," said Lucy Holden, head of children's publicity at British firm Bloomsbury, the original publisher of the series.
A financial firm has sued Michael Jackson for US$48 million in fees it says the singer owes for help in refinancing his bank debts and claiming a larger stake in a library of Beatles songs. Prescient Acquisition Group, also known as Prescient Capital Corp, filed the lawsuit against Jackson in a US District Court in Manhattan late on Monday.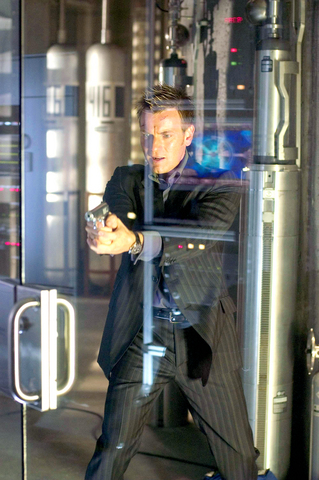 Ewan McGregor stars as Lincoln Six-Echo, in The Island .
PHOTO: AP
Film star Brad Pitt is suffering from the symptoms of flu and has been admitted to a Los Angeles hospital a week after returning from a trip to East Africa, his publicist said on Tuesday. "He's fine. We think he has the flu," publicist Cindy Guagenti said. "They are just doing a couple tests."
Tom Cruise set pulses racing in the center of Rome on Tuesday as he careened down the Tiber River as part of filming for Mission Impossible 3.With St. Peter's Basilica as a backdrop, the Hollywood heartthrob piloted a speedboat under statue-topped bridges, bringing river traffic to a standstill and wowing tourists.
Malibu's picturesque coast may be home to many movie stars but residents are calling "Cut!" to the number of films and videos shot there. Malibu City Council on Monday night gave initial approval to regulations that would ban late night and early morning filming and limit production companies to 16 days at one location.
Some Hollywood actresses are cautious about revealing too much skin but 20-year-old Scarlett Johansson had to be persuaded to keep her underwear on, according to her director in The Island, Michael Bay. Speaking before Monday's New York premier of the thriller, which stars Johansson and Ewan McGregor as human clones on the run, Bay said he was prepared for the usual actress nerves when it came to shooting a love scene between the two leads.
TV advertisers are facing a potential disaster as more consumers buy digital video recorders (DVRs), according to a new study, since about 90 percent of current users fast-forward through ads. The trends are even more foreboding among the 18 to 34-year-old demogra-phic most coveted by marketers, with 97 percent saying they skip ads all or almost all of the time.
Jury selection began Tuesday in the trial of a photographer accused of trying to steal topless pictures he took of Hollywood star Cameron Diaz before she became famous.
Photographer John Rutter is accused of forging the signature of the Something About Mary and Charlie's Angels star on a model release form authorizing the potential sale and distribution of the pictures.
While her publicist has refused to discuss the photographs taken of the 32-year-old blonde, they are widely reported to be bare-breasted pictures of the actress who is listed as a potential witness in the trial.
Lawyers on Tuesday began picking the panel of 12 people who will hear the case in Los Angeles Superior Court.
Judge Michael Pastor warned about three dozen prospective jurors that the case had already received "some attention from the media" and urged them to avoid any news reports about the trial, which could last about two weeks.
Rutter, 42, is charged with attempted grand theft, forgery and perjury committed against 32-year-old Diaz in August 2003.
Comments will be moderated. Keep comments relevant to the article. Remarks containing abusive and obscene language, personal attacks of any kind or promotion will be removed and the user banned. Final decision will be at the discretion of the Taipei Times.