The cleanest underwear in town
Undergarment manufacturer Green-shield employs nanotechnology\nto create items that are clean and healthy to wear
With summer in full swing, clothes and undergarments in particular become a source of discomfort. Any amount of activity outside the safety of air-conditioning can leave you feeling sticky, itchy and even smelly.
This is where Green-shield (綠纖維) comes in, a Taiwanese nanotech company specializing in socks and underwear designed to protect you from the traditional discomforts that plague these items.
They have created articles of clothing that they claim can eliminate up to 99.99 percent of bacteria, 90 percent of odor and 75 percent of sticky moisture within the cloth as well as contributing to the overall health of the wearer.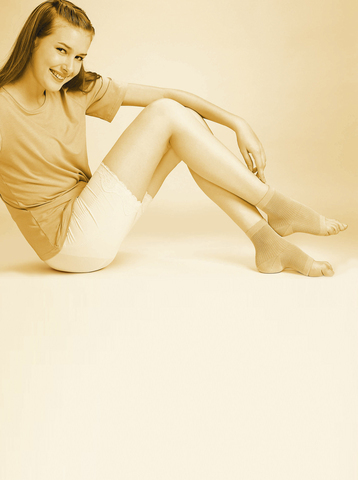 This is achieved through nanotechnology. Before the material is woven and sewn together to create garments, Green-shield's fibers are altered through a patented process so that they begin to release a constant stream of negative ions and far-infrared rays.
The negative ions create a magnetic field that inhibits the reproduction of bacteria, thus eliminating odor and lowering the risk of skin infection or irritation. The negative ions also help to increase circulation and eliminate toxins from the blood by reacting with them and breaking them down.
Meanwhile, the far-infrared rays are absorbed by cells -- not just in the skin but throughout the body -- causing all the individual atoms to begin vibrating at a higher frequency, which speeds up the metabolism and the elimination of wastes. This is particularly helpful for alleviating soreness due to fatigue or injury, according to Green-shield.
Comfort-wise, Green-shield has you covered. Certain fabrics are naturally good at keeping you dry -- they breathe well and wick moisture away from your body. Far-infrared fabric employs a different method. The rays reduce the cluster size and surface tension of water, making it easier for your skin to absorb.
This is a particularly desirable quality for socks to have: walking around all day with wet feet suffocating inside your shoes is not fun nor is it good for podiatric health and it can easily lead to athlete's foot.
Besides the socks and underwear, Green-shield's best-selling products are braces for the elbows, knees and lower back. Wounds, soreness and acne patches made from the same negative-ion and far-infrared material are also quite popular.
Many of Green-shield's customers are people with health problems looking for a less traditional kind of therapy. Or doctors and nurses, for whom cleanliness is a necessity.
"The people who come in here have usually bought our products before," said Mandy Bo (薄玉貞), a sales representative at Green-shield's flagship store near Renai traffic circle. "New customers tend to be skeptical," she said.
Skepticism may be the natural reaction to Green-shield's claims that their undergarments can keep you clean and healthy just by wearing them -- they look just like normal panties, stockings and undershirts. But that's the point: Nanotechnology works on a level invisible to the naked eye.
Green-shield is prepared for skeptics. For customers that need a little convincing, a sales representative demonstrates the purifying effects of their fabric by placing a thimbleful of Kaoliang liquor on top of two boxes -- one with a Green-shield brace inside and one containing a non-Green-shield brace. After five minutes, the liquor on top of the Green-shield brace has lost some of its fire.
Skeptic or not, you may want to ask yourself how much you're willing to pay for healthier clothing. Green-shield's items run at prices up to 10 times higher than normal clothes: a pair of socks for NT$700, a man's undershirt for NT$2,800, an entire bed set for NT$40,000.
But those prices don't just buy quality on the nano level. Green-shield pays close attention to the "macro" aspects of its garments as well. Most of items are created from Tencel fabric, a soft, durable and low-maintenance material made from the cellulose in wood pulp. All pieces are designed to fit and support the body comfortably, with a touch of style (the women's undershirts are modeled after Christian Dior's).
Green-shield's products first made their way to the market in 1989, headed by entrepreneur Zheng Fu-ren (鄭富仁). Back then the technology was a little simpler and all products were sold through direct sale, like Amway. Now Green-shield has branch stores in Taoyuan, Hsinchu, Taichung, Tainan and Kaohsiung and their products are sold in other stores throughout Taiwan. The flagship store in Taipei is at 263, Dunhua South Road, Sec 1 (台北市敦化南路一段263號). For other store location addresses call (02) 2974 3788.
Comments will be moderated. Keep comments relevant to the article. Remarks containing abusive and obscene language, personal attacks of any kind or promotion will be removed and the user banned. Final decision will be at the discretion of the Taipei Times.