The uncelebrated Mother's Day
Young and single moms still face prejudice in Taiwan and are ostracized by family, friends and schools when what they need is support and education
Today, mothers around the world are being honored for the pains and labors of child rearing, but the sacrifices made by teenage mothers are far from being celebrated. Taiwan has made notable advances in sex education and pregnancy prevention in the last five years, yet prejudice against an unwed mother often leaves her permanently ostracized from family and friends.
"Yiwen" was 17 years old when she discovered she was pregnant. Terrified of the reaction her parents would have, she waited six months before telling them. At first she was kicked out, then, on the condition that she let her aunt raise the baby as her own, Yiwen was allowed to return home.
That was nearly 40 years ago. Now she is 53 years old and married with a family of three. To this day, her first daughter does not know that Yiwen is her real mother.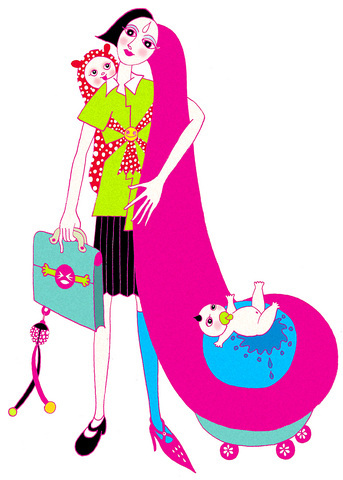 ILLUSTRATION: MOUNTAIN PEOPLE
"It was a long time ago, and I believe it was the best situation for my baby, my family and myself. But I am surprised that after all these years, things haven't really changed," she replied when told about a girl, who on the recommendation of her parents, made the same decision to conceal the real mother's identity.
FACING THE FACTS
According to statistics from the Ministry of the Interior, an average of 15,000 girls between the ages of 15 and 19 give birth each year in Taiwan. An estimated 60 percent decide to keep their babies, while 40 percent opt for adoption. In 2003, 8,775 teenagers became mothers, 89 percent of whom were unwed.
"A young mother needs a solid financial and emotional support system, but the fact is most of these girls have no money, no education and are punished by their families who are ashamed to have an unwed, pregnant daughter," said Chi Hui-jung (紀惠容), CEO of the Garden of Hope Foundation (GOH), a non-governmental, non-profit organization that helps disadvantaged women in Taiwan.
Government funding and policies aimed at pregnancy prevention are beneficial, Chi added, but should not be at the expense of financial assistance, housing and post-partum education for girls who decide to have babies.
"Prevention [education] is important, but it's equally important to accept the reality that kids are having sex and some of them are going to get pregnant."
The central government began to seriously address the issue of unplanned parenthood seven years ago with the establishment of the Children's Bureau under the Ministry of the Interior. Since then, the bureau has worked with the Ministry of Education (MOE) to introduce sex-education campaigns in high schools and has set up hotlines and counseling services for girls who get pregnant.
Last year the bureau opened 13 call centers and started providing adoption assistance to young women in Taiwan. This year it plans to work with local governments to create job-training programs and home-study options for single mothers, in addition to evaluating those services already in operation.
"Things have only begun, so it's necessary to assess the situation to see which areas need improvement before we launch new programs. Eventually we hope to build a solid support network that helps those girls in need," said Children's Bureau chief Huang Bi-hsia (黃碧霞).
FINDING HELP
A handful of charity organizations have long been providing support to unwed mothers in Taiwan. There are currently seven halfway houses operating nationwide in addition to shelters that are strictly for women who want to put their child up for adoption.
Most halfway houses provide prenatal counseling, postpartum care and health-care assistance for the mothers and their infants. Girls are also given seven weeks after delivery to make a decision as to whether they want to keep the baby. Likewise, many shelters have follow-up programs with home visits as well as support-group gatherings for single moms.
The GOH operates four halfway houses in Taiwan that keep between five to eight girls and two to four social workers. Clients are permitted to visit friends and family on the weekends, but they are prohibited from disclosing the location of the home, which is not public knowledge. Childcare, language and craft classes are offered in the mornings and afternoons with counseling and group discussions in the evenings. Each client is required to prepare the meals for one day and help with basic household chores.
After leaving a halfway home, single mothers receive little financial assistance from either charities or government agencies.
Every local government has some form of temporary financial assistance, but only low-income families are eligible, leaving those who live alone and are registered in their parents' household without any substantial aid.
"Without sufficient financial resources, the mother and child will suffer," Chi said.
DATES TO DAIPERS
"Huiyi" had just turned 15 when she completed junior high school and gave birth to her son. Now caring for her eight-month-old baby, she lives at home with her mother, who has been supportive of her decision to raise the child. She has little contact with and no financial support from the child's father, and although the look on her face suggests that it bothers her a great deal, she is determined to raise her baby on her own.
"I want to raise my baby, and I don't want to depend on my mother or anyone else to do it for me," she said.
She rarely speaks to her old classmates, and considering most of her days are spent at home, she doesn't expect to make any new friends anytime soon. Despite this, she is not depressed and said having a child has made her "mature more quickly."
She has no intentions for a higher education, and when asked if she would consider going back to school once her son started kindergarten, she replied that finding a job would be her first priority.
Huiyi currently receives financial assistance from her local government but only enough to cover her basic monthly child-care expenses. Her own food, clothing and shelter are provided by her mother who works full time.
To help unwed mothers gain financial independence, the Children's Bureau plans to set up training programs, which will include access and instruction on how to use on-line employment resources. Before they begin classes, however, girls are encouraged to go back to school and finish their education.
A RIGHT TO STUDY
Although female students were never officially expelled for being pregnant, they were often encouraged by school administrations to leave. Last year the MOE passed the Gender Equality Education Law, aimed at protecting the basic rights of all children, including pregnant students, to receive an education. Young or expecting mothers rarely stick with school -- one reason being their responsibilities at home.
Daycare at high school is unlikely and many girls are hesitant to stay in school once their pregnancies begin to show. The reality, according to a number of social workers, is that most girls will quit and never return to school.
"In theory, the policy says every girl is entitled to continue her education, but this is often not the case. In our experience, most schools will push the girls to leave because they are afraid that it might send a bad message to the other students," said Stella Tsao (曹宜蓁), a social worker at a Taipei shelter for unwed mothers.
Tsao recalled a conversation she had with a junior high school principal who said that if the girl in question was unable to deliver the baby, then she could come back to school. If the girl was successful and decided to keep the baby, then it would be best for her not to return, because the burden of child care and studying would be too much for a student to manage.
EDUCATING THE PUBLIC
Aware of the prejudice faced by pregnant students, the MOE is working to create a more accepting attitude toward these girls. There has already been a positive response from individual teachers interested in learning how to deal with pregnancy in the classroom.
"It's the most important thing right now. Many schools still create an unfriendly environment, making it impossible for a pregnant student to stay in school. Once we create an environment the girls feel comfortable in, then we will continue to work on more pragmatic ways to keep them in school," said Chen Chin-yen (陳金燕), administrative director of the Student Affairs and Council Committee of the MOE.
To assist young mothers, the MOE has responded with more flexibility, Chen said. Extended periods of leave, extra make-up tests in addition to correspondence courses that allow girls to study at home under the supervision of a tutor are some of of policies that were implemented this year.
While all schools are required to offer the services to their students, not all of them fulfill the requirement. Unless a girl reports her unfair dismissal or refusal for home study to the MOE, nothing will ever come of it.
While equal opportunities are being created in the classroom, society also needs to be re-educated on its views toward single mothers, Tsao said. Having an unwed, 16-year-old pregnant daughter is a major loss of face for families, she added, giving an example of a mother who agreed to let her 17-year-old daughter stay at home as long as she did not tell anyone she had a baby. Whenever anyone came to visit, the girl was asked to go to the park until the visitor left.
"A lot of people think single mothers are incapable of raising normal, well-behaved children, but these assumptions are not based on facts. The real fact is these girls need the support and help of their community. In many cases, girls sacrifice an education, social life and reputation to have a child. Now their families, friends and communities need to stop judging them and learn how to help," Tsao said.
The names in quotation marks are not the real names of the young mothers, who asked to not have their real names published.
Comments will be moderated. Keep comments relevant to the article. Remarks containing abusive and obscene language, personal attacks of any kind or promotion will be removed and the user banned. Final decision will be at the discretion of the Taipei Times.