It's time for 'Generation Mix'
International marriage is on the rise and multiracial groups in the US are trying to reinforce a positive self-image in younger generations
Geetha Lakshminarayanan says it is easy for her to figure out which guys to blow off at a bar. They are the ones who approach her by asking, "What are you?" or "Where are you from?"
"It's always nice to be seen as attractive, but I don't want people to date me because I'm exotic, like an animal at the zoo," said Lakshminarayanan, 22, who works for an organization in Ann Arbor, Michigan, that teaches management skills to nonprofit groups. Lakshminarayanan, whose heritage is white and Asian Indian, is mistaken for Latina or Filipina because of her olive skin and straight black hair. "It's like they're taking a walk on the wild side," she said. "I just don't trust them."
Mass culture awakened some time ago to growing multiracial demographics, and today public figures who are either mixed-race or part of an interracial couple are more visible than ever. It is hard to miss Heidi Klum and Seal in celebrity magazines (among the expecting couples of the moment) or Mariah Carey or Senator Barack Obama talking about their mixed heritage. Movies like Guess Who use interracial relationships as a subject for laughs, while in Sideways the relationship between a white man and an Asian-American woman was treated as so unremarkable that it went without note.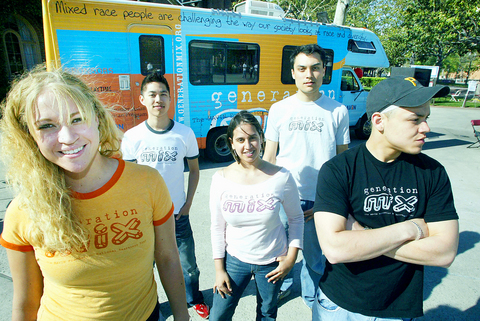 Ashley McDermott, Charles Yesuwan, Geetha Lakshminarayanan, Jamie Tibbetts and Aaron Kendeall on the ``Generation Mix'' tour in Los Angeles.
PHOTO: NY TIMES
The so-called ambiguous look is hip, so is borrowing ethnic styles and cultures.
But scratch the surface, many multiracial Americans say, and the reality is much more complex. Despite being perceived as cool, people of mixed race say they often function in a world where friends will eventually offend with a comment that overlooks a white mother or an Asian father, and where "exotic" is another word for "other." As they navigate social land mines that can be annoying and funny at times, hurtful and depressing at others, young people of mixed race are becoming increasingly assertive, starting groups and demanding recognition.
"People make a lot of assumptions based on race, and they can't put us into categories," Lakshminarayanan said as she sat relaxing in her room at a Chinatown hotel. She was taking a break during a 15-city road trip, called "Generation Mix," that was organized to raise awareness about the mixed-race experience and issues like the need for more multiracial bone marrow donors. The long recreational vehicle which she shares with four others was parked on the street outside.
Generation Mix is sponsored by the Mavin Foundation, an advocacy organization in Seattle. Formed in the late 1990s, Mavin was among the forerunners of the dozens of multiracial groups -- with names like Swirl, Fusion and Mixed -- that have sprung up in the last five years in an attempt to bring multiethnic issues to the fore. Some efforts focus on earnest outreach; others are less relevant.
On Race-O-Rama, produced by VH1 and the five-man humor collective Ego Trip, Shakara Ledard, a model who is both white and black, riffs about how she used to make fun of herself as an "Oreo cookie." Meanwhile Web sites like mixedmediawatch.com keep tabs on the way multiracial people are portrayed in the media, and T-shirt designers are busy spreading their message. At the University of Maryland in College Park, multiracial students are wearing T-shirts with the message "Mixed Terp," which plays on the university's mascot, the diamondback terrapin.
Roberto Suro, director of the Pew Hispanic Center in Washington, which studies issues of race, said today's multiethnic young people are forging new racial terrain. "It's more of an internally developed form of identity than just a social category, and it's fundamentally different from the way race has been expressed in this country before," he said.
The assertive attitude, along with this new crop of youth organizations, is fueled in large part by the US' 2000 census, which for the first time counted people of more than one race. Among the more than 7 million people identified as multiracial, 41 percent were younger than 18, the census showed, compared with 26 percent for the overall population. Now, nearly 40 years after the Supreme Court struck down the last of the nation's anti-miscegenation laws, these young people are challenging a society they say is still very much hung up on racial labels.
"Most Asians perceive me as white, and most whites perceive me as Asian," said
Derrick Pfeffer, 21, who is Chinese and white and founded the Multiracial Biracial Student Association at the University of Maryland two years ago. As a result, he said, his white friends are surprised that he's extroverted and outspoken because it counters the Asian stereo-
type. His Asian friends are surprised when he speaks Mandarin and talks about Chinese family gatherings because they think of him as white. No matter what he does, he said, "people won't completely embrace you."
Bethonie Butler, 20, who is a journalism student at the University of Maryland, said many of the social slights multiethnic people experience are hard to address because they seem inadvertent.
Not long ago, she said, she discovered a new posting on the bulletin board she shares with her roommates. It read, "I'd rather have a black woman take my man, but a white woman, I can't have."
Butler, who is black, like her roommates, is also part white. She said she did not make a big deal about the sign -- "Wow, that's nice," was her only comment to her roommates -- but it bothers her that people sometimes forget her father is black and her mother white.
"It's one of the weirdest things, but that happens a lot, especially around dating," she said. "A lot of people say they are against interracial dating and I'd take offense because what they're telling me is that what my parents did was wrong."
Among the common complaints that many mixed-race people mention are television commercials that show families of only one race, school forms that pigeonhole students into one racial category, and portrayals in the media that assume mixed means only black and white. (According to a report issued this month by the Census Bureau, of all the people who identified themselves as being of mixed race in 2000, only 11 percent claimed their heritage to be black and white.)
Matt Kelley, the 26-year-old founder of the Mavin Foundation whose parents are Korean and white, said that rather than creating yet another race-based category, groups like his want to expand notions of race so that Americans "reject the idea that you have to pick a team."
Still, the country has come a long way in shedding the historical baggage that once made interracial couplings shameful if not illegal, many of those interviewed agreed. In many communities in the Northeast and on the West Coast, being mixed may not be a big deal, and for many the idea of passing for one race when you are in fact two or more is now unimaginable.
Away from those areas, however, "multiracial individuals may find it economically advantageous not to advertise their heritage," said Juanita Brooks, a clinical psychologist in Florida who ran a Web site for multiracial people with "a white appearance" like herself.
With intermarriage rates on the rise, some multiracial groups are trying to reinforce a positive self-image in younger generations. Fusion, a group that formed three years ago in San Francisco, is starting a summer camp this year for multiracial and multiethnic children as well as for transracial adoptees so "they can interact with role models and kids their own age," said Joemy Ito-Gates, a third-grade teacher who founded the group.
Many young people of mixed race said they are heartened by the increasing number of public figures like Tiger Woods, who refuses to be singularly categorized.
Jen Chau, 28 -- an administrative assistant at New York University who also is a founder of mixedmediawatch.com and Swirl, a social group in New York that has chapters in several cities -- said that there was a measure of respect for those like Halle Berry, who accepted her Oscar for best actress in the 2001 film, Monster's Ball, on behalf of African-Americans even though her mother is white.
"Mixed people should identify the way they want," Chau said. "They shouldn't be questioned. That's how they feel."
Researchers who study questions of racial identity say multiracial people vary in how they relate to their different backgrounds, with some embracing all parts of their heritage equally, and others choosing to be more one than another. And as a group, said Larry Hajime Shinagawa, director of the Center for the Study of Culture, Race and Ethnicity at Ithaca College in New York, the multiracial population is too diverse itself to unite under a banner.
"People will still need a community of interest and identification," he said.
Some, like Lakshminarayanan, say they are still exploring their identities and questions like how being partly white might lend certain advantages. "This tour has made me think about the fact that although I'm a person of color, my white background has in fact given me a lot of white privilege," she recently wrote on Generation Mix's Web log. "But this white privilege thing is a whole new dimension for me."
Aaron Kendeall, 21, a student at West Virginia University and a Generation Mix tour member, said appearing to be white sometimes came with its own problems. Kendeall, who grew up in Pittsburgh, said that in high school he had a fight with a hockey teammate who used a racial slur about blacks while telling a joke in the locker room. Kendeall looks white like his mother, but his father is black, which he said he made clear immediately, by telling him.
"I took my belt off and hit him," he said. His teammate had to apologize.
"When you're mixed," Kendeall added, "you're put in a lot of awkward situations other people would not be put in."
Comments will be moderated. Keep comments relevant to the article. Remarks containing abusive and obscene language, personal attacks of any kind or promotion will be removed and the user banned. Final decision will be at the discretion of the Taipei Times.