A match made in heaven
A movie about tennis has more to engage the viewer than might initially be thought
Will pre-match sexual hijinks give you the edge you need to win at tennis? Or will they distract you from mobilizing the killer instinct essential to victory? That's the earth-shattering question at the heart of Wimbledon, a likable, formulaic sports movie that follows the miraculous comeback of an insecure 31-year-old British tennis pro, Peter Colt (Paul Bettany), whose career resurrects on the wings of love. \nIn the eight years since Peter placed 11th in the international tennis rankings, he has sunk to 119th. At Wimbledon, where he's playing his last professional matches before taking a job as a tennis instructor at a fancy club, he meets and falls in love with an American tennis pro, Lizzie Bradbury (Kirsten Dunst). A super-competitive athlete, on the fast track to the women's championship, Lizzie appears unstoppable until Paul enters her life. As her defenses start to crumble, her concentration falters and the trajectories of their careers unexpectedly reverse. Paul credits Lizzie with spurring his triumphs, while she bitterly blames him for her fall from grace. \nWimbledon's most refreshing idea is to present a sports hero who doesn't see himself primarily as an invincible fighting machine. Peter, who narrates the movie and whose jumbled interior thoughts are heard at tense moments, has a mind and a soul as well as a body. He is courtly, witty, sensitive and apologetic to a fault, but he is no smoothie. \nUntil she meets him, Lizzie is a snippy, wisecracking know-it-all pursuing the win-at-all-costs agenda of her pushy father, Dennis (Sam Neill). Dennis immediately perceives Peter as a threat and tries to keep him away from his daughter, but he won't be stopped. Lizzie is adept enough at compartmentalizing her life to have enjoyed a number of meaningless flings on the road without becoming distracted. She is all business when she first sleeps with Paul. When she loses control, she loses her temper. \nDunst projects the lithe physical grace of a born athlete, but she has a delicate line to tread to keep Lizzie sympathetic. Her skill at balancing Lizzie's smugness and vulnerability is a tricky feat she carries off by portraying her conflicting urges as the suppressed inner tug of war by someone too self-disciplined for melodrama. Until she cracks, the conflict registers mostly as subtle, telling changes in expression and body language. \nAlthough the movie shows only fleeting glimpses of Lizzie in action, a good portion of Peter's screen time is spent sweating on the court. The tennis scenes, though credible, are pumped up and stretched out for suspense and embellished with dramatic glitches: an official's wrong call, a sudden downpour and several falls. \nWimbledon, which opens nationally today, was directed by Richard Loncraine, the guiding hand behind Ian McKellan's streamlined, Fascist-era Richard III and the cult comedy Brimstone and Treacle. Although Wimbledon is a much more conventional film, it still has cleverer-than-average dialogue and sharply drawn subsidiary characters. \nAmong them are Peter's bratty younger brother, Carl (James McAvoy), who bets on Peter to lose; the brothers' eccentric, unhappily married parents, Edward (Bernard Hill) and Augusta (Eleanor Bron); and Peter's ultimate opponent, Jake Hammond (Austin Nichols), a spoiled, sour American pretty boy who comes over as instantly loathsome. \nThe movie is strung with many annoying narrative tchotchkes. Peter and Lizzie meet cute in a hotel when he is accidentally given the keys to her suite and catches her in the shower. Lizzie and her father have a noisy little dog that threatens to give away a secret midnight rendezvous. A comet appears just in time to underline a passionate kiss, then vanishes as soon as the lovers have their first fight. A worshipful ball boy keeps reappearing -- Peter's good luck omen. \nPeter and Lizzie are the latest screen couple spun off from a familiar romantic template: the soft Brit male heartthrob and the hard female American go-getter. Think Hugh Grant and Julia Roberts in Notting Hill, and real-life couples like Guy Ritchie and Madonna, and Chris Martin and Gwyneth Paltrow. Bettany's thoughtful, open-hearted Peter makes American sports heroes with their Rambo-style machismo look like brass-knuckled babies. He is generous enough to go after a woman who has more drive without being frightened off. It all has a vague historical subtext. Sure, the Brits are more civilized, but the Americans are the winners. It's been that way since 1776.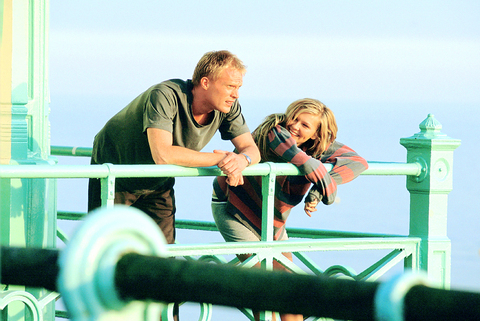 PHOTO COURTESY OF FOX MOVIES
Sport, sex, a plot. Wimbledon has all three.
PHOTO COURTESY OF FOX MOVIES
Publication Notes
Film Notes: Wimbledon
Directed by: Richard Loncraine
Starring: Kirsten Dunst (Lizzie Bradbury), Paul Bettany (Peter Colt), Sam Neill (Dennis Bradbury), James McAvoy (Carl Colt), John Favreau (Ron Roth), Bernard Hill (Edward Colt), Eleanor Bron (Augusta Colt), Nikolaj Coster-Waldau (Dieter Prohl)
Running time: 100 minutes
Taiwan Release: today
Comments will be moderated. Keep comments relevant to the article. Remarks containing abusive and obscene language, personal attacks of any kind or promotion will be removed and the user banned. Final decision will be at the discretion of the Taipei Times.