Changhua County celebrates by hosting a hands-on farm festival
While some set off rice bombs in reaction to changes in the agricultural sector since entry into the WTO, Changhua county has decided to meet those changes with a festival.
Tomorrow and Sunday, "Good Mountains, Good Water, Good Fun -- Changhua County Leisure Farm Festival" is scheduled be held at San Chun Lao Shu Leisure Farm (三春老樹休閒農場) in Huatan township.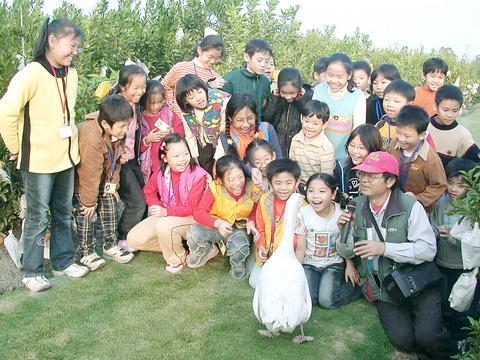 Leisure farms give kids a taste of farm life.
PHOTO COURTESY OF CHANGHUA COUNTY AGRICULTURAL BUREAU
The festival "will let all of Taiwan see and experience what Changhua's leisure farms have to offer" said Hsu Hsiu-fang (許秀芳), the director of marketing and planning for Changhua county's agricultural bureau, which has organized the festival.
Since Taiwan joined the WTO in 2002, farms around the country have faced the problem of how to make money despite tough foreign competition. Many farms have incorporated tourism, allowing visitors to see and experience farm life through activities such as traditional tea ceremonies and fruit-picking.
Changhua, "the county of agriculture," has followed in the footsteps of counties such as Nantou, were the transformation to agricultural tourism began in the mid-1990s. The festival is a culmination of the county's efforts to develop and promote agricultural tourism.
According to Hsu, the festival is especially oriented around families with kids and elementary school classes. Adults will be able to relive the charms of childhood while youngsters will get a taste of farm life in a relaxed atmosphere.
The weekend's schedule is packed with group activities, such as tours and games with prizes, as well as do-it-yourself (DIY) hands-on activities, including plant cultivation and arts and crafts such as weaving, hat-making and fan-painting. The DIY activities are not free, but they are specially discounted for the festival.
Event notes:
What: Changhua County Leisure Farm Festival (好山好水好好玩∼彰化縣休閒農漁園區嘉年華)
When: Tomorrow and Sunday, from 10am to 5pm
Where: San Chun Lao Shu Leisure Farm, Huatan township, Changchun Villa, Youche Alley, No. 271 (彰化縣花壇鄉長春村油車巷271號)
Ticket: Fees for the DIY activities range from NT$30 to NT$100
Telephone: For schedules and information, call 02-2394-7676 or 04-722-2151 ext. 0662
Comments will be moderated. Keep comments relevant to the article. Remarks containing abusive and obscene language, personal attacks of any kind or promotion will be removed and the user banned. Final decision will be at the discretion of the Taipei Times.