Art with all the right moves
A kinesthetic exhibition at the at the Shih Leh Yuan Art space showcases international innovators
Music, dance, video and sound art will share a room at the Shih Leh Yuan (SLY) Art space for the next three weeks under the common theme of kinesthetic art. Six artists, representing five countries and covering a range of disciplines, are part of the second annual New Field Art Festival. While last year's festival highlighted the broad use of technology in art, this year's looks at the use of body movement and senses in various art projects, said Emily Chien (簡惠英), co-organizer of this year's festival. \nHaving spent time in either China or Taiwan, none of the featured artists are new to Asia. Australian native, Frances d'Ath choreographed a piece in 2002 for the Guangdong Modern Dance Company as part of his residency in Guangzhou. \nIn Taiwan he is working with two local dancers on a new piece to be presented sometime next month. At SLY, he is running a film projection of a major dance work he choreographed earlier this year in Australia. \nD'Ath's Extermination is a dance based on his reading of Jean Baudrillard's Symbolic Exchange and Death. Projected onto the wall is a group of female dancers clad in medieval ball gowns that, through the course of the film, perform dance adaptations of Baudrillard's text. Through the use of violence, gore and heavy metal d'Ath contrasts the elegant movement normally associated with ballet to create a Gothic twist. \n"It deals with the nature of performance -- where the performance starts and the meaning of being human changes, such as how bodies are currently being coded and decoded," he said. D'Ath will be giving a workshop on his choreography Dec. 18 from 1:30pm until 3pm. \nInvited to exhibit in Taichung's Stock 20 two years ago, Welsh artist Paul Emmanuel has returned to Taiwan. But this time he's in Taipei and he's brought his own psychiatrist. Emmanuel's work Psychonavigation is the edited film version of a 45-minute real psychiatric session in which he answers a series of questions while his mouth is filled with paint. Performed live in Taipei yesterday, the video footage will be screened at SLY for the next few weeks. Although he uses the same consultant every time, the questions are not rehearsed and cover medical history, drug/alcohol abuse as well as delving into more personal issues such as sexual intimacy. \nRather than be disgusted by the image of Emmanuel's mouth dribbling paint and saliva, one's interest is piqued while listing to the series of questions and answers. As a painter, Emmanuel said he uses paint as a diagnostic tool in the psychological examination. On one level, scrutiny of his personal history and habits investigates the stereotype of what it is that makes an artist. On another level it looks at the psychiatric profession as a material entity. Using the ongoing project that has been performed and screened in Los Angeles, Swansea, the UK, and now Taipei, Emmanuel said he also wants to explore how the Western practice of psychiatry is viewed in different cultural environments. \nLacking any medical credentials, but blessed with the gift of massage, Taiwan artist Ting Li-ping experiments with the healing qualities of sound through her sound massage. As performed last year at IT Park, Ting uses her hands to make sounds near a person's body, without actually touching the person. According to one recipient it provides the same results as a traditional massage. Ting is offering free sound massages during the festival, but those interested are recommended to call and schedule an appointment. The massages will take place at SLY today from 6pm to 11pm and at the same time next Saturday and Sunday. \nFrench sound artist Thierry Madiot will join his wife, Ting, to give a live musical performance on Dec. 19 at 2pm. The two are also exhibiting a joint project that uses a homemade stethoscope and box of objects to create sound. After putting the headset on, a participant should close his or her eyes while another person places different objects from the box into a small cup attached to the earphones. The different sounds are meant to trigger a variety of responses or emotions, depending on the person. \nTaipei-based company A Moving Sound is also putting on its latest theatrical production at the festival. The group has gained well-deserved attention this year for its combination of Mia Hsieh's traditional dance and vocals with Scott Prairie's contemporary music. \nExhibition notes: \nWhat: 2nd Annual SLY Art's New Field Art Festival \nWhere: Shin Leh Yuan (SLY) Art Space (新樂園藝術空間) at 15-2, Ln 11, Zhongshan N Rd, Sec 2, Taipei (台北市中山北路二段11巷15-2號1樓). \nTelephone: (02) 2561 1548 When: 1pm to 8pm, Wednesdays to Sundays (closed Tuesdays and Mondays). Until Dec. 26.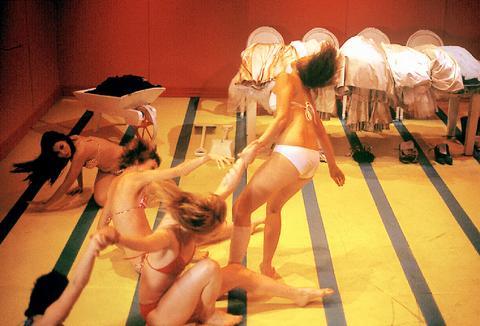 Stills from Extermination, by Frances d'Ath.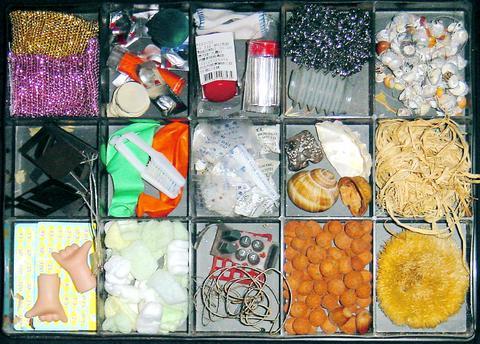 Ting and Madiot's box of sounds.
Comments will be moderated. Keep comments relevant to the article. Remarks containing abusive and obscene language, personal attacks of any kind or promotion will be removed and the user banned. Final decision will be at the discretion of the Taipei Times.