Restaurant: Casa Della Pasta
Address: 34, Ln 621, Beian Rd, Dazhi, Taipei (台北市北安路621巷34號); 7-1, Lane 11, Zhongshan N Rd, Sec. 2, Taipei (台北市中山北路2段11巷7-1號)
Telephone: (02) 8509 5717 (Dazhi), (02) 2567 8769 (Taipei)
Open: 11:30am to 1:40pm for lunch, 5:30pm to 8:30pm for dinner; closed Sundays
Average meal: Under NT$200 per person
Details: Cash only; menu in Chinese and English; no smoking
I was introduced to the Dazhi branch of Casa Della Pasta by a friend who lives just down the lane from it and described it as "her neighborhood pasta place" adding that the food was "unpretentious, inexpensive and filling." \nThe Dazhi restaurant is a medium-sized room with big windows along two walls to let the light flood in. It is simply decorated: steel chandeliers, about two dozen small square tables, that can be spilt up for two people or pushed together for groups of four, six or eight. The limited wall space is used to display long, rectangular chalkboards that list the menu offerings. A small deck outside holds two umbr-ella-shaded tables. \nIt definitely had a neighborhood feel -- nearby office workers appear to stop by at least once a week and families in the surrounding area making it a dinnertime staple. The food is filling, but you're not encouraged to linger too long -- at noontime and 6pm, the waiting line grows quickly. \nWhat you do get is a limited choice of appetizers, namely cheese rolls, fried calamari or clams in a spicy white wine sauce for an average of NT$100; a soup of the day or a salad selection that ranges from the basic garden salad (NT$45) to a double caesar with chicken or bacon (enough to feed two or three people) (NT$150). Pizza comes with a choice of seven toppings but just one size -- seven inches -- and ranges in price from NT$120 for a basic cheese pizza to NT$160 for the seafood combo. There is also calzone. \nBut the focus of the restaurant, and rightly so, is on its wide selection of pasta dishes. You can get the basic olive oil and garlic, pesto or tomato sauce for NT$85 or splurge on a chicken or salmon dish for NT$115. . \nWhile the serving sizes and toppings are generous -- big chunks of bacon and chicken in the salad, loads of pumpkin and zucchini with the pasta -- the cream sauce was bland and the caesar salad dressing was on the sweet side. While the menu listed included several dishes labeled as spicy, my friend said sauces tend to be on the mild side. \nDon't plan on a glass of wine with your meal, the drinks list is strictly soft. But that is in keeping with the mood of the place: nothing fussy, just simple, filling food at prices that won't break the family budget.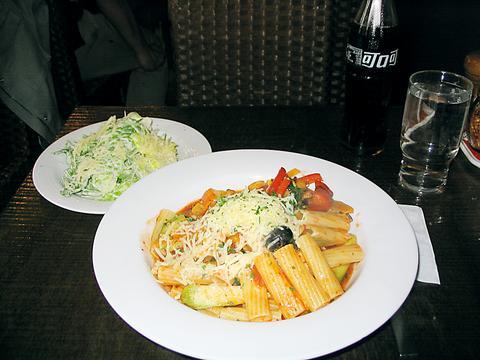 Filling food at good prices.
PHOTO: DIANE BAKER, TAIPEI TIMES
Comments will be moderated. Keep comments relevant to the article. Remarks containing abusive and obscene language, personal attacks of any kind or promotion will be removed and the user banned. Final decision will be at the discretion of the Taipei Times.