POP STOP
Always one to speak candidly, if not always eloquently, Jackie Chan (成龍) threw cold water on Chinese Olympic diving sensation Tian Liang's (田亮) aspiration to launch an acting career, telling media that he should "just concentrate on diving for now." The diver had been outspoken about his plans to enter film and had added that he most wanted to work with Chan. The kung-fu-flick icon, however, replied that he "couldn't think of any film we could work together on." Chan added that he should put his effort into "representing over a billion Chinese and bring glory for the nation" by getting a few more golds. \nThe official release party for Sun Yanzi's (孫燕姿) new album was held Wednesday at the Far Eastern Hotel in Taipei, the highlight of which was a sneak preview of an 8-minute film that's like the extended remix of the first video off the album for My Love (我的愛). The story follows Sun, who now officially goes by her English name Stefanie, on a trip to Paris, where at several points she becomes paralyzed by Proustian memories of a hunky French model whom she met on a previous jaunt to the city. She's there to find him again, but, as luck would have it, they just miss each other at Charles de Gaulle airport as she arrives, and he's leaving -- presumably to go find her. It's heartbreaking. For those who'd like to pick up a copy of the limited edition VCD of the short film, be one of the first 300 in line at Stefanie's mini concert in Ximending tomorrow at 2pm. \nA final decree was issued last week by China's Ministry of Culture, which serves as the gatekeeper for publication imports, declaring that Alex To's (杜德偉) album Take it Off (脫掉) would be barred from distribution within the country. The album was released in July, but had been stalled by censors concerned about the propriety of the highly suggestive sexual tone of To's album. To's label, Rock Records, said in response, that it plans to package the album with other soon-to-be-released products in China. Pop Stop has heard from sources in China, though, that the album was out there long ago in pirate form and was pretty much already forgotten. \nHong Kong singer/actress Kelly Chen (陳慧琳) was put in a tight spot last week when reporters began pressing her about her role as a spokeswoman for McDonald's with the documentary Supersize Me, which is set to be released in the city. Chen, who clocks in at 53kg, offered the stock response from the McDonald's camp that the fast food restaurant now offers low-calorie options, like salads, and that it's a great family locale. No one pointed out, though, that with salad dressing added, the salads are just as calorie-rich as a Big Mac. \nPerhaps the most exciting news of the past week was the announcement that Godzilla will be awarded a star on Hollywood Boulevard. The nuclear monstrosity, who's often conflicted and always misunderstood by humans in his movies, will get to make his imprint in the pavement in front of the city's Chinese Theatre on Nov. 29, which will mark the world premiere of the 28th and last Godzilla movie Godzilla Final Wars. Before hanging up his rubber suit, in the last flick Godzilla gets to indulge in an orgy of city stomping, this time through Shanghai, Paris, New York and Sydney.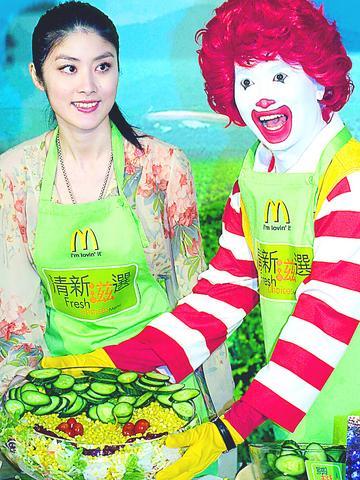 At 53kg, something tells us Kelly Chen doesn't each much McDonald's.
PHOTO: AP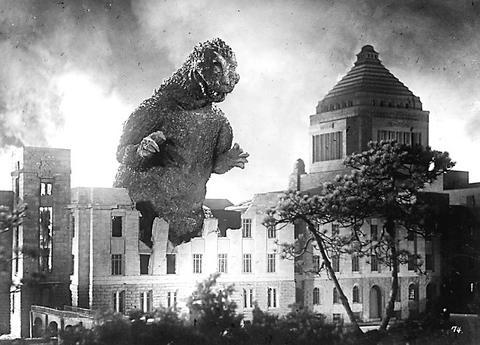 Godzilla enjoys one final romp through an urban area.
PHOTO: AP
Comments will be moderated. Keep comments relevant to the article. Remarks containing abusive and obscene language, personal attacks of any kind or promotion will be removed and the user banned. Final decision will be at the discretion of the Taipei Times.