It's not easy being pink
Cameron Giles, better known as Cam'ron, triggered the pink fad. Now he wants to change color and cash in as a trendsetter
In a gated condominium community in Fort Lee, New Jersey, the dense shrubbery suggests a botanical garden more than a residential one. A lantern at the foot of each house's staircase is illuminated before sundown, and there is a late-model sport utility vehicle in nearly every drive. But there is only one hot-pink Range Rover. That is how you can tell the house of Cameron Giles. \nFor the better part of two years, pink has been the dominant color in the life of Giles, a rapper who performs as Cam'ron. "When I did pink, I did it so I wouldn't be dressing like everybody else," he said. The color seemed guaranteed to set him apart in the world of hip-hop, where men's style tends to conform to notions of hypermasculinity. \nWhen Giles first wore pink, in the summer of 2002 in a video for Hey Ma and at music industry events, he thought he had found a one-of-a-kind look. \nA funny thing happened, though. Not long after Hey Ma began climbing the Top-40 charts, pink began to show up in the wardrobes of other urban young men. At last year's Puerto Rican Day Parade, pink clothing on men offered a counterpoint to the event's macho posturing. \nOther hip-hop figures like P. Diddy and Russell Simmons, and the R & B singer R. Kelly, wore pink. \n"Cam was the first hard-core rapper to rock pink," said Emil Wilbekin, a former editor in chief of Vibe magazine, who is now an executive at the fashion house Marc Ecko. "What was interesting was how quickly the streets caught on." \nGiles himself, however, said he is over the look. He wants to move on. "Me, personally, I haven't worn pink in about four or five months, just for the simple fact that everybody's wearing pink," he said the other day. \nHe plans to adopt a new color, raising the possibility that he might start a new fad. The sartorial decisions of hip-hop stars strongly affect clothing trends. The fortunes of companies like Tommy Hilfiger and Timberland rose after they were embraced by rap stars, and labels like Sean John and Ecko stake everything on anticipating the urban market. \nGiles is cagey about his next big color, hoping to find a way to reap financial gains this time. That might include starting a clothing line of his own. "I'm not going to tell anybody until I patent it," he said of his post-pink color. \n"If this many people enjoy my style, and other people want to be fly in the same type of fashion I'm being fly in, then I might as well benefit off it." \nIt is possible, though, to make an educated guess about Giles's secret. His next album, due in December, is called Purple Haze. A limited-edition cap he designed last summer for the New Era Cap Company featured metallic purple accents. One of his rap crews is called Purple City, a nod to a neighborhood in Harlem and a type of marijuana sold there. \nAnd in April, Giles, in partnership with a company called Harbrew Imports, introduced Sizzurp, a "purple punch liqueur" named for a codeine-laced concoction popular in the South. \nGiles, 28, was born and raised in Harlem, and he found fashion at an early age. "Just growing up in Harlem, it didn't matter what you had to do to get fresh, you would do it," he said. "I recall the Skate Key in the Bronx," he continued, referring to a roller disco popular in the 1980s. "You maybe had to go steal your mom's earrings and go pawn them, borrow US$10 from four or five people, but when you got there, it looked like you had $8,000 in your pocket." \nIn the mid-1990s, he joined his first rap crew, Children of the Corn. Membership required clothes as impressive as one's rhymes -- Sergio Tacchini track suits in particular. "I had to make sure I was on point" around the other rappers, Giles recalled. "They used to go all the way downtown to look for stuff nobody would have. Growing up with them was a privilege." \nGiles found stardom as a soloist in 1998 when his album Confessions of Fire went gold. A follow-up, Come Home With Me, in 2002, went platinum and reached No. 2 on the Billboard charts. \nAlthough he has not had the mainstream popularity of P. Diddy or Jay-Z, he is Harlem's most prominent rapper, famous for a sort of avant-garde gangster rap that is dense with polysyllabic rhyme schemes and fashion references. \nGiles credits his stylist, Monica Morrow, with introducing him to pink. "I came up with it," Morrow said, "but him putting it on made everyone fall in love with it."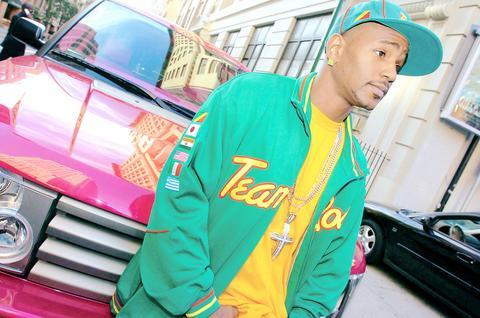 Cameron Giles poses in front of his pink Range Rover.
PHOTO: NY TIMES
Comments will be moderated. Keep comments relevant to the article. Remarks containing abusive and obscene language, personal attacks of any kind or promotion will be removed and the user banned. Final decision will be at the discretion of the Taipei Times.