Return of the white cube
A show by George Ho is a return to the traditional aesthetics of art at the Hua Shan Fruit Wine Building
Returning to the Mystical Realm of the Classical Narrative is the fanciful title of George Ho's (侯玉書) solo painting exhibition currently on view at Hua Shan until Oct. 24. Paintings, mostly acrylic on lutrador, a surface resembling textured handmade paper, are displayed as hanging scrolls and as folding screens installed on a platform. \nHua Shan, which was once a place for experimental arts and performances, increasingly resembles a high-class gallery space with its pristine white walls and ceiling spotlights in the veritable white cube. In the past, as a regular viewer to Hua Shan, you'd delightfully never know what to expect to discover there. But nowadays, you know you're going to see "legitimate art" -- what is generally agreed looks like art, i.e. framed paintings, well-lit, hung on white walls. \nHowever, this is definitely not a criticism of the current show (a criticism of the space, yes). Yet in order to comprehend the avant-garde and the experimental, it helps to go back to tradition-based art such as painting, drawing and sculpture, as they do act as a point of reference for some of the more radical expressions. \nHere, Ho works with traditional aesthetic means that refer to Chinese ink brush painting and Western-style painting with several themes that weave the work altogether. \nI Hear the Marching Tune is a two-panel piece in which the hand-lettering becomes the 3D-shape of a beach. Shimmery, layered blue lines read as figures on the crowded shores, while words seem to wash away in the surf. Another piece whose sea seems to obliterate its literal meaning is Home Thangka where the words, "Nobody is coming home, home is here," is etched into the sky, while "home is here home is here" is crossed out in the stormy waters. \nIn Dormant Kindred Spirits a New York-inspired piece, vague poetic remnants hint at deep, troubled meanings while remaining practically indecipherable. \nThe megalithic Vision of Arrival is a huge 5-scroll painting (249cm x 605cm). Its oblique cobalt-blue shape looks as if a huge whale is going to jump out of the painting, while within the blue mass, small figures are repressed, erased and blocked out, making this painting more about what the artist is not telling you. \nThe centerpiece of the show is Tarot Trail, a seven-panel foldout translucent screen that is predominately in pinks and blues, embedded with small astrological figures and symbols. At first glance, it looks light and airy, but there's an underlying concealed foreboding sense of doom. \nHo's heavily veiled works, delineated delicately in soft colors and translucent surfaces, seem open and gauzy, but looks are deceiving, as these paintings are heavily coded with abstruse personal meaning. Most of the paintings include hand-written text that is often obscured and hard to decipher. \nOn one hand it seems like the artist is offering the viewer a lot of private information, but then one's attempts to understand it gets halted and frustrated. Even though art criticism shouldn't veer into psychoanalysis, this is a bewitching show to contemplate the clandestine meanings being offered. \nExhibition notes: \nWhere: Hua Shan Fruit Wine Building, 1 Bade Road, Sec. 1, Taipei (台北市八德路一段一號) \nWhen: 10am to 7 pm Tuesday to Sunday, Free. To Oct. 24.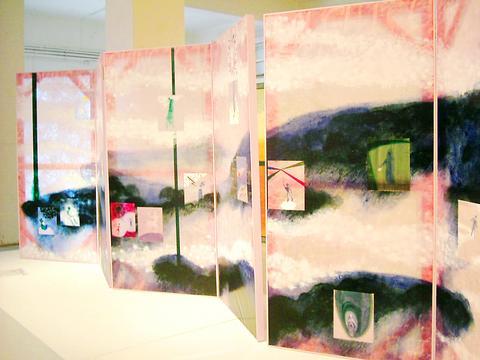 Ho's Tarot Trail is a pink and blue table screen.
PHOTO: SUSAN KENDZULAK
Comments will be moderated. Keep comments relevant to the article. Remarks containing abusive and obscene language, personal attacks of any kind or promotion will be removed and the user banned. Final decision will be at the discretion of the Taipei Times.