A metaphorical look at the human condition
`It's about God and landscapes. But, most importantly, it's about people'
A common thread that joins all humanity is a wonderful notion, but determining exactly what that is becomes difficult, producing endless results. Using different media, two artists offer a similar interpretation of such a binding element in their solo exhibitions at Shin Leh Yuan Art Space in Taipei. \nJulie Chou (周靈芝) explores her personal experience in a new cultural setting with Skyway, three video pieces completed during her residency in Australia. Although each work is quite different the short films work best as a series about the conscious awareness of one's cultural identity while traveling abroad. \nThe first, a pre-departure film, takes place in the artist's own neighborhood. Focusing on the Taipei skyline as it is framed by apartment buildings, with sounds of children playing in the background, the airplane-shaped skyline foreshadows the journey ahead. \nNext, viewers are taken to a roof top where an elderly man is practicing taichi. While sounds of airplanes are heard from above, the camera follows the man's movements, taking the viewer through the exercise. Chou, who practices taichi regularly in Taiwan, said the film illustrates the invisible cultural baggage people take with them whenever they leave home. \nThe series concludes with 18 individual lullabies performed by people from various ages, religions and ethnicities that made up the culturally diverse neighborhood Chou lived in while in Australia. The multilingual lullabies express a universal symbol of parenting among people of different cultural backgrounds. \nSouth Korean artist Sunlee Yoon's solo exhibition, Metaphor, follows a similar search for a common human characteristic. Yoon uses materials such as nails, staples, buttons and ceramic tiles to create landscape art. From a distance, several of the pieces resemble crosses, intended by the artist to symbolize Christ and his love for humanity. \nIn Creation, nails of various sizes have been hammered into the wood paneling and paper canvas at different depths to represent people and the earth. Up close, it is possible to see how each nail has been bent or broken to look different. From a distance however, they all look similar, suggesting that at a certain point our physical differences cease to exist, and from a Christian perspective, "In the eyes of God we are all the same," Yoon said. \nOther works such as Earth II use rust markings from nails and staples to illustrate the imprints people leave behind. Everything we do, explained Yoon, has consequences, both physical in our treatment of the environment, and intangible in our impact upon one another. \nThree Crosses combines coffee, tea and rust stains to create an outline of three thin crosses joined together. The spindly linked crosses symbolize not only the crucifixion of Christ for mankind, but also people joined together in harmony. "It's about God and landscapes. But, most importantly, it's about people, Yoon said. \nExhibition notes: \nWhat: Solo exhibitions: Metaphor by Sunlee Yoon and Skyway by Julie Chou \nWhere: Shin Leh Yuan Art Space (新樂園藝術空間) at 15-2, Ln 11, Zhongshan N Rd, Sec 2, Taipei (台北市中山北路二段11巷15-2號1樓). \nTelephone: (02) 2561 1548 \nWhen: 1pm to 8pm, Wednesday to Sunday (closed Mondays). Until Oct. 31.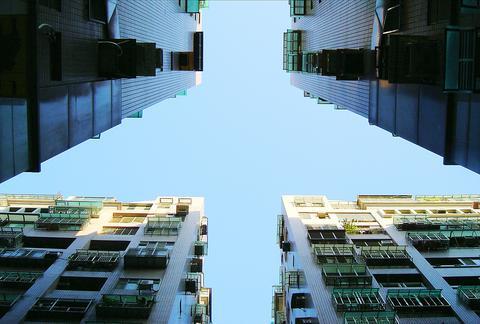 Above, is the opening shot to the first of three films completed by Julie Chou during her residency in Australia showing at Shin Leh Yuan.
PHOTO COURTESY OF THE ARTISTS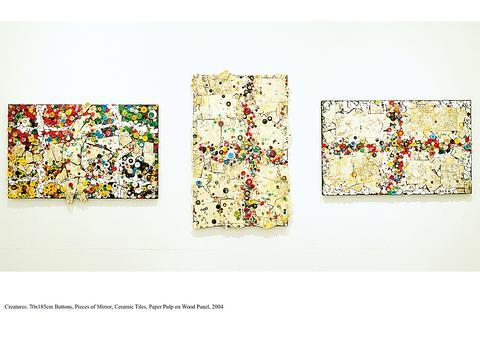 Three works by Korean artist Sunlee Yoon titled Creatures, are part of a solo exhibition on until the end of the month at Shin Leh Yuan Art Space in Taipei.
PHOTO COURTESY OF THE ARTISTS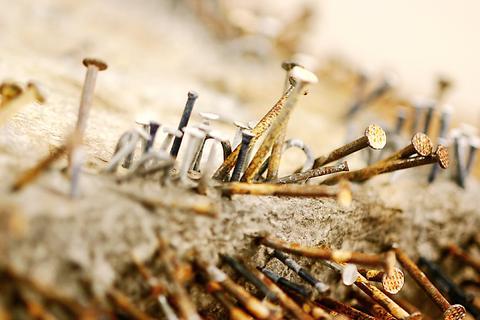 A detail from Creatures.
Comments will be moderated. Keep comments relevant to the article. Remarks containing abusive and obscene language, personal attacks of any kind or promotion will be removed and the user banned. Final decision will be at the discretion of the Taipei Times.