The Punisher's rage is superhuman
When righteous fury leads to grisly vengeance killing in 'The Punisher,' it's hard to tell the hero from the villain
The Punisher, a Marvel Comics crime fighter introduced in 1974, is unusual among superheroes (especially Marvel colleagues like Spiderman, the Hulk and the X-Men) for his lack of super powers. His grim, brutal crusade against sundry wrongdoers is enabled not by spider sense or superhuman strength, but by guns, military training and righteous fury. \nJonathan Hensleigh's movie version of the Punisher's origins stays true to its hero by being similarly stripped-down, efficient and mean. At a time when comic-book film adaptations have become showcases for the latest computer-assisted special effects, The Punisher is a straightforward, somewhat old-fashioned action picture, full of gunfire and hand-to-hand combat, leading to a climax in which several dozen cars explode. The only unusual gadget the hero employs is a portable fire hydrant, which may have some potential as a merchandising tie-in. \nIn any case, The Punisher, loaded with grim, sadistic violence and more than two hours long, certainly lives up to its name. Played with unsmiling determination by Tom Jane, who exhibits none of the loose charm he showed as Mickey Mantle in 61* on HBO, the Punisher starts out as Frank Castle, a Special Forces veteran just retired from the FBI His last undercover operation resulted in the accidental death of a suspect who happens to have been the beloved son of a ruthless nightclub owner, money launderer and corporate mogul named Howard Saint. \nAs Saint, John Travolta, a lock of long hair perpetually threatening to fall over his eyes, basically reprises his villainous turn from the toxic Swordfish a few years back, with family feeling replacing greed as the character's primary motive for evil-doing. \nUrged on by his wife (Laura Harring), Saint takes revenge on Castle by wiping out his whole extended family during a reunion in Puerto Rico. \nAmong the dead are Castle's wife (Samantha Mathis), father (Roy Scheider) and young son (Marcus Johns). Mother and son are shown in desperate and prolonged flight from their fates in a scene meant to emphasize the depraved cruelty of the bad guys and to justify the bloody payback that follows. \nThroughout the picture, we are repeatedly invited to see just how much pleasure the Punisher's enemies -- in particular, Saint's right-hand baddie, Quentin Glass (Will Patton) -- take in inflicting pain on their victims, so that we can savor the prospect of punishment to follow. But the moral boundary that separates the Punisher -- or, for that matter, the filmmakers -- from his prey is vaporous, since his acts of vengeance match or exceed the original crimes in their grisly ingenuity. \nOf course, to make such a point is to entertain nuances and distinctions for which The Punisher has no use. Its lack of subtlety is clearly a point of pride, and Hensleigh's flat-footed, hard-punching style has a blunt ferocity that makes Kill Bill look like In the Bedroom. \nA few set pieces were clearly meant to have a grisly, Tarantinoesque wit; it hardly seems coincidental that the movie's coldblooded torture artiste is named Quentin. But lightness is not among Hensleigh's gifts. Making his directorial debut after a successful run as a screenwriter and producer (on projects like Die Hard With a Vengeance, Jumanji and The Rock) he has clearly conceived The Punisher as a throwback to the leathery, angry urban revenge movies of the 1970s. \nIn the Dirty Harry and Death Wish pictures of that era -- also the time of the Punisher's comic-book birth -- gracelessness functioned as a sign of macho integrity. The movie comes closest to honoring this tradition in its less operatic sequences (and in one that involves a wall-smashing fight scored to La donna mobile), which is also when it approaches the moodiness and eccentricity of the best Marvel comics. \nThe Punisher, holed up in a warehouse in a gritty part of Tampa, is befriended by his neighbors, three bohemian misfits played by Ben Foster, Jon Pinette and Rebecca Romijn-Stamos. Their quirky harmlessness and easy recognition of Castle as a fellow outsider give a touch of sweetness and humanity to a movie that is otherwise remorselessly ugly and punishingly inhumane.
The Punisher is fast-paced, furious action that avoids special effects overkill. It brings the comic character to life.
PHOTO COURTESY OF E MOVIE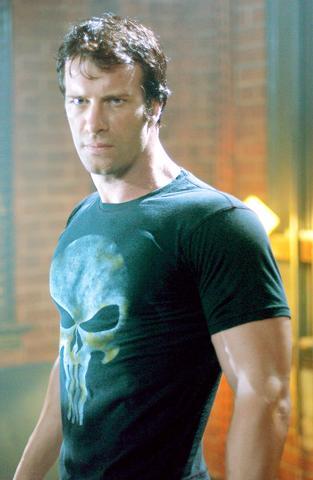 Publication Notes
Film Notes:
The Punisher
Directed by: Jonathan Hensleigh
Starring: Tom Jane (Frank Castle/the Punisher), John Travolta (Howard Saint), Will Patton (Quentin Glass), Roy Scheider (Frank Castle Sr.), Laura Harring (Livia Saint), Ben Foster (Dave), Jon Pinette (Mr. Bumpo), Rebecca Romijn-Stamos (Joan), Samantha Mathis (Maria Castle) and Marcus Johns (Will Castle)
Running time: 124 minutes
Taiwan Release: Today
Comments will be moderated. Keep comments relevant to the article. Remarks containing abusive and obscene language, personal attacks of any kind or promotion will be removed and the user banned. Final decision will be at the discretion of the Taipei Times.