The Vinyl Word
Ken Ishii was one of the first DJs who wasn't European or American to be respected wherever he played around the world. Tomorrow, he returns to Taipei by popular demand, for the third time. \nThe techno turntablist made a name for himself in his home country after being wowed as a student by Tokyo's only dance club at that time, Kave, in the fashionable Tokyo district of Shibuya. He showed all the signs of dependancy on DJing when he started hanging around record shops, and made his debut in 1993. \n"I just followed the Euro techno sound. I wanted to be an artist. I was making music already with a synth I bought, just doing copying-type stuff. There were no fans and no teachers, it was just an imitation sound to begin with," Ishii said from Tokyo in telephone interview. \nNever afraid to go where others fear to tread, Ishii took off for Belgium and was signed up for the top label R & S, which ran the underground techno scene in the mid-1990s. \nAsked whether the well-worn cliche that Japanese copy something and make it better applied to him, Ishii said. "There's a line, it's hard to tell. The musical equipment is from Japan, of course Maybe we are better with details in sound, so possibly the Euro sound is loud or phat, but we build more complex and detailed arrangments. Maybe this is our `sound.'" \nIshii said he saw himself as "the artist-type guy" who was sometimes recognized in the street and at restaurants, but basically just enjoyed making and playing records for a living. \n"I have softened up a little a bit. Before I was known for experimental sounds, but now I'm more interested in combining with dance rhythms. It's back to basics. I've been a DJ for many years and get a lot of feedback from the floor. I respond to that. My latest DVD and CD package Interpretations is like an official compilation of music, so that shows the attitude at the moment." \nHe described his last two visits to Taipei as too short and said he was looking forward to looking at some tourist destinations this time around. "It gets very plane-hotel-don't-see-anything, sometimes." \n"What I felt last time I visited Taipei is that it is more similar to KL [Kuala Lumpur] and Singapore than Tokyo. The crowd hasn't divided into small cliques. In Tokyo there has been no mainstream for the last few years and everybody has their own style," Ishii said. \n"Tell people to come by and enjoy the music -- techno-funky, music with a smile on its face. It's more than half-naked guys going bang bang, that muscle feeling. I'm more laid back, there's something for the ladies." \nIshii will play Luxy tomorrow night, but speaking of half-naked guys there were a lot of them at X-Direction last weekend, where Victor Cheng was on fire, playing a strong set from his latest album -- along with some new tunes. \nCome 3am, the heat, sweat and atmosphere of hormones was overpowering. My companion, one of only three women sighted, thought they must have been pumping chemicals onto the dance floor. This is not true, but the occasion was intoxicating. Tonight, Steve Gerrard from the UK is going to get the dance floor shaking, with the Taipei leg of his Thinking Out Loud Tour. \nAt Luxy, it's Citrus' "Tropicana Party," where SL and his mates -- Saucey, Nina and Daryl -- will be maintaining the Summer madness. Tonight at Ministry of Sound, DJ Sneak is creeping in for a night of house grooves with surreptitiously inserted disco sounds. A top-100 DJ over the last five years, it could be a big night out. \n"Volume One: Take the Power Back" is tomorrow's pick, with DJ Marcus Aurelius (whose sausage was the focus of last week's Vinyl Word). DJ Finni will be playing a set inspired by NWA's Straight out of Compton, along with Vicar, Alicia Hush, Riptide and Elements. It all takes place, fittingly enough, in the Combat Zone, at The Party Pub, on Shuang Cheng Street, Lane 32, 7-1, NT$200 for six hours of fun from 10pm. \nIn Taichung, Saturday, it's "Foundation" with A100, Saucey (again), Blueman and Osbourne on the decks at Sparc.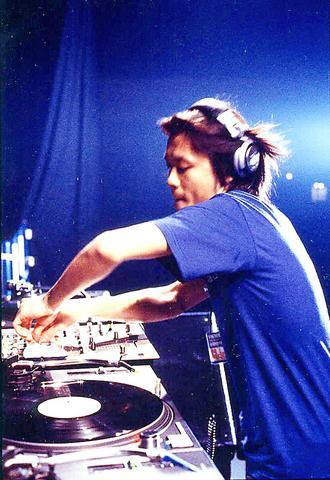 Ken Ishii is one of Japan's top exports.
PHOTO COURTESY OF ARTIST
Comments will be moderated. Keep comments relevant to the article. Remarks containing abusive and obscene language, personal attacks of any kind or promotion will be removed and the user banned. Final decision will be at the discretion of the Taipei Times.