Pretender to the papal throne makes his claims in Spain
Rome is no longer the capital of Christianity, according to the self-proclaimed pope Gregorio XVII
Pope John Paul has a challenger.
Papal pretender "Gregorio XVII" is leader of a self-styled church in Spain who says God crowned him after Pope Paul VI's 1978 death, that Satan controls the Vatican and that the devil will crucify him at the start of an apocalyptic end of an era.
There were some 300 worshippers attending services on a recent visit to Gregorio's church in El Palmar de Troya, a vast cathedral-like complex of domes, columns and arches perched on a hill in Spain's dusty southern Andalusia region.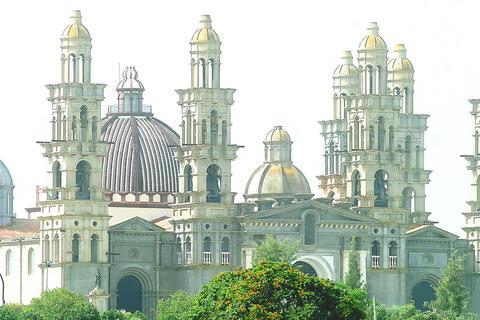 Pope John Paul has a challenger. Papal pretender Gregorio XVII is leader of a self-styled church in Spain who says God crowned him after Pope Paul VIs 1978 death, that Satan controls the Vatican and that the devil will crucify him at the start of an apocalyptic end of an era. Gregorio's church in El Palmar de Troya, Spain, is a vast cathedral-like complex.
PHOTO: REUTERS
Church members say followers number several thousand and come from as far away as the Americas. But membership is clearly dwarfed by the 1 billion Roman Catholics around the world who recognize John Paul as head of the church.
"Rome ... is no longer the capital of Christianity; the new Rome is the Sacred Place of El Palmar de Troya," a booklet from Gregorio's church quotes God as telling him.
Gregorio's church has conferred sainthood on former Spanish dictator Francisco Franco for defending Catholicism in Spain's Civil War and four subsequent decades of fascist rule.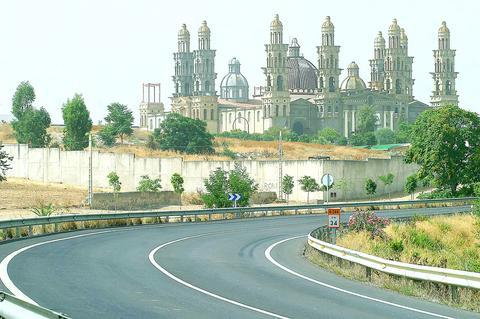 Gregorio's church is perched on a hill in the Andalusia region.
PHOTO: REUTER
Followers call 58-year-old Gregorio the last Pope and say he will be crucified. An electronic information package handed out at the church shows gory pictures of Gregorio with bleeding wounds in the hands, torso and forehead similar to those of Christ on the cross.
"At the end of his reign the anti-Christ appears and he will put the Pope to death, he will crucify him, and then Christ will appear and destroy the anti-Christ and a new era will begin," a middle-aged Irish man said on his way to mass.
Gregorio's congregation rejects reforms made by the Catholic Church at the 1962 to 1965 Second Vatican Council, such as saying mass in local languages instead of Latin and dialogue with other religions and branches of Christianity.
"We believe that he is the true Pope. We believe this is where the true church is," said a 21-year-old Irish man, who was visiting the parched, dusty village on a pilgrimage.
Faith no more
Pope John Paul has taken unprecedented steps toward reconciliation with Jews. He is the first pope to visit a synagogue, a mosque or a protestant church.
Mass is said in Latin and members of the congregation -- all wearing pictures of Christ's face and two bleeding hearts around their necks -- spend most of the service on their knees.
Men and women are separated in the nave and women dressed like nuns and wearing long black veils over their heads and faces sit behind a latticed wall.
A doorman in addition to the "nuns" and "priests," 150 people live in the complex. Followers are forbidden from visiting other churches. The faithful worship in their homes and traveling priests visit members of the church who live outside El Palmar.
Women must cover their heads, wrists and necks and wear skirts that come "at least four fingers below the knee." Trousers for women are
forbidden.
A "nun" posted at the entrance to the church checks women's skirts for transparency.
The dress code must also be
followed outside church.
"We can't go to the beach. We'd probably fall into sin if we went to the beach," the middle-aged Irish man said.
Before crowning himself "pope", the man formerly known as Clemente Dominguez said he had visions of the Virgin Mary and messages from God that the church in Rome, and Pope Paul VI, were being misled.
"Satan is governing in the Vatican," Gregorio was told in a vision in 1971, according to one booklet. A year later he was told, "Masons and Communism have infiltrated the Vatican."
Gregorio lost his sight in a 1976 car crash but the Virgin Mary promised he will regain it one day, church documents say.
Two years later Paul VI died and Clemente Dominguez, on a trip to Colombia, proclaimed himself pope.
Most of his followers -- who say their donations built the church -- come from abroad, where they say they heard about the movement in books or by word-of-mouth.
Spanish locals say they are unimpressed although some believe the Virgin Mary appeared there before the basilica -- which dwarfs the parish church -- was founded.
visions
Church documents say the young Clemente Dominguez went to El Palmar initially because he heard about the apparitions.
"The people in the village don't believe in these things although there are 70 witnesses, serious people, who have seen apparitions," said a 51-year-old man who declined to be named.
The Roman Catholic church in Seville takes neither the church nor the apparitions seriously.
These days "Pope Gregorio" rarely ventures beyond his walled complex although he used to be seen in bars and restaurants around town in El Palmar and nearby Seville, locals say.
The corpulent leader does not always lead services but appears for special occasions.
But Pura Hernandez, a 76-year-old woman from Barcelona, said that his presence was overwhelming.
"I saw him once in ecstasy. There were so many angels," she whispered piously.
Comments will be moderated. Keep comments relevant to the article. Remarks containing abusive and obscene language, personal attacks of any kind or promotion will be removed and the user banned. Final decision will be at the discretion of the Taipei Times.