Ilan community revives wooden clog industry
Decades ago wooden clogs were fashionable accessories, until plastic sandals took over the market. Now the shoes are selling again, thanks in part to the work of master clog makers in Suao
Driving into the Baimi Community in Suao, Ilan County, a pair of giant wooden clogs standing in the park caught my sight. And then, in front of the Wood Clog Museum (白米木屐博物館), a group of women, mostly housewives, were enthusiastically welcoming guests from other counties. They each wore pairs of colorful wooden clogs, as well as warm smiles. "Welcome, please come in!" they said, their clogs clapping on the floor as they entered the room.
It was a day of pouring rain and they said a typhoon was coming. But there were still 70 people in the small museum.
Ten years ago, Chen Hsin-hsiung (陳信雄) had retired and could not believe that he would be making clogs again. He had been almost forgotten by the neighborhood, just as people had forgotten about the clog-making history of the village.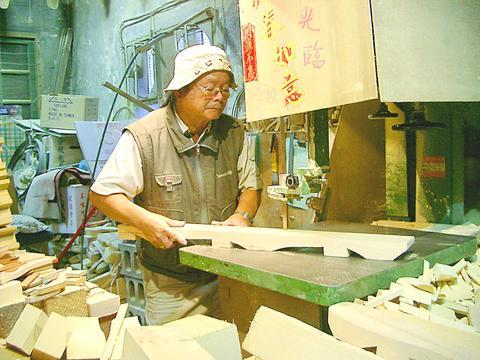 Chen Hsin-hsiung cuts wood o make clogs, some of which will be displayed at Suao's Wood Clog Museum.
PHOTO: YU SEN-LUN, TAIPEI TIMES
Chen now makes clogs behind the display window in the museum, ensuring that every passing guest to the museum can see how a pair of clogs is made, from cutting the wood to nailing the leather parts together.
"This pair is in a Japanese style. The ones with sharp, warped heads are the Harry Potter clogs. Even sharper heads is my new invention, the `Queen's Clog,'" the 67 year-old Chen said, who has been making the wooden shoes since he was 14.
Chen's Baimi (白米) clogs are made from one piece of wood, unlike clogs made anywhere else in Taiwan. The sole and heel are made separately then patched together. For him, the wood cutting and sculpting require a lot of technique. After the shoe body is made, one needs to mould and paint the leather to create the cap of the clog.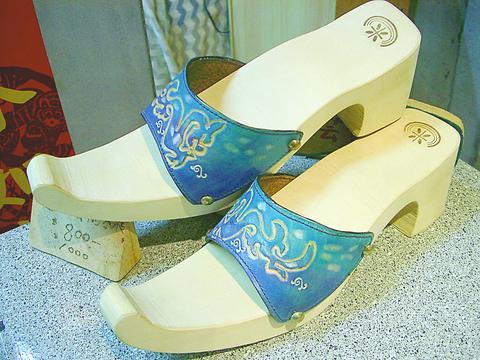 The Harry Potter clog.
PHOTO: YU SEN-LUN, TAIPEI TIMES
In Taiwan, there are less than 10 clog-making masters like Chen. Baimi community is one of the remaining villages with clog-making masters. The golden days of clog making in Taiwan was the 1930s to 1970s.
"In the old days, only rich people could afford a pair of clogs. Clogs were for high-class people. It is not as you would imagine, that only gangsters wear clogs," Chen said, recounting that in the past he made a lot of money from his trade. The demand was so high that he had to finish up to 10 pairs a day.
"During that time, a pair of clogs cost NT$35, which was the same price as a gold necklace."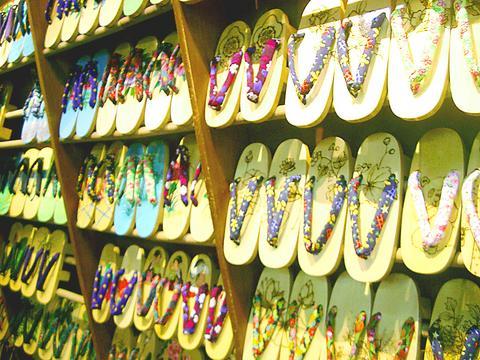 Suao's Wood Clog Museum
PHOTOS: YU SEN-LUN, TAIPEI TIMES
The clog business was good until in the 1980s when Taiwan's plastic industry took off and a pair of plastic shoes cost only NT$15.
Chen retired from making clogs in 1993, and became a carpenter for 10 years and more than 10 clog shops in the town closed down.
But Baimi revived the clog-making business and now the community of 1,000 has said good-bye to the dusty pollution of its cement industry and welcomed its hand-made clog business. Eventually the Wood Clog Museum was set up in 1997. Now, clog-sales are around NT$900,000 per month. About 30 people make a living by making, decorating or selling the clogs.
Chen was first asked to give classes on clog making when the mini industry was revived and most of his students were housewives.
In the first year, the monthly revenue of the Wood Clog Museum was less than NT$100,000, but after the museum was reported on TV shows, the community gained some measure of fame and revenues rose.
"We now make about NT$20,000 a month. It's not big, but enough to give my kids a better education," said a housewife in charge of leather carving at the museum, who did not want to be named.
As more tourists arrived to visit the museum, local cement factories began to modify their facilities to reduce the amount of dust.
Chen said that, for him, clog-making is a means of making money, but also a way of life.
"I not only work behind the display window, but I also focus more on inventing new styles of clogs," he said.
His most recent work is a pair of giant clogs 80m long that weigh 1,500kg. "This is the pair that I'm going to challenge the Guiness world record for," he said.
Next week, in the final part of the series, we look at the job of the road-side jasmine seller
Comments will be moderated. Keep comments relevant to the article. Remarks containing abusive and obscene language, personal attacks of any kind or promotion will be removed and the user banned. Final decision will be at the discretion of the Taipei Times.